We know that taking a new passport photo can sometimes be stressful, but are you well informed on all the dos and don'ts to get your passport photo accepted? In this article, you will know all about taking a US passport photo, all its related requirements, and some useful guidelines.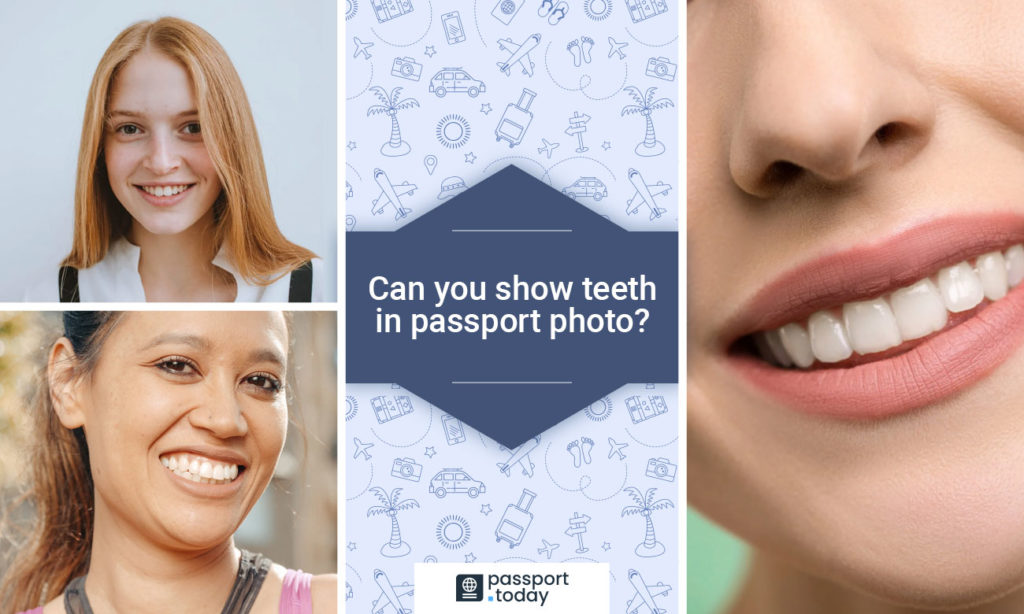 Tips for your next passport photo
When you take your own photo for your passport, you need to bear in mind that there are strict requirements and rules that you have to follow. Starting from how you should look in a passport photo: are you allowed to smile or to show your teeth?
Choose the right neutral expression
When you take your passport picture you have to show a neutral facial expression. What does that mean exactly? Well, it simply means that when you are taking a passport photo you do not have to smile in an exaggerated way, frown or show an extremely happy, angry, or sad expression. The authorities from the State Department do not accept passport photos where you have an unnatural smile or unnatural expressions: this means that showing your teeth is not allowed either, but you can still rock a natural smile while keeping your eyes open.
Smiling in passport photos is allowed but only if you don't show your teeth and avoid unnatural expressions. The US Department of State will accept your photo only if you have a neutral expression with a natural smile, if your face is clearly visible, and if it can be identified easily. That is also mainly why teeth are not allowed in passport photos: authorities find it really difficult to identify a person without a neutral facial expression and showing teeth.
Read other guides on passport photos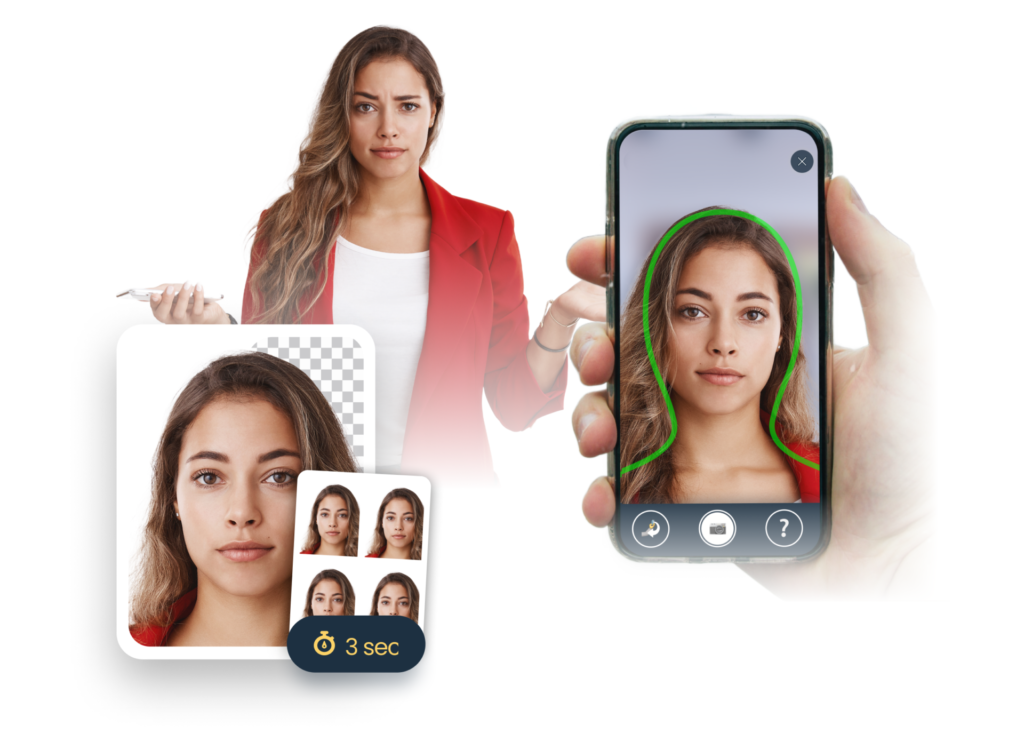 Mind your head posture
When it comes to your head posture remember that the photo must have the head centered in the frame, looking at the camera, and do not think about it as a mug shot but take it as calmly as possible. Slightly smile in your photo and keep your eyes open for the perfect shot.
What is the best hairstyle?
Whether you are a man or a woman, your hair needs to be styled so that it can allow clear and easy identification by the authorities. Avoid long bangs that cover half of your face: better to go with your hair tucked behind your ears.
Can toddlers, babies, and children smile in passport photos?
It is worldwide known that taking a photo of your baby, toddler or child may be the hardest task ever. They never stop moving, playing, crying, smiling and you can never expect their next move. The US Department of State made an exception for babies and how their facial expressions can look like. It is acceptable for babies and infants to have their eyes slightly closed, all other children though need to maintain their eyes open.
What are the allowed clothes for a passport photo?
Let's start from the very top: what can you wear as a head covering for a passport photo? The answer is that if you do not specifically need it, the better it is. As a matter of fact, according to the US Department of State, anything you wear on your head should be avoided unless it belongs to one of these specific exceptions:
Religious reasons: if you are wearing head coverings or religious attire for religious purposes you will need to provide a signed statement proving that it is worn continuously. Remember it cannot cover your entire face making your identification difficult.
Medical reasons: in this case you are required to submit a signed statement from your doctor confirming that you actually need it for medical purposes.
Can you wear glasses while taking a passport photo?
As a general rule, the US department clearly states that if you do not need the glasses and you can take them off without causing you any harm, do it without hesitation! Our tip is that it is not worth the rejection of your passport photo. In case you would need your glasses for medical purposes, you will need to submit authorization from your own doctor.
Accessories and jewelry
If two seconds ago you were thinking about wearing long and big earrings, a shiny necklace and maybe a scarf because you are cold, it is better if you reconsider taking your passport photo another day. The US authorities will never accept your passport photo wearing all these accessories! Bear in mind that any kind of object that can be regarded as an obstacle to your identification is considered a sufficient element to reject your passport application.
Reconsider not wearing any necklaces, earrings, or scarves. The fewer accessories you have, the better it is for your identification.
What can I wear for a passport photo?
We know that you want to look flawless in your passport pictures. In the end, we are talking about pictures that you will look at for the next 10 years or so. But there is a small detail you may need to pay attention to. Wearing a uniform or camouflage attire as clothing is not acceptable (for both adults and children). Just choose your regular daily clothes and you will be more than fine to go! Remember to choose the right colors as well! For example, avoid wearing white turtleneck sweaters so that your head does not come out as floating in the air.
Passport Photo official requirements
Let us remind you of the most important specific requirements set by the US Department of State when submitting your passport application.
The US Department of State requires the applicant to provide a passport photo that :
Has a size of 2 x 2 inches (51 x 51 mm)
Where your head must be between 1 and 1/3 inches from the top of the head to the bottom of the chin
It can be printed on matte or glossy photo quality paper
Has a white or a white-off background
Remember that it is expressly prohibited to submit a photo that is edited to remove the red-eye effect or to change the color. Better to try again and provide the right photo, but next time you may consider using Passport Photo Online: a specific editor for photos that can help you get your American passport photos! Try it now from Google Play or Apple Store.