Passport photos are a big deal, right? That's the image you'll see on your most important travel document and you want to be sure that everything checks out and the passport application can go through.
That is why you might be interested in all the significant rules governing passport photos and ask yourself: "What about a passport photo and facial hair?" Can you wear it, do you need to alter it in any way or should you shave it all off? Join us and find out.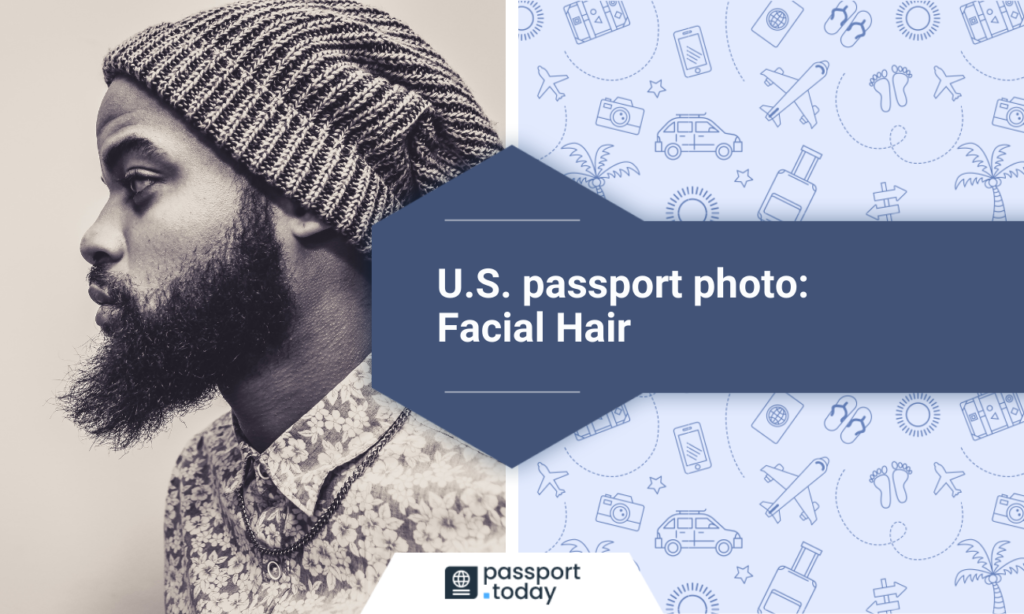 U.S. passport photo and facial hair – what you need to know
You might be used to making considerable preparations for the upcoming, brand new passport photo when you're applying for a new passport book.
You adjust the makeup, make sure your hair is all right and your whole face is clearly visible and good for you.
When you're wearing a beard or any other form of facial hair on your passport photo you probably think that it is another aspect of your face that needs sorting out. Do you keep asking yourself: "Do I need to shave my beard for the photoshoot?" Fortunately, the answer is pretty straightforward. You do not need to shave any facial hair or beard for the passport photo. None of the requirements mention anything about the clean-shaven look in passport photos and even if you've managed to grow a thick and long beard, the biometrics of your face, the most important thing, remain the same.
To put it simply, as long as the beard is a key feature of your current appearance, it can stay.
Especially if your beard is a bit older and essentially an important feature on your face, having your passport picture accepted in the process of passport application will be no problem at all. Please, keep that in mind and stay clear of that common misconception and should you value your or your partner's glorious beard or carefully trimmed facial hair, stay your hand or tell your boyfriend or husband that it can stay.
Just remember not to play with fake beards when crossing international borders. Unless you grew one yourself, do not wear fake facial hair that might confuse security upon a checkup when traveling.
Read other guides on passport photos
Beard in passport photo: gender transition
You will no doubt be relieved that undergoing a gender transition does not affect the rule saying you needn't shave your facial hair.
Even if you, for instance, identify as a woman but decided to keep your beard, everything stays the same – if you have a beard in the passport photo you're absolutely fine.
Government requirements remain the same regardless of your gender identity so you can breathe a sigh of relief knowing that beards in passport photos remain perfectly fine and acceptable.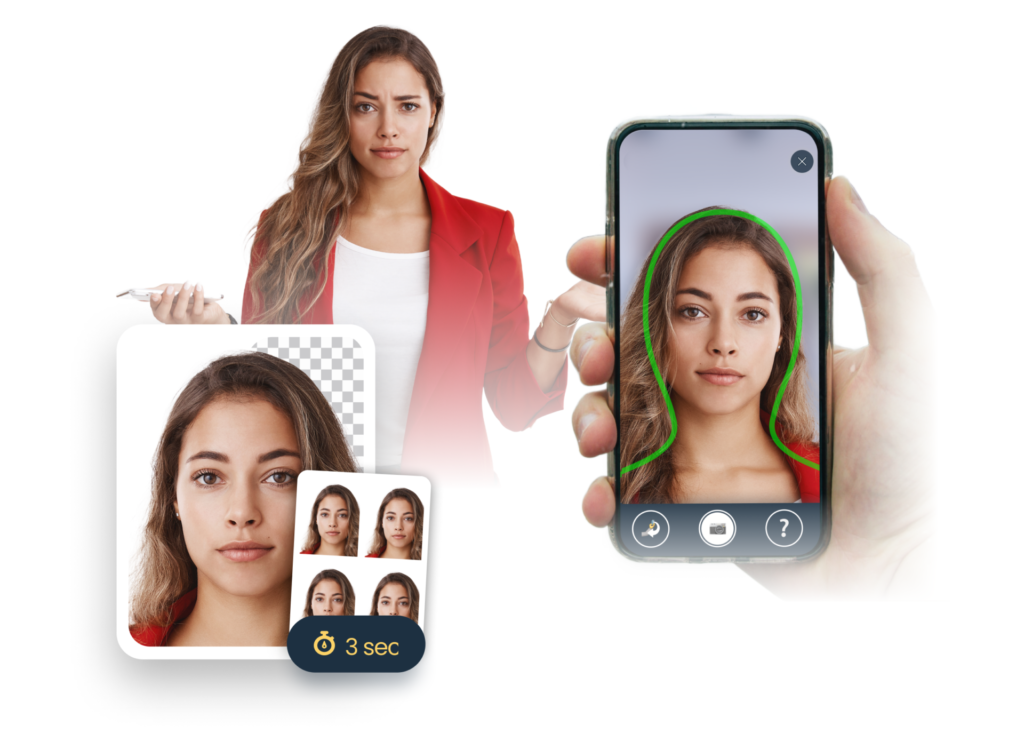 Passport photo with a beard – what you need to know
Even though we've already told you that one can have a beard in a passport photo, there is one thing you really should consider when getting the right kind of passport photos.
For your passport application, you are required to bring a valid photo compliant with all the rules, including:
a current image, not older than 6 (six) months,
a photo showcasing your whole head and face,
and a clear view of every facial feature.
That being said, if the beard and mustache successfully manage to hide your mouth, for example, you have some correcting to do. Keep that in mind and treat this rule as a friendly reminder to take good care of your facial hair and treat it to a beard oil from time to time.
As a side note, keep in mind that the style of your facial hair has no say on the rule. Regardless if you're sporting a full spartan beard, a handlebar mustache or just a stubble, you'll be okay. Everything goes.
Passport photo & facial hair – preparations
Photos for a passport book are meant to show your full face or at the very least not hide any significant features and even though we've already discussed your beard and determined it is fine, you still should take some time to prepare accordingly.
In fact, almost every beard or mustache-wearing individual will tell you that maintaining and taking care of your facial hair is a sacred duty. Do yourself a favor then and heed their advice by making sure your beard has a nice shape. Keep watch for single hair sticking out of it, making the facial hair seem untidy or unkempt.
Consider going to a professional barber to make the beard in your passport photo look the part. If you wear a big, thick beard, it may seem like more than just a decent idea but actually, a piece of useful advice not only for the occasion of a passport photo but in general.
Special facial hair oils are a good idea as well, as they might be the answer if you're looking for a way to make your beard look fuller in the passport photo. A comb is also a very useful tool to give your facial hair more of a defined shape and bring your passport photo game to the next level.
However, using a beard pencil filler in a passport photo is something you should avoid unless you are experienced with the tool and know how to apply corrections while maintaining a fresh and natural look. After all, that natural look is all a passport photo is all about.
U.S. passport photo: facial hair online checkup
If you're uncertain whether your facial hair is okay and if you should perhaps consider shaving it off for the passport photo, there is a way to find out through the internet.
Just make your way to the U.S. official website about passport photos and locate the tool that lets you upload a picture and wait for a bit while an artificial intelligence figures out if what you've just submitted can pass muster and allow you to move on with the passport application.
You might also be interested in:
Passport photos and facial hair – final verdict
You can rest easy, as a passport picture does allow facial hair of all types, even a fully grown, lumberjack-style beard. There are no significant requirements put in place apart from the one telling you not to have your beard cover anything important like a mouth, for example.
The bottom line, though, is this: It is completely up to the person in the passport photo whether they want to retain their beard or appear cleanly shaven in the photo. Additionally, rules are indiscriminate and you can choose from a plethora of facial hairstyles.
FAQ
Do I need to shave for a passport photo?
The answer is no, you needn't shave for a passport photo. In fact, there are hardly any guidelines regarding facial hair in a passport picture, so just make sure it looks good and has a nice shape to it. 
Will growing a beard affect my passport?
To answer your question, no, growing a beard since the last time you took a passport photo won't affect it. Even if your facial hair has grown exponentially since your last passport application, you should be perfectly fine and not need to renew the photo.
Can I have a beard in my U.S. passport photo?
Pretty much any facial hair will do, so yes, you absolutely can have a beard in a U.S. passport photo. Just make sure it is well-groomed and doesn't hide any key facial features.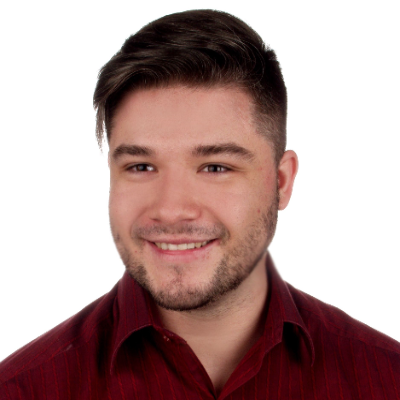 Graduated from the University of Warsaw, Michał, is a travel expert with an undying thirst for adventure and a writer at PhotoAiD. A self-proclaimed book and movie critic as well, he's always eager to visit to the most underrated or less popular travel destinations.