A piece of documentation required when applying for an Argentinian passport is an Argentinian passport photo that must meet certain requirements. The passport photo should adhere to specific biometric standards; because if it doesn't, your passport photo will most likely be turned down. Continue reading this post until the end if you want to comprehend everything there is to know about the Argentinian passport picture, including the specifications and how to get one without leaving your room.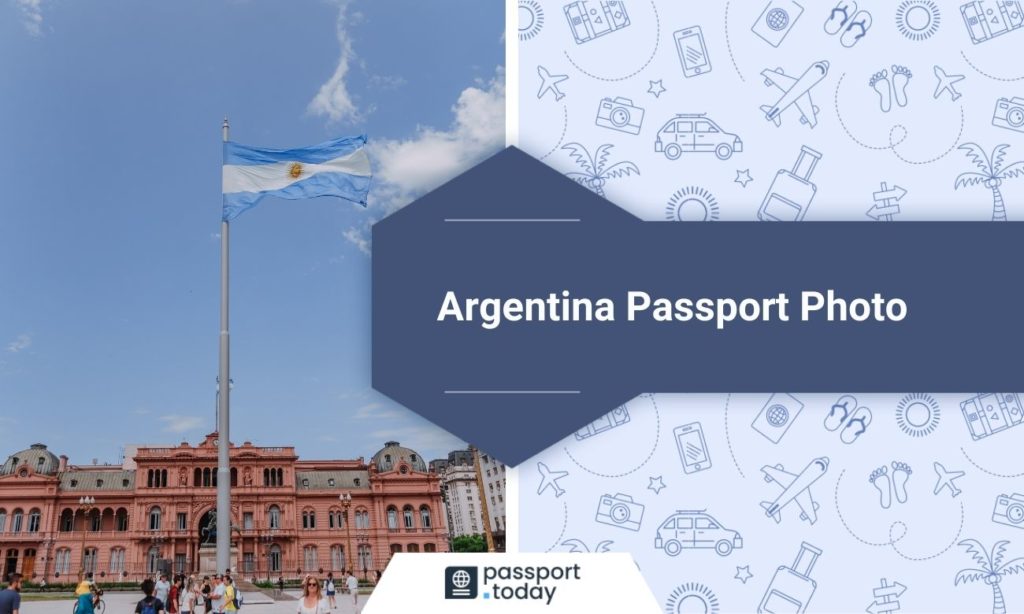 Argentina passport photo requirements
Might as well get down to specifics: the criteria for Argentina passport picture. Understanding what and why the standards for Argentina passport photo must meet is indeed a significant component in your passport application because, as indicated earlier, if the photo is not performed correctly, it may well be denied. So, in hopes of avoiding this, please establish the criteria mentioned here.
The dimensions ought to be 4cm x 4cm (40mm x 40 mm). To prevent issues, ensure the length and width are accurate.
Monochrome images aren't permitted in Argentina passport photos. The picture can only ever be in color.
Your face ought to be parallel to the photograph and retained directly rather than being tilted. Also, remember that your face should occupy 70 percent of the photo; the other percentage – is the distance between the top edge of the photo and the end of the hairstyle.
Remember that a document image must be of excellent quality. When you want to make a photocopy of a digital edition of your photo, use high-quality paper.
Argentina passport photos should have a resolution of at least 600DPI.
As mentioned above, the passport photo must be of perfect quality, which means no damage of any kind (holes, crumpled paper, etc.).
The photo's background must be in plain color. A picture with a different background color may also be denied by the authorities.
How to pose for a document photo
The regulations dictate that you should look straight into the camera when having your passport picture taken. Make sure you have a neutral expression on your face when having your photo taken. The above signifies that you should not smile, you should constantly look forward, and keep your mouth closed.
You can practice your expression next to the mirror while preparing for a photoshoot. It's a pretty valuable ability overall, and it helps with both looking decent at document pictures and throughout everyday situations.
To smile with your mouth closed (something you can't do for documentation), simply learn to raise the corners of your lips instead of clenching your teeth with all your effort.
Read other guides on passport photos
What will you need to create a passport photo at home?
To create a good Argentina Passport Photo by yourself, you may need to have such equipment as:
A photo camera. If you don't have one, you can snap a photo with your smartphone, but the shot must be of excellent quality.
This one is optional, it's a tripod. A tripod will assist you in capturing a clean, high-quality image. You may also position the camera on any firm surface, such as a table or a stack of books. When photographing with a smartphone, use a selfie stick or try taping the phone to the wall.
Background in monochrome. White is ideal. You may also hang a sheet or snap a shot against a matched wall.
An application or software for photo editing. It will assist you in precisely marking up and cropping your shot, as well as establishing the appropriate contrast and intensity parameters. It also allows you to modify the backdrop and emoji.
What to wear for the passport photo?
An Argentina passport photo does not have any specific rules regarding the clothing, however, here is what we recommend:
Wear casual everyday clothes that you feel comfortable with.
Avoid too much jewelry in your passport photo or other similar accessories.
Do not wear uniforms as those are not allowed.
Headcovers and glasses are not permitted except for religious beliefs or medical prescriptions.
How do you take your own Argentinian passport photo?
If you know the requirements for an Argentina passport photo, then have a look at these tips on how you can take the photo yourself at home.
The light and clarity of your photo
It is critical to establish the ideal conditions for taking your photograph before you begin. Proceed with the best lighting in the room at which you intend to take your photograph. It's best to shoot in the afternoon or early morning to take advantage of natural light, but you can also use lamps. Finally, make sure there are no silhouettes or irregularities in the background or on your face.
The criteria of the background in your photo
It shouldn't be too difficult to find a simple white background in the room. You could perhaps stand next to a white backdrop or wrap a white sheet. Just assure there are no items or cutouts.
Comply with the standards
When you decide to create your photo, double-check the rules again to ensure that your Argentinian passport photo is done correctly. Take note of the facial expressions and how you should pose for the photograph.
Starting to put the phone together
All that remains now is to take the photograph. You can choose any type of camera, but your mobile phone will do too. You must avoid taking selfies and have somebody else stay at least 2 steps away from you to take your photo.
Modifying the final picture for your passport
Once you've taken the picture, use a passport photo app to modify it to the exact dimension and ensure that it meets the Argentinian passport photo standards.
Receive your Argentina passport photo in just a few minutes with Passport Photo Online
Passport Photo Online is an online service and also an application that assists its customers in making a passport photo using the tools provided by it.
Here's how the application works:
Upload a ready picture that you want to adjust for your passport application.
The photo will be cropped to the required size and the background color will be changed.
When your image fulfills the biometric norms, you can get it emailed to you to be used for your passport application or print it on high-quality paper.
…so, there you have it! You won't have to think about taking bad pictures anymore, and you'll end up saving hours that you can dedicate to loved ones.