If you are starting the process of obtaining your Italian passport, you need to prepare some documents. One of the attachments you will need to submit while applying is an Italian passport photo. However, it is not just any photo, and it needs to follow all the government rules and regulations. If your passport photo will not meet all the standards for a biometric photo – it may get rejected.
If you want to know more about Italian passport photos and make sure your application will be accepted – you are in the right place. In this article, we will share all the necessary information – not only how to prepare your passport photo correctly, but even how to do it without leaving your house.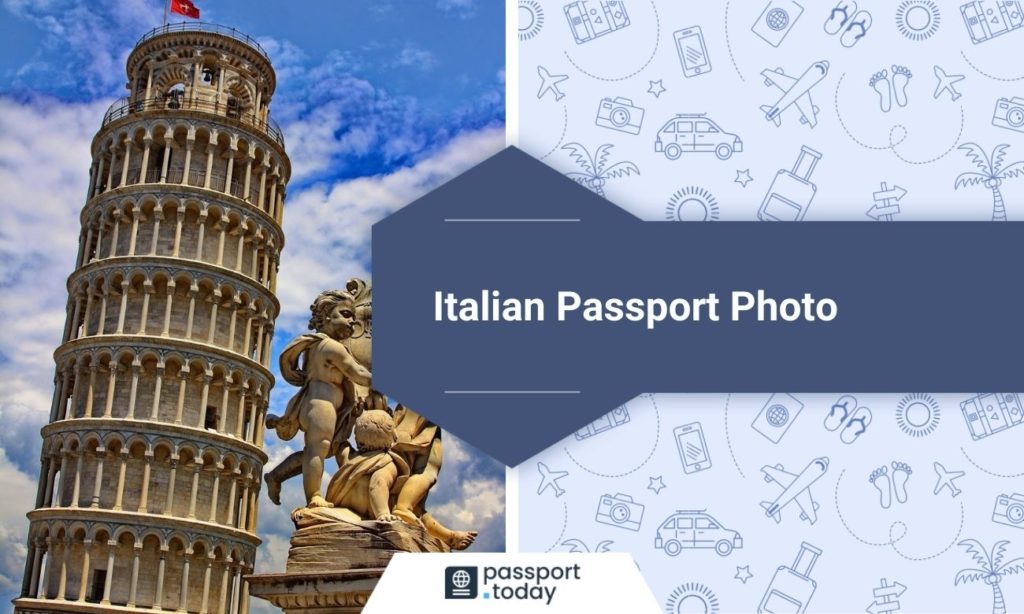 Italian passport photo requirements
The most important and useful things to know are, of course, the requirements your picture must meet. If your submitted photo is not correct your application for an Italian passport can get rejected. So having your passport photo done right is a crucial step. The requirements your Italian passport photo should comply with are as follows:
Your picture must be recent – meaning taken not longer than 6 months ago.
The right size for it is 35 x 40 mm. It is the standard passport photo size for most countries in Europe.
Photo submitted for the Italian passport photo must be in color. The black and white version would be rejected.
Your photo needs to be of good quality. It should be in focus – sharp and clear. Your final picture resolution should be 600 dpi.
It should also be printed on high-quality paper and keep its high resolution.
How to take an Italian passport photo at home?
Now you know all the requirements for your passport photo, but you may still feel like knowing how it should look does not mean you know how to make it look exactly like that. So let's now get into how to prepare all the setup and finally take the photo yourself. It is time for some practical tips.
Read other guides on passport photos
Lighting must be uniform
The first thing to do is to find the ideal lightning. Choose the room where you think the best daylight is, or set up some lamps. If you decide to go with the electric light, remember to check if there are no dramatic shadows and sharp reflections on you.. Put the light source in front of your face – for example, if you choose to take advantage of daylight, the window should be in front of you, not in the back.
Check if the brightness and contrast on your photo are right and every part of your face is clearly visible. Avoid sharp shadows and try to get uniform lighting. Check if your eyes do not look red
White and plain
That is how your background should look to meet the requirements for a passport photo. So make sure it actually is light and plain – as the rules mention – and there are no prints or patterns visible.
Professional photographers own white backdrops and movable backgrounds they put behind you while photographing. But the thing is – they are not much different from just the white wall you can find in almost all houses, or white cloth you can hang in any room. So just stand in front of it, and make sure there are no tables, chairs, plants, or any kind of objects in your frame.
Digital camera or just your phone?
Now it is time to set your camera. You can choose any kind of gear you want, whatever you feel comfortable with. Don't worry if you do not have a digital camera at hand. The cameras that our phones are equipped with are just fine. If you can – ask a friend or family member for a little help at this stage.
Considering that selfies are not allowed, give your phone to your assistant and stand about 1.5 meters away from the camera itself. Look straight at the lens and finally – take the picture. Keep in mind, that our whole head and a part of the shoulders should be visible in the frame. The head itself should take up 70-80% of the picture, so try to find the right proportion if possible, or adjust it in retouch later.
Posing for Your Passport Photo
You may not feel comfortable in front of the camera and don't worry – many people don't. There are some guidelines on how you should pose in your shoot, but there is nothing complicated about it. The rules for the passport picture are quite logical if we keep in mind that you are taking a biometric photo for an official document.
So, the most important thing is your face – no surprise there. So make sure it is clearly visible by looking straight at the camera. Avoid any head tilting and keep your head frontally. We know smiling at the camera may be tempting, but you have to maintain a neutral expression. Keep your eyes open with your mouth closed, and relax your shoulders – it should help you keep your position more still and relaxed.
Dress code
There are no specific rules that you have to follow regarding clothing. It is best not to wear anything too flashy, or any work uniform, but the rest is up to you. Nevertheless, here are some tips from us:
Your face must be visible in the photo, so it is best not to choose any hairstyle that will obscure it.
Avoid anything that can be considered as making your face less clear – like sunglasses, hats, or large jewelry. If you want to cover your hair for religious reasons – there is no problem with that. Just make sure your face is still visible for the photo.
Medical glasses are also allowed – if you have more than one pair, choose the one that obscures your facial features the least.
The background is light, so to ensure good contrast and have your photo sharp and clean it is best not to choose similar light colors for your clothes. Try darker shades that will stand out from the photo background.
This is not any kind of a rule, but more of a tip – your passport will be valid for the next 10 years, so it is best to choose quite a neutral kind of look for your photo – one that you will feel comfortable with showing and using as your representation for the next decade.
Adjusting the photo using software
Now that your photo is ready it is time to adjust it to the requirements. Our photo may not be perfect yet and it may need a bit of retouching. If you do not have professional knowledge of the photo edition – there is no reason to worry. Our tool was prepared exactly for the purpose of assisting you with your passport photo.
You can use Passport Photo Online to make sure your picture meets all the requirements for the Italian passport photo. The software will take care of size, proportions, contrast, and make sure it complies with all the official requirements.
Passport Photo Online: Prepare your Italian passport photo in just a few seconds!
Passport Photo Online is an online software dedicated to helping you create the perfect passport photo using the tools prepared just for that purpose. It is both available online, as well as in mobile you can download on Android and iOS.
Here is how it works:
Upload your picture, ready to be adjusted according to the passport photo requirements.
Artificial intelligence will resize and crop the photo. It will also replace the background if necessary. AI will check the photo for any mistakes and make sure it follows all the guidelines for an Italian passport photo.
Once your picture is in accordance with all the biometric standards you can get your photo sent to your email address – ready for you to attach it to the online passport application, or print and submit it in person.
There is no need for any specialistic knowledge because AI will take care of everything there is to correct. Instead of making obtaining your passport photo a big, time-consuming event you can have it ready in just a moment and enjoy your day. Spend it on things you actually want to spend it on, instead of worrying about your biometric photo – leave it to us. We've got it covered.