If you're thinking about applying for a Japanese passport this is a great idea since the Japanese Passport has been announced to be the "best passport" in the whole world. However, as you may know, when applying for a passport you need to submit some documents and one of them being a Japanese passport photo that must meet specific requirements and biometric standards. If you want to know more about the requirements and how you can make a passport photo yourself, I invite you to continue reading.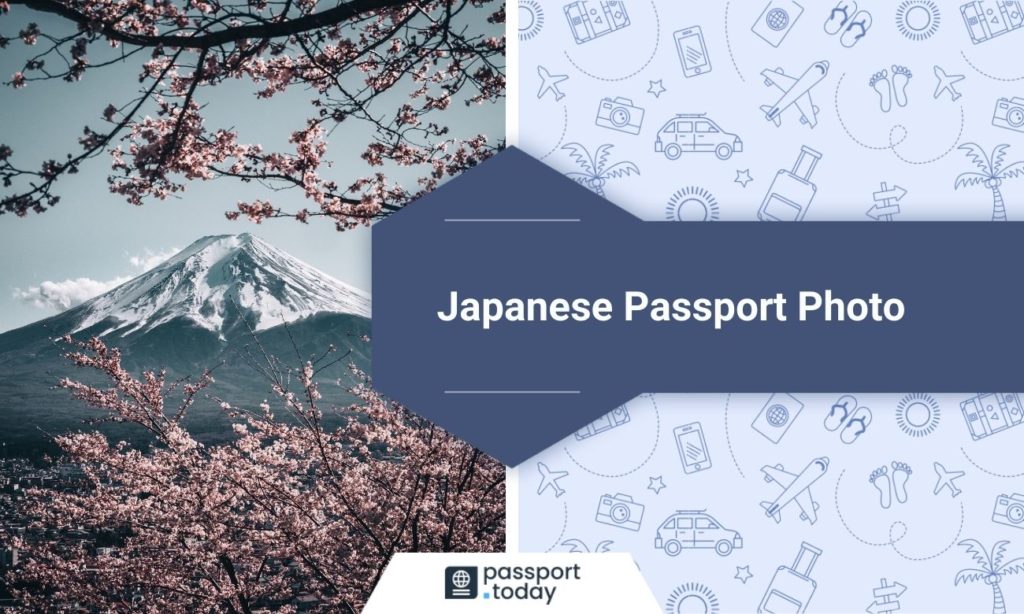 Japanese passport photo requirements
Let's get to the point and discuss what you should know about your Japanese passport photo. It would be a shame if your application would be rejected due to some mistakes in your photo; that is why we think this is a crucial step of your passport application that should be taken seriously. You can find the list of the most important requirements below:
The size of your photo should be 35mm x 45mm.
The background must have a bright color (white is the perfect one) and must be in plain color. This is a very common mistake that applicants make and it usually leads to a photo rejection.
The photo is accepted only in color. This means that you cannot use black and white pictures for your Japanese passport application.
The space that your head should occupy inside the photo goes from 32mm and 36mm.
The photo must have been shot within the last 6 months. Old photos won't be accepted.
The photo for your passport application must be high quality. If you decide to print your photo you should make sure that the paper you are using has a good quality. On the other hand, if you decide to apply online you won't have to take care of it.
The photo must be centered and properly photographed.
Smiling is not allowed in Japanese passport photos.
Japanese passport photos should have a minimum digital resolution of 600 dpi.
Posing
Are you curious about how you should pose in a passport photo for the Japanese passport application? Below you will find all the information you need:
Fundamentally, you should maintain a neutral facial expression in your Japanese passport photo since smiling is not allowed. Furthermore, your eyes should be opened and you should look directly towards the camera lens and your mouth should be closed. It is not allowed to make any kind of gesture, and it is important to keep a straight posture without rotating your body.
Read other guides on passport photos
Dress code
There are no specific requirements as to what to wear for the Japanese passport photo.
You just have to follow some simple but important rules. The authorities require that accessories such as jewelry, sunglasses, or headcovers are not allowed for the Japanese passport photo. However, it is allowed to wear prescription glasses if you use them for medical purposes and it is also allowed to wear head covers for religious reasons.
How can I take my Japanese passport photo at home?
Once you have carefully read what the requirements are for your Japanese passport photo, let's discuss how you can take your passport photo on your own.
Background
It is important that the background of your Japanese passport photo is white and plain; this means that any type of pattern or different colors will be rejected. Make sure that no objects or people will be behind you when taking the photo.
Lighting
Finding the perfect lighting when taking your passport photo is not always easy since the requirements, in this case, are strict. First of all, you should find a naturally lightened room to make your photo neither too dark nor too bright. For this reason, we suggest you take your photo during the morning or the afternoon. It is important to avoid any kind of dark spot or glare on your face. In some cases, you can use a flash lamp as long as it doesn't create any skin reflection on your face.
Facial expression
For your Japanese passport photo, you are not allowed to smile nor do any other facial expressions. We suggest you relax your facial muscles and keep a neutral expression.
Camera position
Once you have done everything, you just need to know how to snap your shot properly.
Generally, you are allowed to use the camera that you prefer, even using your smartphone would be acceptable. It would be perfect if you set the camera at least 1 meter apart from you, so that your face, your neck, and the upper part of your shoulders will be visible. Another important rule is to not take a selfie because it can result in bad quality and it will make it harder to respect the dimension requirements of your photo.
Adjusting the photo
When everything is done, the next thing you need to do is to rely on the passport photo tool that, through artificial intelligence, will adjust your photo making it completely consistent with the photo requirements for the passport of the country you are applying for.
Passport Photo online: Japanese passport photo in 3 seconds
Everything will be easier if you will rely on this smart passport photo tool.
Passport Photo Online makes use of the newest technological software based on artificial intelligence, the same that governmental authorities use when they have to check whether your photo is in line with their requirements. You can use this service either on the web page or on the mobile application.
These are the steps that you will need to follow:
Go into the website Japanese Passport Photo and upload the picture you have shot before and that needs to be adjusted.
Let artificial intelligence check your photo. In a few seconds, the software will crop your photo, adjust the lighting, and replace the background.
Once the whole process is concluded it means that your photo now complies with all the biometric standards. You will soon receive your downloadable or printable photo via email.
Isn't it easy? The AI will take care of you. The main purpose is to help you get your passport photo without wasting precious money and time. With the Passport Photo Online service, you will have a 100% acceptance guarantee.