When applying for a passport, you must include one recent photograph with your application. Without a good passport photo, a Greek passport will not be valid. All countries have their own set of passport issuing criteria. Be careful to double-check the specifications on the authorized Greek government website. Please read this article all the way to the end to learn what makes a photo eligible for inclusion in a Greek passport and how to get one taken quickly.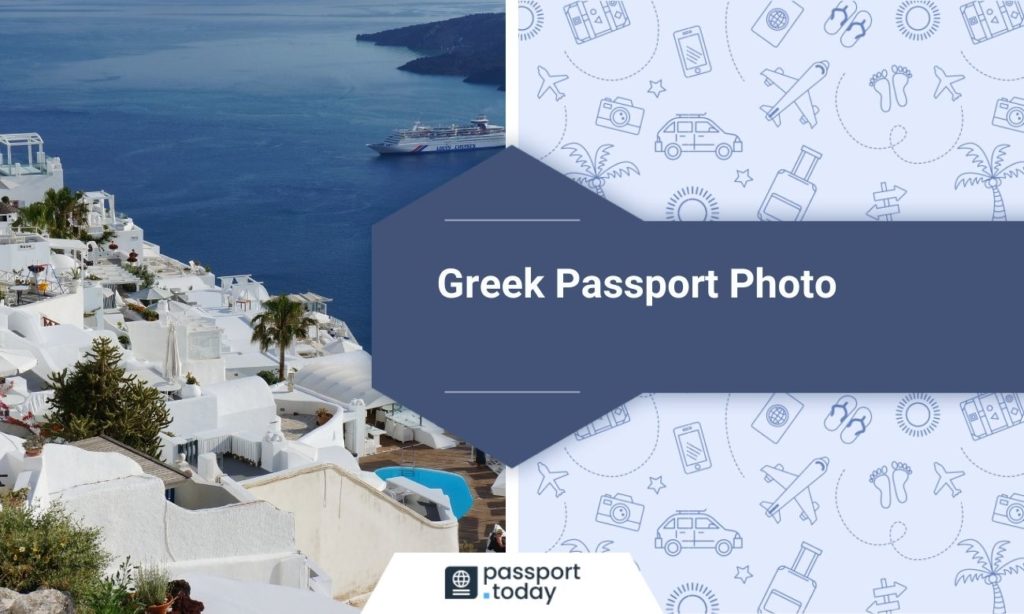 Greek passport photo requirements
Let's get started with the basic requirements for obtaining an eligible photo for a Greek passport. Understanding what requirements a Greek passport photo must meet is an important part of the process of obtaining a passport since, as stated earlier, if the photo is not taken in the right way, it could result in your application being denied. Therefore, to prevent that from happening, have an eye on the following guidelines.
The dimension of the photo for a Greek passport has to be 40 mm x 60 mm (unframed).
The photo must be made or printed on high-quality plain white photo paper.
The photographs should be vivid and detailed, with the natural skin colors rendered, avoiding any color intensity.
Photos will need to be relatively recent, as those older than 6 months will be rejected.
The prints from a digital camera must have a resolution of at least 1200 dpi.
Passport photos cannot have pixel or raster dots or be made on inkjet or laser printers.
Your head should be in level with the camera, try to keep it straight and not tilted.
Read other guides on passport photos
Posing
Struggling about how properly you should pose for your passport photo? Don't worry, we'll explain.
In order for your body positioning in your passport photo to turn out as required, a frontal type of photo must be used.
Keep in mind that the head angle may be less than 5 degrees from the middle in all directions.
Shoulders should be at the same level.
Portrait photos in which the person is looking over his/her shoulder will not be accepted.
Keep a neutral expression on your face – no smiling, mouth closed and eyes opened.
Directly look into the camera lens, try not to move or turn around.
Dress code for your passport photo
There are no restrictions on the choice of clothing for a passport photo. Although, we would advise you to choose something that is not flashy and does not attract a lot of attention.
Here are some more rules that you should familiarize yourself with before you go to take a picture:
Headgear is not allowed, but you can wear it for religious reasons.
Your facial features from one ear to the other and from forehead to chin should be visible.
Remember that your hair should not cover your eyes or eyebrows, so be sure to trim your bangs or clip your hair.
Sunglasses or colored glasses are not allowed. If you wear prescription glasses, you can wear them, but even then, their frames should not overlap any facial features.
How to take a Greek passport photo at home?
At first glance, it may seem challenging to take your passport photo in your home. But in fact, you will hardly need anything and your photo will be indistinguishable from the one taken in the photo studio with a professional camera. In the section below, we will tell you about everything you require in more detail:
The first thing to start with is lighting. It will be almost the most important aspect to get a good photo. You should not take pictures with a flash, as this can lead to unwanted shadows in the picture. The best place to take the picture is by the window, and it is also crucial to take it in daylight. If you have a room that is not very bright and the previous option is not the best one for you, try using a lamp. The main thing is not to forget that in this way the photo can show sharp reflections, which you should try to avoid.
All you need here is to find a plain white (light) background without any patterns or decorations on it. If you don't have a white plain wall, try a white cloth or sheet. Just hang it behind you or get someone to help you with the job.
Keep up with the requirements
Next, you should double-check all the official recommendations and requirements for a passport photo so that it turns out perfect. Be careful with your posture and facial expressions.
One of the biggest perks of making document photos at home is that you don't have to take them with a professional camera. You can easily use your phone. Just use a selfie stick or ask someone to take your picture. It is not advisable to take selfies, as it significantly degrades the quality of the photo. The distance between you and the camera should be about 1.5 meters.
Now that you have read all the recommendations and prepared your camera, feel free to take your picture. Another huge advantage of taking pictures at home is that you are able to take as many pictures as you want. So that your picture is ready to be submitted we recommend using passport photo software.
Passport Photo Online: Get ready your Greek passport photo within a blink of an aye
With an online passport photo maker such as Passport Photo Online, you are able to upload your photo for automatic adjustment. Thanks to artificial intelligence, your passport photo will be perfectly retouched so that it meets the requirements.
Let's figure out how it works:
Upload a photo in the mobile app or website.
The artificial intelligence determines if your photo qualifies, crops, and aligns the background. It will also adjust your photo to the right size of a Greek passport photo.
Once your photo has been verified, it will be emailed to you from where you can download it and attach it to your e-passport application, or you can also print it on quality photo paper.
There you go. No more standing in line at the photo studio, agreeing to a photo you don't really like, and waiting a long time for your photos to be ready. With Passport Photo Online, the process is a whole lot easier and more enjoyable. Don't waste your precious time and energy on something that can only take a couple of minutes by simply using your smartphone.