Applying for a passport should be one of the first things you need to think about when you decide to travel to a foreign country. In these cases, a passport is always requested. On the other hand, applying for a passport is no picnic. There are a lot of specific requirements which you need to comply with and the entire process usually takes a lot of time. Particularly, your Taiwan Passport Photo must meet specific standards determined by the national authorities of the country you want to visit. If you don't take care of this step your photo may be rejected. Read our article to know more about the photo requirements for your Taiwanese Passport Photo.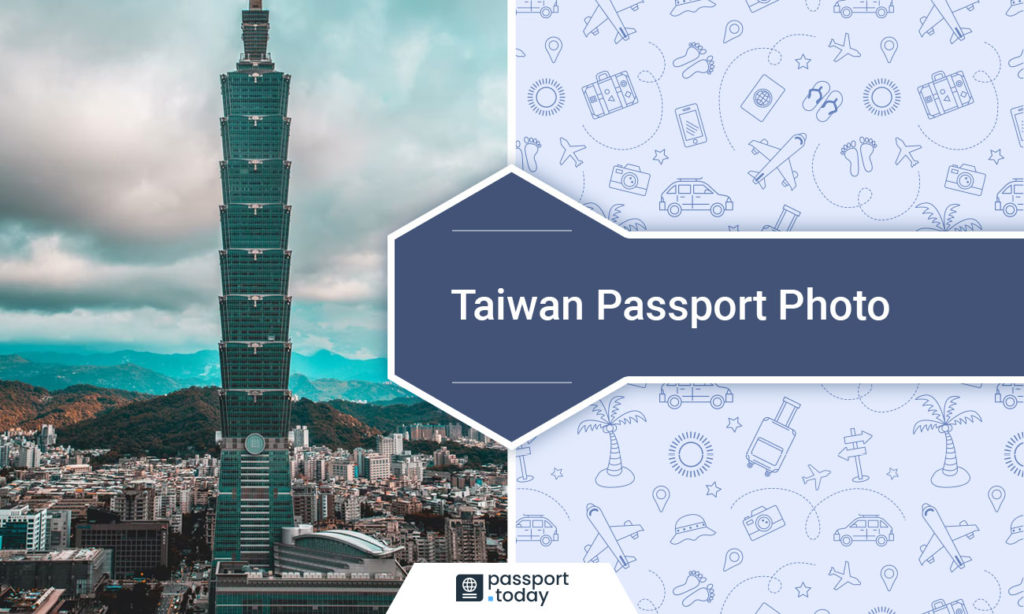 Taiwan Passport Photo requirements
The size of your passport photo must be 45mm x 35mm and inside the photo, your head should be centered and its size should be around 32mm and 36mm, namely 70% of the whole photo. We recommend you look straight into the camera.
The background must be white and object-free. Patterns are not allowed.
Your facial expression should be as neutral as possible keeping your mouth closed. It is not allowed to smile in your Taiwanese Passport Photo.
It is possible to wear accessories as long as those don't obscure any part of your face.
The photo must be in color, that is why black and white photos will be immediately rejected.
It is not allowed to apply filters on your photo. It should show your real face without distorting your real and current look.
High-quality photos are required. If you want to get digital passport photos you should consider that its digital definition should be at least 600 dpi. Otherwise, if you want to print you should consider buying high-quality glossy paper.
You need to take 2 passport photos for your application.
Read other guides on passport photos
Posing
In this article, you will find out what is the best pose for your Taiwanese Passport Photo, the only one that will allow you to have your photo accepted 100%.
Your body should be squared and your eyes looking straight to the camera. We suggest you sit and keep an upright position with your back perfectly straight and keep your hands folded because it will make it easier.
In your Taiwan passport photo, the top of your shoulders need to be visible, as well as your neck and your entire face.
Don't rotate your body and don't look sideways. Try to maintain a frontal body position and to look towards the camera.
Dress code
No specific criteria on how you should dress are required for the Taiwan Passport Photo. Yet, there are just some simple rules that need to be followed.
It is not allowed to wear sunglasses in Taiwan Passport Photo but if you wear prescription glasses you are allowed to wear them as long as they are not covering any part of your face and they have no colored lenses because your eyes must be completely visible. If you wear prescription glasses we suggest you don't use any flash lamp because it will probably reflect on the glass and your photo will be rejected.
You can wear a headcover only if you use it for medical or religious reasons. Other kinds of headcovers will not be allowed.
We suggest you wear dark-colored shirts. It will create the perfect contrast between you and the white background.
How can I take my Taiwan Passport Photo at home?
At this point, you are probably wondering how you could take your Taiwanese Passport Photo by yourself at your place. In the following part of this article, we are going to show you how easy it can be to save money and time.
Before taking your Taiwan Passport photos it is strongly recommended to read which are the requirements at least two times. In this way, you won't get wrong and you will be fully prepared to take your perfect passport photos.
If you're thinking about taking your passport photo at home one of the very first things you do is set up the ideal lighting. The photo should be taken in daylight because it will seem more natural. Try to avoid flash reflections, shadows, underexposure, or overexposure.
For shooting your Taiwanese Passport Photo you can use a professional camera as well as your smartphone. We recommend you avoid selfies and use only the external camera. Set the camera 1.5 meters apart from you.
As suggested in the previous paragraph, the background color must be white. For this reason, we suggest positioning in front of a white wall or a big white piece of furniture. Always remember that people or objects are not allowed to be in your photo background.
After following all these steps, all you need to do is to use passport photo software for adjusting your photos. It will make your photo fully in line with all the requirements, adjusting size and lights, centering your face, and blurring the background.
Passport Photo Online: You can get your Taiwanese Passport Photo within a few seconds
Passport Photo Online is an online service operating as a web page as well as a mobile application created to help its users to get a perfect biometric photo for their documents without spending a lot of money or wasting their time.
That is how our service works:
Go to our page Taiwan Passport Photo and upload the picture that you have already shot but still need to adjust.
Let the AI (artificial intelligence) do its work and automatically resize, crop, adjust and replace everything that needs to be improved in your passport photos. By the end of the process, your photos will be totally in line with the photo requirements established by governmental authorities.
Once your photos meet all the biometric standards we will send you the final results via email and after that, you can decide to print it or just download it and use it for your digital application.
You won't ever worry about imperfect photos again! With our service, you have 100% compliance guaranteed!