When you are applying for a Korean passport, you are obliged to prepare a passport photo that meets official requirements. If the photo is not perfect your application may be rejected. Keep reading this article to find out about the official requirements and a simple way to take that photo at home.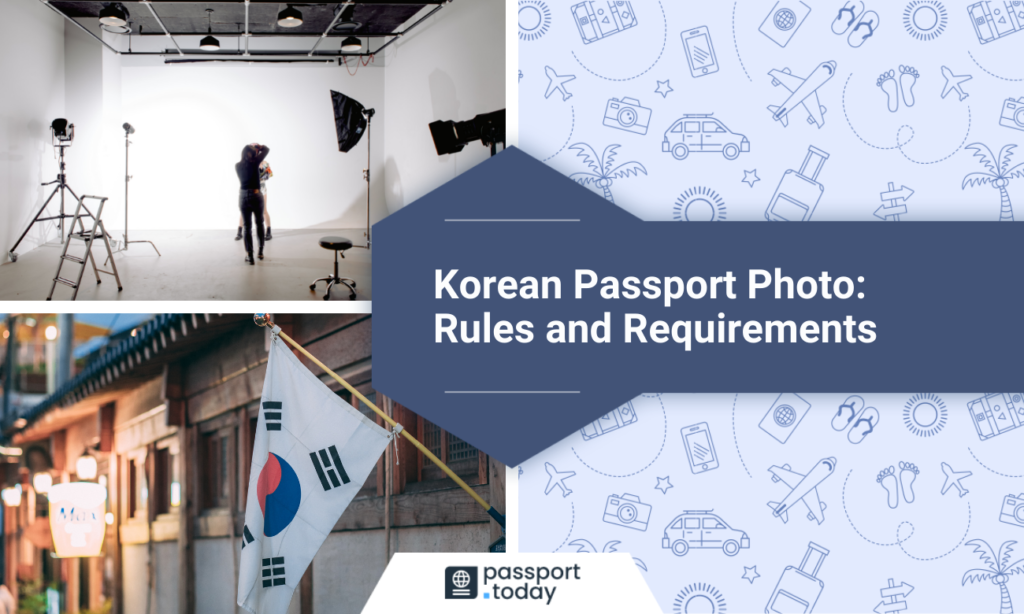 Korean passport photo requirements
Let's start with the requirements as it is probably the first thing you want to know about a Korean passport photo.
Knowing certain standards that photo for a Korean passport has to meet to be accepted can make your application process much faster. Look at the requirements below to avoid getting rejected.
The required size for a Korean passport photo is 35 x 45 mm(width x height). The resolution should be 600 dpi.
Photos must be printed in colors and on special photo paper.
Your photos should be taken within the last 6 months.
There is only one type of background that is allowed for a Korean Passport Photo. It has to be plain and white (no patterns or spots).
Posing
There are some rules that you have to respect while posing for different types of photos. If you don't want to get your Korean passport photo rejected by authorities you have to obey some rules as well. Look below at a shortlist of the things you should keep in mind:
The camera should be pointed straight at your face (no half profile) and clearly show two sides of the face.
Your head, shoulders, and back should be straight.
Remember to keep a neutral facial expression (no smile or anger)
Dresscode
There is no type of outfit you should wear for a Korean passport photo. However, you want to avoid very light clothing (it can mix with the background) and other unsuitable outfits that can lead to rejection of your photo.
Remember that you are also allowed to wear religious attire as well as head coverings if you dress like that in daily life. However, they can't cover your face.
When it comes to glasses you should avoid color contact lenses or glasses with frames or sunglasses. Your eyes must be visible (not covered).
Read other guides on passport photos
How to take a Korean passport photo at home?
Now that you have learned what the requirements are for the Korean passport photo, let's go through taking the photo yourself without leaving your home.
Lighting
It is a really important factor. The best way to solve lighting problems is to position yourself opposite a window with natural light. Remember that there should be no shadows on the background or your face.
Background
The simplest solution is to use a white wall. If you don't have any then just use a white cloth. Make sure that the background is plain and doesn't have sharp edges or any objects.
Follow the requirements
Do a quick revision of the requirements before you take the picture to make sure that you know all the requirements. Remember the rules regarding facial expressions and posing.
Set up the camera
One of the best solutions would be to use your smartphone camera. It is probably good enough. Just remember that a selfie is usually not a good choice. However, it is much better if you ask someone to take a picture of you.
Adjust the photo
When it's all done, you can use passport photo software to adjust the photo so it matches the requirements.