One of the main documents you are asked to submit when applying for a Singapore passport is two identical photos that must meet certain biometric standards. If your photos don't respect the official criteria, your application is likely to be rejected. If you would like to learn more about the Singapore passport photo, such as the requirements, features, and how you can make one at home, continue reading this detailed article where we provide you with all the information you will need.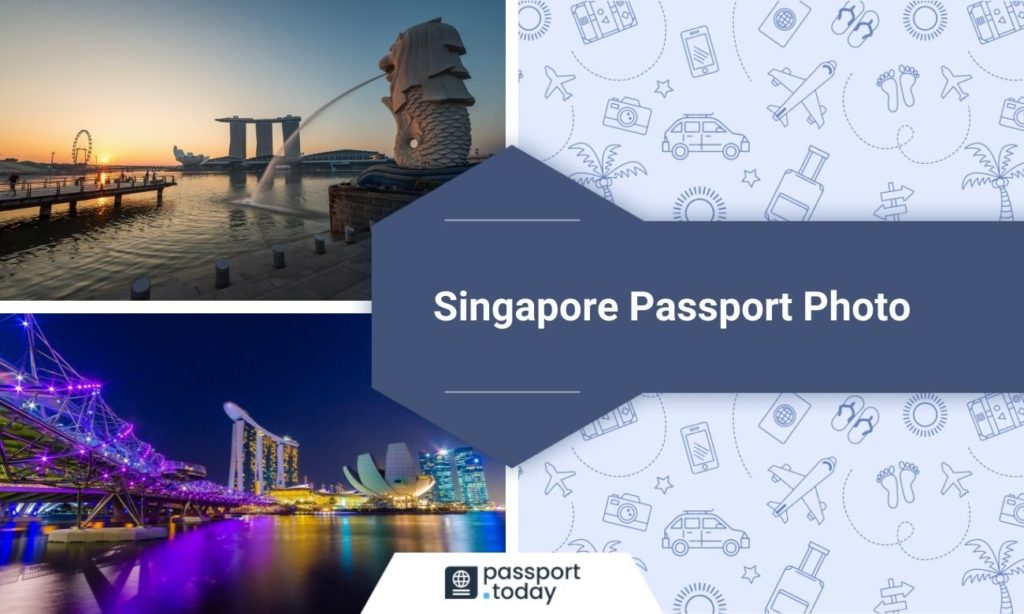 Singapore passport: photo size and requirements
Singapore passport photo is a professional photo that will accompany you for many years and that you must show for identification purposes whenever you leave your country. This kind of photo has some specific qualities and criteria that need to be considered in order to avoid rejection by the authorities and to obtain a Singapore passport. Here is a list of the characteristics that need to be taken into account before applying for a Singapore passport:
The number of photos needed in the application: 2 identical photos
The photos size is 45mm x 35mm (45mm for height and 35 for width).
The head's size is between 25mm and 35mm.
Only photos in color are accepted because they reflect the real skin tone. So black and white photos and photos with filters are not permitted.
Head's position: In the center of the photo looking straight into the camera.
The photos should be recent and not older than 6 months. They should reflect your current appearance.
Background photos should be white and clean, without patterns, other colors, or objects visible.
The photos must be clear and flawless so it is recommended a resolution of at least 600 dpi.
Read other guides on passport photos
Facial expressions
The passport photo is valid when the eyes are clearly visible and looking straight into the camera and the expression is relaxed and neutral with the mouth closed.
Headwear
You should not wear headgear such as hats or scarves while taking your Singapore passport photo except for religious or medical reasons. But keep in mind that it is forbidden to cover your face even if it is for religious reasons. The face must be visible to make it possible and easy to identify the person.
Glasses
Wearing glasses in the Singapore passport photo is allowed if you are used to wearing them in your daily life. Make sure these glasses don't create shadow and don't reflect the light on the lenses. Your eyes should be visible 100 % in the Singapore passport photo.
Dress Code
Regarding the dress code, there are no rules, but for a good photo, we highly suggest you wear casual clothes and avoid uniforms or sportswear. We also recommend you wear a color other than white.
Lighting
Lighting is a very important factor that may affect the quality of the photo and may cause rejection by the authorities. make sure that the lighting is natural and sufficient so as to illuminate the person's face without creating the effect of shadow.
Makeup
Putting makeup for your Singapore passport photo is allowed for both women and men. Makeup can be the best option to achieve a natural and relaxed look and to hide some defects, but you have to be careful not to apply too much makeup in order not to change the facial features since the purpose of the photo is to identify the holder of the passport.
How to prepare your own Singapore passport photo at home?
Nowadays, thanks to technological developments, we can take our photos at home, with our smartphone and choose the correct one to print for a passport application. This is by far the most modern way to take passport photos nowadays considering that you can save time which you can spend with your family and friends and save money as well.
Here are the steps to follow in order to take your own photo at home in 3 seconds:
Stay 40cm away from the camera
Look straight ahead and directly into the camera.
Maintain a neutral facial expression
Keep your head centered and don't turn your head in any direction.
Choose a well-illuminated place with natural light.
Pay attention to shadows and reflections from the sun.
Choose a white wall for the background
Submit your photo through the app (available on Android and iOS) or through our online editor and you will receive your photos via email ready to print or send in digital version.