You'd be surprised, but this actually is a very popular question among younger people who have to get a passport for the first time ever. Selfies are a huge part of Generation Z and Millenials' life, so it's only normal that this is one of the first questions they ask when thinking about getting a passport.
The Covid19 pandemic led people to look for alternative ways to get things done without leaving their homes or visiting crowded places, like malls and public offices. In addition, learning how to do things online or directly from one's couch is a resource that has proven to be very useful over the past couple of years. Moreover, to be deemed acceptable passport photos, by law, have to be recent and no older than six months, so since professional photographers and photo studios have been closed for months and have only recently reopened, looking for a way to take your own ID photo only seems smart and farsighted.
In this case, using a selfie for your passport or any official document photo seems perfectly legitimate and makes perfect sense, but is it actually allowed by the authorities?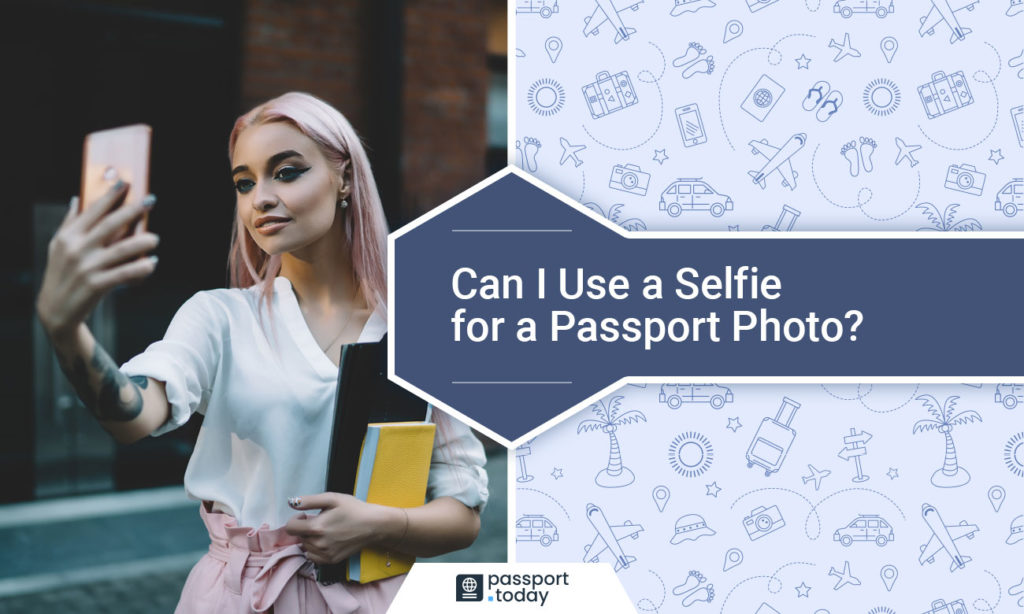 Passport photo requirements according to the US government
Since a passport is an official document that allows you to move more or less freely among other countries, the US government is very strict and clear on what is allowed and what is not in passport photos.
According to the U.S. Department of State, selfies are usually not allowed for official documents because it is more difficult for them to perfectly fit the required dimensions and meet the requirements. There's also the issue of the photo quality: to be accepted, the passport photo must have a high resolution, making it easy to recognize the person's facial features in the image, and that's not always possible with selfies. If you're using an older smartphone, there's a high chance that your selfie will come out slightly blurry or grainy, thanks to the internal camera not having optimal quality. There's also the issue of distortion: arm-held selfies place one shoulder higher than the other and the distance between the camera and your face isn't always enough, causing distorted features.
Read other guides on passport photos
Required size and dimensions for passport photo
According to the official website of the Department of State, the correct size of a passport photo is 2 x 2 inches. To be more specific the head size, so the distance from the bottom of the chin to the top of the head must be between 1 and 1 3/8 inches.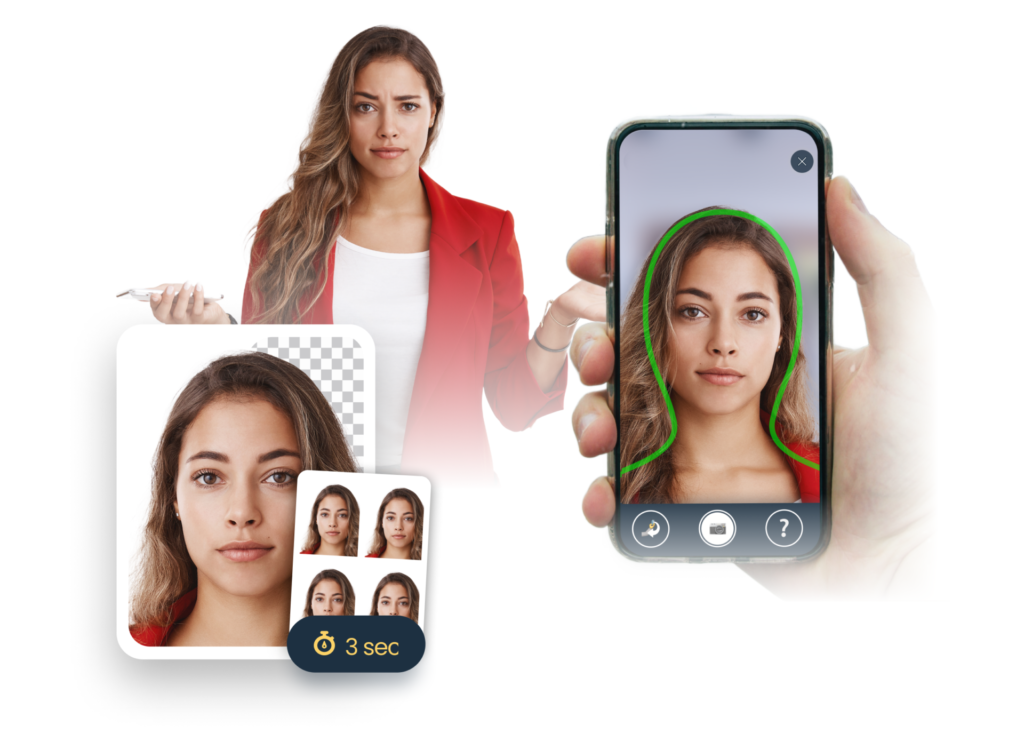 How can I take a passport photo at home?
To take the perfect passport photo at home you need to have the official requirements clearly in mind and you simply need a smartphone or a digital camera.
The good thing about taking your photo at home is that you can do whatever you want to be as comfortable as you can while taking the photo. Do you prefer to take your photo while sitting down? This can be easily arranged. Do you feel uncomfortable when there's somebody on the other side of the camera, telling you how to pose? Don't worry, you can easily take the photo by yourself with your camera and a tripod whenever you feel ready and at ease. The other positive aspect of taking your passport photo at home is that you have the ability to take as many images as you want to choose the one you like best without wasting money and time at a photographer studio.
Here we are gonna list some useful tips to follow when taking your own passport photo at home.
Have someone take your passport photo for you
Since official guidelines advise against using a selfie for your official ID photo, you should ask a relative or a friend to take your passport photo for you.
If you can't find anyone willing to take your shot, you can still use a tripod. Remember that in this case, you should place the tripod right in front of you at your eye level and it should be at least 4 feet away from you because it needs to capture not only your face but also your upper body and the empty space above your head. Don't forget to set your photo camera's timer!
Choose the best background for your photo
Before you take your passport photo make sure there are no other objects in the background. For most countries, the background should be smooth white. We know this can be difficult since you're taking your photo at home, but try to avoid standing in front of a bright-colored wall, patterned wallpaper, and a wall full of pictures. As cute and adorable as your family photos maybe, in the passport photo you're taking the only person who needs to appear is you.
How to pose for your passport photo
You can decide if you want to sit or stand for your photo to be taken. The important thing is that you stand up straight and try to assume a relaxed and comfortable position. Your head should be looking straight ahead, in the direction of who is taking your pictures. You cannot tilt your head in any direction, even if your right side is the one you prefer to show.
As for your expression, try to keep a neutral facial expression. It's clearly stated in the US guidelines that smiling is allowed in passport photos, as long as it's a natural smile and not something forced or exaggerated.
Pay attention to the lighting of the photo
Try to take your passport photo during the daytime, when the sun is the most effective source of light. When taking photos you should always be facing the sunlight, so try to position yourself in front of a window or choose a lighted location. The main purpose is to avoid shadows on your face and on the background, so if you see shadows on your face or on the wall you're using as a background, we recommend putting a lamp on the floor behind you to illuminate it and eliminate the shadows.
Also note that the photo needs to clearly show your face, so if there is too much contrast with a light on your face this could get your photo rejected.
Wear appropriate clothes for your passport photo
The main goal is for you to stand out from the background and be fully visible and recognizable in the image, so think about what clothes you should wear, obviously focusing on your top. Clothing that you wear on a daily basis is perfect and it can be in any color except white and grey, as these colors are too similar to the background color you should have for your passport photos.
Uniforms, camouflage attire, and clothes that look like a uniform are strictly prohibited.
Head coverings, glasses and jewelry
Let's talk about accessories. The main goal is to take a photo where you are perfectly visible, so you must avoid anything that can cast shadows on your face. If you have long bangs covering your eyebrows you should pin them with bobby pins, and we also suggest tucking your hair behind your ears or hanging it in a ponytail, to make every aspect of your face completely visible.
Remove any head covering unless it's used for religious or medical reasons. If you wear it for religious or medical purposes you must also submit a signed statement saying the head covering in your photo is part of traditional religious attire and that is normally worn in public or a signed doctor's statement, certifying that hat or head covering is used daily for medical purposes.
As for eyeglasses, the same rule applies. They are only allowed on passport photos for medical purposes and upon presentation of a note signed by your doctor with your passport application.
Jewelry is also accepted, as long as it's not too extravagant and visible, covers your facial features or causes shadows or unwanted glares.
Makeup, piercings and tattoos
Don't let your makeup get out of hand, remember you're taking a passport photo and not a selfie! As clearly stated in the official guidelines, makeup is allowed as long as it's not too heavy and covers your facial features, making it difficult to recognize your identity. Facial piercings are allowed as long as they don't hide your face and permanent tattoos are also not a problem.
Avoid any filters or edits in your passport photo
Even though you have the final say on your photos, since you take them yourself at home, don't think about editing them. American authorities won't accept any picture that has been edited in any way, especially if it was taken by someone who is not a professional photographer or editor.
The same goes for filters commonly used on social media. Since the picture must show a clear image of your face, any filter that modifies and exaggerates your facial expression is strictly prohibited.
How to use a selfie for a passport photo
As we said before, it is usually not allowed to submit a selfie as a passport photo, because the official authorities will likely reject it for many different reasons.
However there is a way to use a selfie as a passport photo and make sure it meets all the guidelines and this is possible by using a digital photo booth, such as Passport Photo Online.
Passport Photo Online Tool
Passport Photo Online is an application that helps its users to create the best photography for any document. But what can this digital photo booth exactly do?
After choosing the document for which you need the photo, you can choose between 'normal photo' or 'selfie mode'. Moving forward with the second option, the app suggests holding the camera at eye level at least 16 inches in front of you, with both arms fully extended or using a selfie stick. The AI-enabled photo tool converts your selfie to the appropriate size according to the official requirements, giving it the correct resolution and dimensions. It also removes the background completely or makes it appropriate for the document by changing its color. Don't panic if you have forgotten what the passport photo guidelines said about background-color: Artificial Intelligence will check this data and the application will provide the appropriate background.
The tool properly crops and frames your selfie: it makes sure the face is centered in the image and positioned according to the requirements. This digital photo booth also works as a validator, checking the photos according to the requirements for the document and preparing for you a photo to submit along with your passport application. To check photos, Passport Photo Online uses artificial intelligence, thanks to which it can check whether there are any problems in the photo, such as incompatible shadows (on your face, on the shoulder, or in the background), under or overexposure, if the head is perfectly centered and not tilted, if the eyes are wide enough, etc.
The app then gives you two choices: you can download the passport photo template for $ 6.95 or you can download and receive a paper print of your new photo for $ 9.95. If you choose the second option, you will receive a paper version of your passport photo at home, printed in quality paper and in high resolution, double-checked by Artificial Intelligence and by an outside expert.
When you use our app, you don't have to worry about your passport photo being a selfie. Once your selfie is ready to be downloaded and printed, you have a 100% guarantee of acceptance from American authorities.
Passport Photo App for smartphones
Our digital photo booth is also available for smartphones, for both iOS and Android users and its name is Passport Photo AiD.
If you have an iPhone or Ipad you can find our app on the App Store and then you can easily download it, while if you have a smartphone with an Android system you can download it from Google Play. Give our application a try, you will realize that getting your passport photo from home has never been easier and cheaper!