Making a passport photo by yourself is quite simple. You can take the right photograph by using an appropriate online photo tool, allowing you to get a ready-to-use photo in a few seconds. There's no need to install PhotoPak and other photography applications. You now have the option of resizing pictures automatically using a digital passport/visa photo website and either download your photo in digital version or receive them in paper form to your address. Though that's only possible thanks to Passport Photo Online, the ultimate photo generator.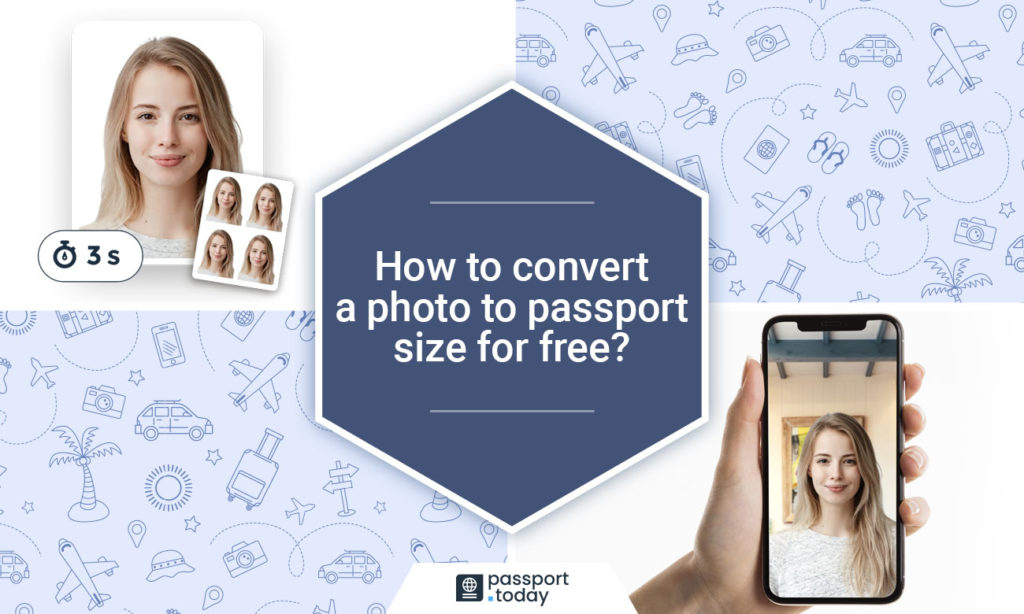 How do I print a passport photo?
A digital passport photo is downloadable by phone or any other smart electronic device as PNG or JPG-JPEG. Now you can easily obtain the perfect digital passport photo ready to submit to your online application. In turn, many of you may need your photos in paper form (or at least one copy). No worries, you can go to the photo print services nearby (such as Costco, Walgreens, CVS) and print them out for less than a dollar. Keep reading to know how to obtain photos in paper form for such a cheap price.
Digital passport size photo
Size is measured in pixels rather than in inches/centimetres. The picture dimensions must be measured in square aspect ratios (i.e. the height is equal to the width) and the size of the image must have 600×600 pixels. The passport-style photo must be in color (24 bits per pixels), particularly in sRGB color space which is the common input for the majority of digital cameras. The compression ratio should be below or equal to 20:1. A picture with a width of 1200 px will be denied.
Read other guides on passport photos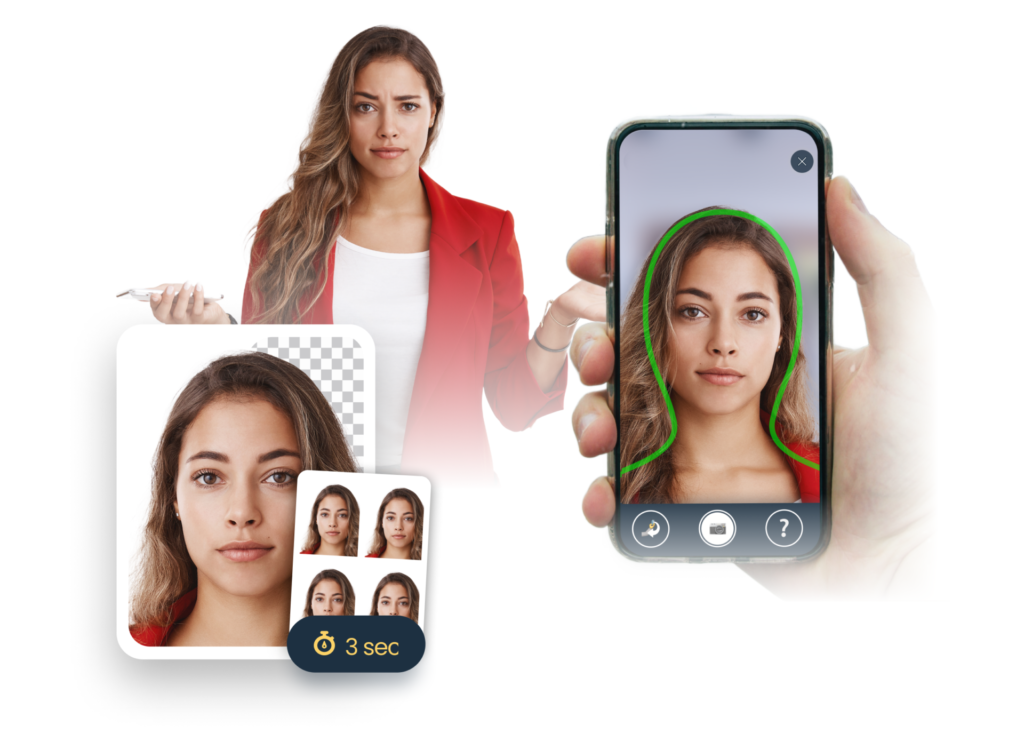 Passport Photo Online – The Right Option
Passport Photo Online provides its customers with a secure and reliable service. You will be safe using PPO, as your image is protected at all times. Users' biometrics are securely protected.
US passport photo maker (online tool)
The online US passport photo maker is designed to give you a photo that meets all your qualifications. All you have to do is take a photo and upload it. This passport photo editor converts the picture into a passport size photo, erases the background and adds the original size. The passport photo creator prepares for you a printable passport photo template including two pictures. This way you will get two 2 x 2 inch (51x51mm) photos onto one postcard size photo for less than a dollar. You can learn more about this lifehack below.
What do users think about PPO?
Passport Photo Online team is proud to know that its customers are happy with the service, as a reflection of this is its rating in both Google Play and App Store (4.3 stars). Even so, you don't have to download the app. A simple click is all it takes, and you will be taken to the Passport Photo Online website to get your passport photos. PPO is undoubtedly one of the top online photo services due to its wonderful features, which distinguish this tool from others.
A software program generated by AI will remove any type of background so you will only see a white background after editing your picture. Then, the human expert reviews the AI version to approve or correct it. You can be sure that your photo will be accepted by the relevant authorities. This photo tool has all the necessary functions and quality to ensure a top service, at the level of professional photo studios, as if it were an online photo booth. If your passport photo gets rejected at passport offices, please send Passport Photo Online an email with specific details of what happened and you can get 200% of what you have paid.
A free and simple tool is available for every single US citizen willing to get a US Passport photograph. It is very straightforward, you just need to upload a picture and wait till the AI system checks photo validity, then you will receive comments about how to correct it in case your photo wasn't correctly taken. You don't have to worry, the app/website will provide instructions on how to improve your picture. Try again, upload your image and ready! Anyway, in case you're not happy with the final result, you are free to repeat it. Though you must know that a human expert will review your photo, so if there are problems regarding your picture, you will be notified. Passport Photo Online is the most reliable passport software available on the internet.
How should I take a passport photo?
Where should I take my photo? Can I get my photo done at the office? Of course, you can! The photo background will be removed and converted into a plain white background no matter what. So you are free to take a passport photo from your couch, at work, at the supermarket, while having a nice walk on a sunny day, etc.
To benefit from Passport Photo Online, you simply can either get instant access to the website from any electronic device or download it for free from your smartphone or tablet through Google Play or App Store.
Then, you must take a look at the provided instructions regarding how to pose before upload/taking a photo. Thus, photo validity will be guaranteed. Your passport picture will be tested by an AI system, so it is ensured that it complies with every single passport photo requirement.
Does US passport photo have the same size as other passport photos?
A U.S. passport photo is a biometric photo that enables authorities to identify the passport owner. The principal difference between passport pictures around the world consists usually in size and background in the picture. Make sure that your picture matches the requirements of the US passport. The size of US passport photos is 2×2 inches (51 x 51 millimeters) which is unusual. Instead, some other countries allow various photo formats and sizes, such as Spain. The photo will allow the officer to recognize the document as valid.
What should I wear in my passport photo?
Passports are documents that you will keep for a very long time, so make sure you look good in the photo. It would be recommendable to try a more relaxed look instead of smart clothing. Anyway, you can't use uniforms or clothing that resemble uniforms. This will also help not to irritate anyone who might examine your documents. There's no strict clothing for taking passport photos though it is truly recommended to wear a good-looking t-shirt, sweater… that you feel good in. Don't go for anything extravagant as this photo will be with you for years.
Where can I get a passport photo?
You can get a digital US passport photo thanks to Passport Photo Online easily. Once you upload a photo, your background will be removed and the photo will be verified by AI, then you will be provided with the possibility of downloading your passport image in the right digital size and format. If you think you're not doing right on that picture just retake the photo! You get countless tries, so it's possible to choose the best shot.
You can also get your passport photos in paper form for less than a dollar by following this lifehack: Download your ready-to-print template and print it out in any photography service (like Walmart or Costco).
A passport photo template includes 2 pictures ready to cut it out. After obtaining your template at PPO, attend the nearest photo printing service and print out your template as a standard photo (average price: 5-20 cents). You will get your passport photo template printed out, from where to cut a couple of perfect passport pictures.
If you wouldn't like to waste your time, you can also receive two pictures delivered to your door for 9.95$.
Passport style photo – Requirements
The size of the photo, among many other considerations, can often differ from one country to another. Therefore, a US passport photo cannot be used when applying for a Vietnam passport and vice versa. Though there exist general guidelines for passport pictures, the US government states clear requirements for a passport photo. In case a picture does not comply with the specifications, it will be denied and the subject may have to repeat the application process once again. Take a look at the requirements here below:
The picture must be recent
White and plain background
Applicants must look straight at the camera
Glasses, hats, big earrings, jewelry or other complements are not allowed unless the applicant submits proof that this is due to medical or religious motives
Don't place too far either too close to the camera. Make sure you include the top of your shoulder within the picture frame.
Your head must be centered
Appropriate outfit, preferably of color as the background is white
The right size is 2×2 inches
Photos must have top quality. Any picture containing blurrings, red-eye effect, or any other flaws will be rejected too.
Nevertheless, you should not worry about official requirements if using Passport Photo Online. This online photo tool makes sure your photo is valid.
Passport Photo Online Features
Automatic AI-powered
Have your photo retouched instantly! Wait a few seconds till the tool checks your photo, it just takes 1 minute. Now you can obtain your official passport photo for online submissions. This picture allows you to hand in web applications in the blink of an eye.
No Ads
Unlike many others, this online photo editor is free of ads. You can surf the web peacefully and get the perfect passport image for your application straight away.
Professional
This tool offers top-quality service. It's just like attending a professional photo studio but without leaving home. Moreover, you can get as many shots as you like and choose your favorite one. Apart from editing, Passport Photo Online also prints & mails your passport photos by post. It even offers this service to hundreds of countries. Save money and time with PPO.
99.5% Guaranteed acceptance
Passport Photo Online offers a full guarantee, your passport photos will comply with the official requirements established by your country. The images are carefully processed by sophisticated biometric verification tools and processes. In the rare case that it is rejected, PPO will refund you 200% of the money you paid. All you have to do is contact them.
Face detection
Passport Photo Online uses face identification to locate the appropriate cropper frame to fit this image. You don't need to set the crop frame for the uploaded photograph manually.
Background eraser
Photos can be taken anywhere you like, whether this is at home, at work, while having a walk, etc. The image background will be erased and transformed into a white, plain background, just like in official passport photos or visa photos. Take the photo anywhere and get your printable passport template ready to download!
Unbeatable Price
The average price for passport photos in the US is around $15. On the other hand, you can get your photos at your doorstep for as little as $10 using PPO, your trusted service. Create passport photos online from home and save some money.
Order online
Get your pictures printed at an affordable price. Passport Photo Online creates, prints and delivers all around the world and on time. High resolution is guaranteed, as these guys print passport photos using high-quality photographic materials.
Try it!
If you want to get a passport picture then you're in the right place. With the assistance of this site, you can create a passport photo or visa photo from various countries with a few clicks. Get your photos online quickly and save some money. Single digital photos are available to download, as well as printable passport photo type templates. Attend the nearest photoshop and print your pictures for less than a dollar, cut them out and ready!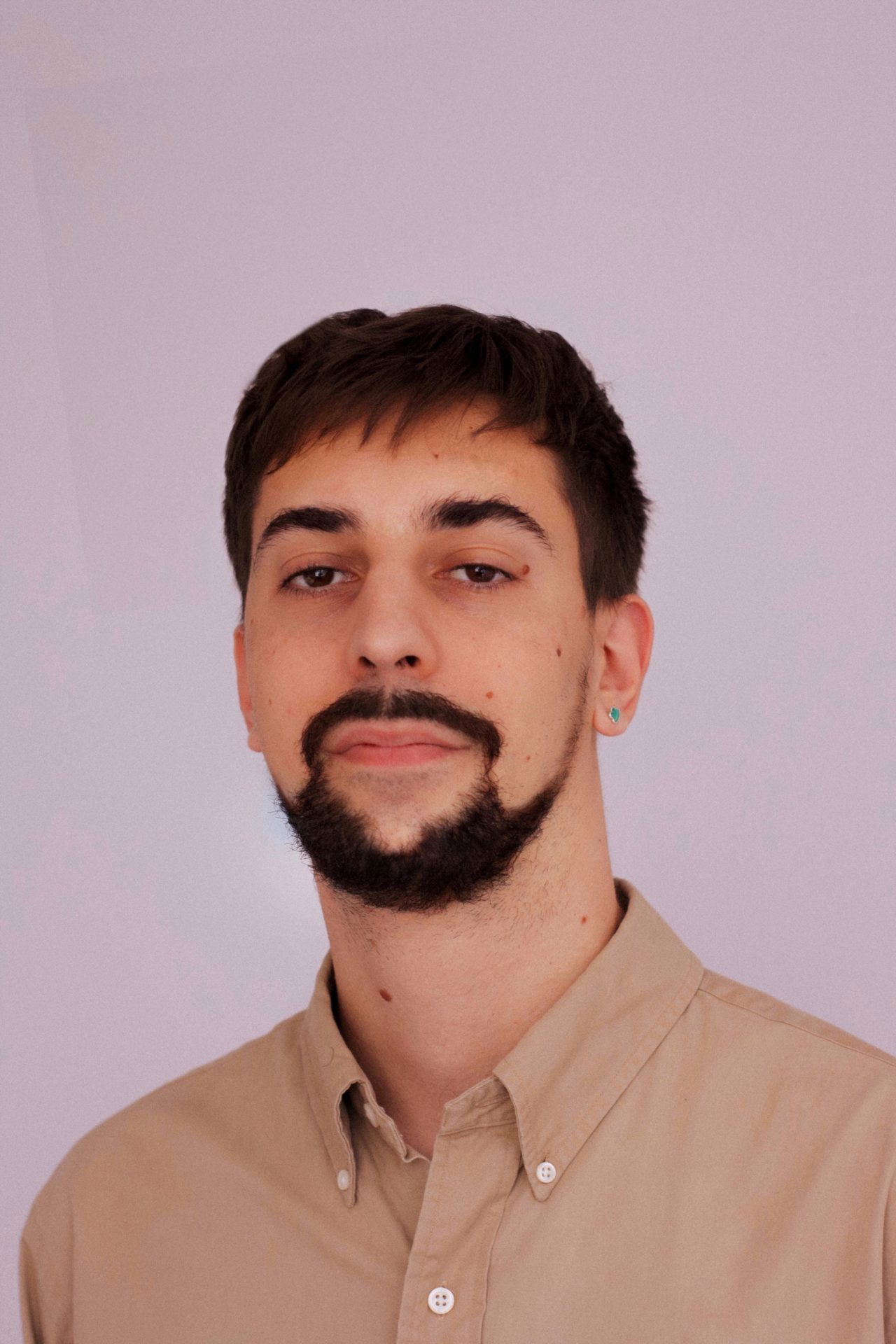 Born in Málaga, Alejandro Martín holds a Master's in Multilingual and Intercultural Communication. His love for travel mainly stems from his attraction to different gastronomic cultures and cooking. His other passions are Afro-American music and skateboarding.