Cruises can open up the world for us, taking us to many different places from the comfort of a grand ship with many amazing attractions onboard. They speak grandeur, splendor, and magnificence. But do all great cruises have to be super expensive? What month can we catch the cheapest ones that also provide us with the most amazing experiences? How to save money while also keeping luxurious this vacation? Read along our article to get to know all the tips and tricks in making your dream vacation a holiday on a (slight) budget.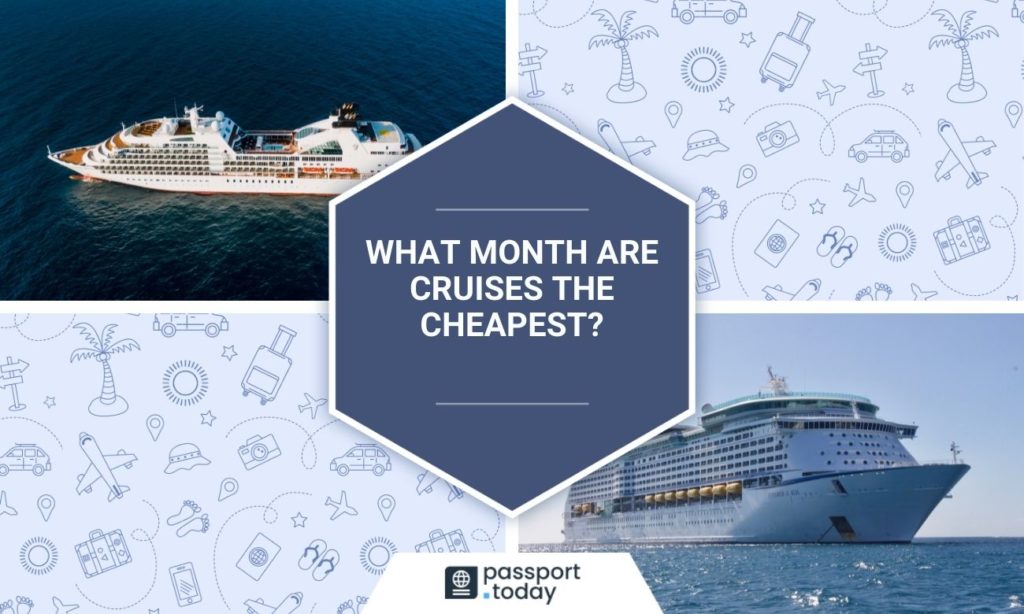 Factors that determine cruise prices
Cruises aren't the cheapest way to spend your vacation but you can get them for less money than first offered. We created a list of advice on finding the best cruise for yourself while also looking at the best prices. 
Remember that there are no seasonal times for cruise-goers. Cruises go for as long as they can during the year, but as weather and conditions change, cruise lines don't lower their prices – they simply relocate or stop going for a while altogether. If you're looking for something off-season then you need to think more off-peak. Peak prices are going to be the highest but if you book your ticket for the beginning or end of the period of time that the cruise operates, you can be sure that it's going to be cheaper. 
It's all about the popularity of the destination. Try going slightly out of your way and searching less-popular and less-occupied cruises. These cruises offer a great deal as well as they can get you to different destinations that are similar to what you had in mind but sometimes even better! Research is key. For example, if the Caribbean is too expensive, try some European islands like the Canary Islands and Portugal. 
What type of cruise should we go for? A very important question to ask ourselves, the more mainstream cruises are always going to be cheaper and the attractions they offer can be as good. Mass-market usually only means more people so be sure to check this important detail out. 
Research if you're going to need visas to visit the ports along your cruise's way. Visas can also get expensive and that's an added price to your ticket. Choose these destinations thoughtfully so that you can see the most for the least amount of money. 
Book in advance. Usually, people tend to book their cruises six months to a year in advance, but you shouldn't do that as that's exactly when the ticket prices spike up. Cruise lines plan their cruises around 3 years in advance and that's when the tickets are going to be the cheapest. As we understand that this far ahead can be a hard thing to plan, the prices don't drastically go up in around a year, so preferably – to save some money – book around 2 years in advance. 
Choose your battles – is the first-class really worth the added difference in money? Probably not. Do your research and check exactly what comes for the price of your ticket, because probably you can get something cheaper if you just buy it a different way (for example, the cruise is offering you a deal of 5 additional attractions in first class but you only want 2 – you can buy them onsite for cheaper then). 
How long should your cruise be? This is a very important factor to look at when thinking about saving money. Longer cruises are going to be much more expensive than shorter ones. Preferably if you're just thinking about starting your cruise adventure go for a shorter cruise. Get to know what you like, test it out and see for yourself what really is worth the hustle. 
Cruises can get expensive, but they can also get slightly cheaper depending on the choices and research you make. Our guide is here to help you start – there's still a long journey ahead of you. Go over each point of our list and you'll be sure to find something perfect for yourself.
What Month Are Cruises the Cheapest?
A big boat with many leisure activities, the endless sea all around and, from time to time, a port with many amazing attractions and sightseeing opportunities. Cruises come for a price, but does this price have to be so great that our wallets barely manage it? Fear not and let us introduce you to the world of the cheapest months for cruise vacations. Read along and learn when to take some time off at work and take your family for a holiday they will never forget.
What determines cruise prices
Cruise prices are determined by many factors. Below you can find a list of the most important ones that affect these prices the most.
Finding the best time: There are no off-season cruises, as cruises simply stop existing for a while instead of cutting down on prices in certain months. There is the best time for cruise-goers to save money, though, and that time usually falls for the period of the beginning/end of the season. If you want to save money, avoid the seasonal peak.
Finding the best duration: Cruise prices vary depending on the time they take as well. It's quite obvious that for a shorter cruise you're going to pay less money than for a longer one. It all comes down to the amount of food and fuel used per person.
Finding the best destination: Cruise prices vary depending on the destination. The more popular ones are going to cost more than the ones that are less crowded. If you have a destination in mind check out all the available options of cruises around there and choose the cheapest one. If there isn't anything cheap that strikes your fancy then look at similar destinations and you'll be sure to find something for yourself. For example, Bora Bora is very expensive–but Tahiti is much more affordable and almost as nice.
Finding the best-rated: the most popular cruises with the best reviews are going to be more expensive. There are a ton of niche cruises that get good ratings but are neither too crowded, nor too expensive. Do your research!
Finding the best type of cruise line: There are some luxury lines as well as some mass-market options and smaller cruise lines. Depending on what you choose, the price can drastically change. Luxury lines are going to be the most expensive ones and they usually don't offer much over what the mass market does.
Finding the best size: ship size can determine the price of the trip. The bigger the ship is and the more passengers can get on, the smaller the price is going to be.
Finding the best class: First class voyagers are going to be requested to pay much more than other people for slightly more amenities. Do your research and check out what makes sense in terms of how much money per activity.
Saving money while going on cruises
The most money you can save while thinking of going on a cruise is while booking. Make sure to book as early as possible as the prices go up with time. There are a lot of cruises that allow bookings up to three years in advance and you know that this is when they're going to be the cheapest.
You can also save money by choosing a cruise line first and the actual cruise second. Embark on a short trip with the cruise line and visit their customer service center. Ask them about a trip that you really want and negotiate the deal – they want to keep you as a customer and will offer the most amazing deals.
Getting to know your options when it comes to cruises is crucial. The guide above is really just the tip of the iceberg as the most important thing is thoughtful research. Going along with our list and checking every possible deal is going to get you on your dream cruise in no time.