If you are about to apply for a passport, you first need to get a properly taken photograph. But what if you want to take that photo with your iPhone?
Before we answer this, it is vital to understand that ID photos are not just any photographs – a passport photo, for example, needs to meet special requirements set by the U.S. Department of State. These regulations can often be challenging to follow and implement, especially when dealing with the technical aspects.
Intuitively, you may think that taking such regulated photographs with an iPhone will not be acceptable.
But contrary to that gut feeling, taking passport photos with an iPhone is not only allowed, but it can also be 50% cheaper compared to regular photo studios.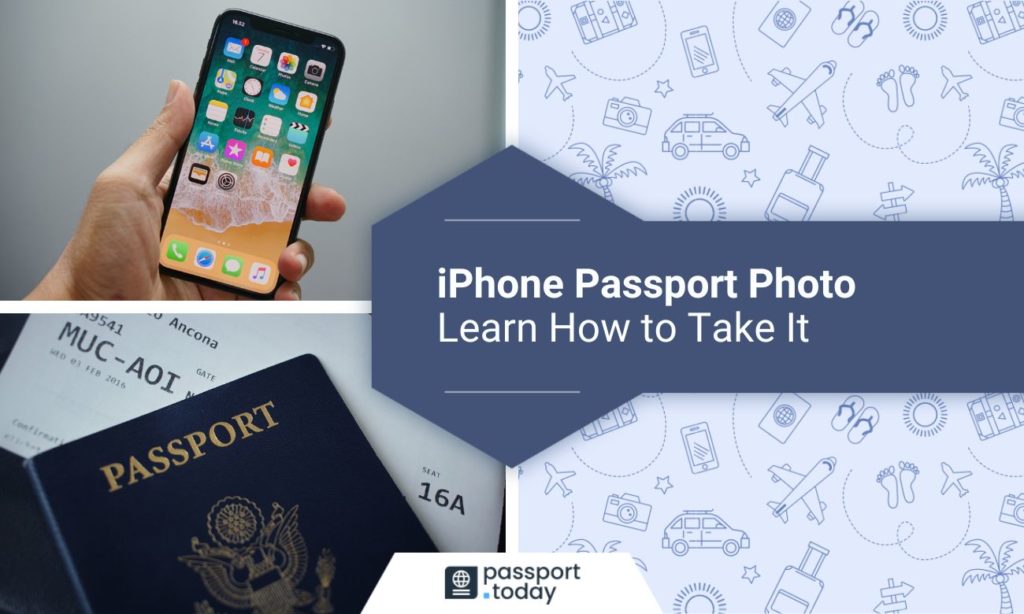 Can a U.S. passport photo be taken with an iPhone?
The U.S. Department of State does not limit in any way the means of taking a passport photo. What this means in practice is that you can use your iPhone to take a passport photo. In fact, you can use any smartphone, digital or analog camera, or even your laptop (if it has a camera) to snap the picture.
The trick is, however, to take the passport photo according to the specific guidelines.
What to pay attention to when taking passport photos with your phone?
U.S. passport photo technical aspects:
use a white background,
make sure the light is evenly distributed,
do not use any filters to enhance the picture,
the camera should be at least 40 cm away from you (but it can be further),
the photo must be 2 x 2 inches in size,
the picture must be in color,
there cannot be any blurs or damage to the photo.
Your pose and clothing for the U.S. passport photo:
look straight into the camera, do not tilt your head in any way,
keep your eyes open and mouth shut,
selfies are not allowed – instead, ask someone else to take the picture of you, or use a tripod,
maintain a neutral expression,
take off your glasses and headwear (unless for proven medical and religious reasons),
avoid white clothes.
As you can see, there are 13 (thirteen) things to remember about when taking passport photos, and this list is a lighter version of the actual requirements.
What is more, according to the U.S. Department of State incorrect passport photos are the number 1 (one) reason for application refusal.
Does this mean you should give up on the task?
Fortunately, there is a simple solution that can help you take your own passport picture: using online passport photo tools.
These programs are designed to help you create the perfect passport photo with your phone, and in many cases, are designed to alert you if any of the official requirements are not met.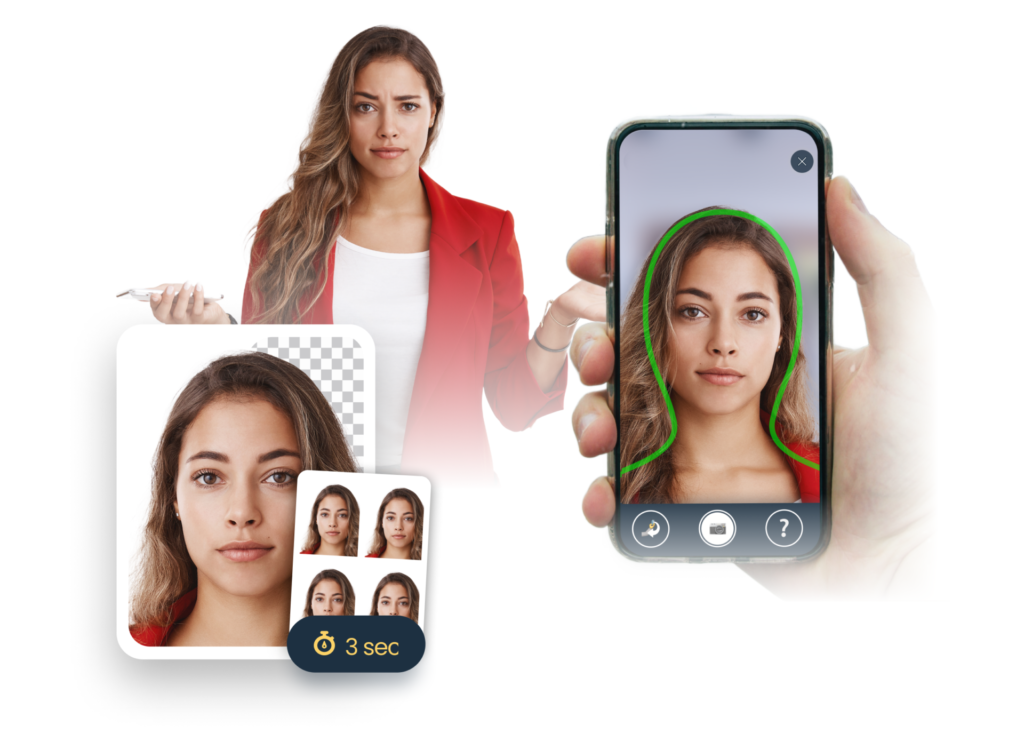 App to take a passport photo with an iPhone
There are many apps, counting in the dozens, that can help you take a passport photo. They come in many forms, from simple cropping tools to advanced AI-backed programs that transform your pictures into passport photos with just a few clicks. But we recommend one specific app: PhotoAiD
For starters, it has a dedicated app available on the Apple App Store to download onto your smartphone. The app requires iOS 12 or higher and around 55MB of free space on your device. You can also access the tool directly on the website.
The app mentioned above has an advanced AI algorithm that automatically transforms your home-made pictures into passport photos. This means that there is no need for you to study any passport photo regulations, as the app does everything for you.
You can take the picture from anywhere in your home, with no regard to the background. This program is specialized in removing the background and replacing it with a plain white one.
With the app's double verification standards, you can increase your chances of taking a proper passport photo – the app will inform you if any part of your picture does not meet the passport requirements.
On top of that, if you use PhotoAiD to convert your photos to passport size, you get a guarantee of acceptance by the officials.
RELATED READING:
How to take a passport photo with an iPhone
One of the greatest advantages of this app is its very intuitive interface, which makes the program easy to use – even for less experienced users, who do not use smartphones daily.
Regardless of your proficiency with mobile apps, we have decided to prepare a brief walk-through of the application. Let's make sure you get everything done with the first approach – and if you do so, you can get your passport photos in just 3 (three) seconds.
Take your perfect passport photo following these steps:
Step 1: download the app from the Apple App Store or access it directly on the website
Step 2: choose the document (in this case it will be U.S. passport photo)
Step 3: take a photo using the app or upload a previously taken picture
Step 4: wait the 3 (three) seconds needed for the app to process your photo
Step 5: decide whether you like your new passport photo or not (you can re-upload it multiple times)
Step 6: choose the method of delivery (print or digital)
Taking a passport photo with an iPhone: FAQs
Can you use an iPhone to take passport photos?
Yes, the U.S. Department of State allows you to take passport photos on any device, iPhones included.
How do you make a 2 x 2 picture on an iPhone?
You can take the picture with your phone and crop it appropriately with editing software. You can also use specialized apps that will adjust your photograph to fit the U.S. passport photo standards and crop it to the required 2 x 2 inches size.
Is there a free app to take a passport photo with an iPhone?
There are free apps available for the iPhone to take passport photos. However, with government photographs, it is best to use reliable software that can verify the pictures are in accordance with the regulations that often have payments included.
Passport photo with an iPhone – closing thoughts
Taking passport photos using an iPhone is accepted by the U.S. Department of State. What is more, nowadays you can do it from the comfort of your own home with the help of online passport photo tools.
PhotoAiD allows you to take passport photos with your iPhone with no need to study the official guidelines, as the app takes care of that for you. Join the group of over 350K satisfied customers worldwide and get your perfect passport photo in less than 10 (ten) clicks.