With the United States of America just down there below the Great White North, it is no wonder that you might be tempted to visit and see what it is all about? But what if you need to take care of your Canadian passport size photo while you're in the U.S., away from Canada?
Luckily, we're here to assist so you don't have to wonder "where to get Canadian passport photos near me?" You'll learn exactly where and how to obtain a picture for your passport book, so stay tuned and put on your reading glasses.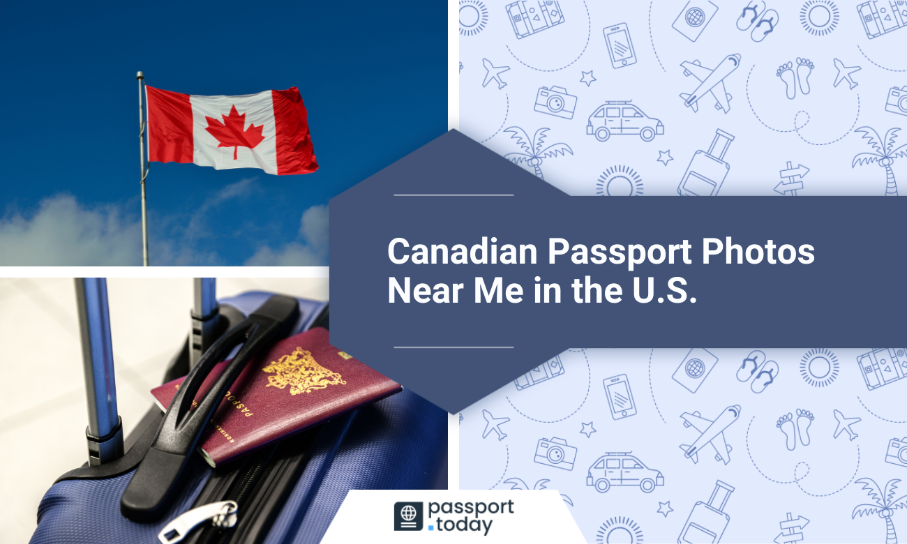 Canada passport photos in the U.S.
"Are there places to get a Canadian passport photo near me?" Yes, there are. You can get the exact type of picture in the U.S.
A variety of different institutions, facilities or stores will offer to assist you in your passport photo endeavor, like a U.S. post office, so you can rest easy.
Indeed, a post office will be quite enough to issue a valid Canadian passport photo, as a vast majority of them will be ready to take your photo.
Many other options are available though. We will discuss more in-depth as we continue with the guide.
Read other guides on passport photos
Canadian passport photo shops near me
The numerous services in the US, like the aforementioned post offices, will be able to take a perfect photo, taking into consideration differences between the U.S. passport photos and Canadian ones.
Keep in mind that the most obvious choice may end up being the best, meaning you might be tempted to take advantage of photo services offered by professional photographers in their studios or photo booths
They will no doubt find the right tools and measurements to take valid ID photos, citizenship photos, and anything else that will call for face identification.
Canadian passport photos near me: drug stores & pharmacies
A perfect passport photo, which is something you may find useful, will be available to purchase in some drug stores or pharmacies, as they often offer photo service as well.
To give you an example real quick, you can turn to a local Walgreens pharmacy and ask for their store services, among which you most certainly will find passport photo issuing.
CVS pharmacies will have you covered too, so if there's their facility in the vicinity, your future Canadian passport will find its new photo as well. Just as previously mentioned Walgreens, all you need to do is explain what kind of service you require and the store's staff should help you out.
Everything Canadian passports require, including white background, for example, will be taken care of in the matter of an hour or less if you're lucky. After all, once the passport is taken, it might require some finishing touches to make it valid and perfectly fine for the passport application.
Last but not least, Rite Aid is another of the drug store facilities that should help you purchase a valid passport photo. Just like other pharmacies offering to take a photo and have it delivered printed to your hand, they too will make sure the one you take at their place gets accepted.
Canadian passport photos near me: general stores
We're talking about general stores like Walmart, where photo services are among the most basic ones offered. Just remember that in the year 2022 Walmart stores do not only offer to take a U.S. passport photo for you but Canadian passport photos, among many others.
You can also consider the local Target as your next destination if you require a new photo for the Canadian passport. Even in a U.S.-based store, you will be able to get a photo that's compliant with all the specifications the government of Canada requires.
As you might have guessed, a U.S. retail giant like Target offers photo services and what's more, just like their rival, Walmart, they don't require a scheduled appointment. Your Canadian passport photo will get done.
Canadian passport photos: other services
Where else can I grab Canadian passport photos near me, you ask? Your next destination might as well be the American Automobile Association.
As surprising as the information is, the facts are that they too will be able to help, provided you acquired the membership card.
Attention: Even though AAA offers to take passport photos, the company's facilities are not a passport office. This is an important detail to clarify because Internet users have asked about applications there in the past.
You might also be interested in:
Where to Print Passport Photos
Canadian passport pictures photo place – big cities
If you're looking for the best photo for your Canadian passport and you're in any of the bigger cities, you will be fine. There is a large variety of places ready to take the picture, print or send it through the internet.
New York City, Los Angeles, Washington and many other large and popular points on the cultural map of the United States will offer you a place or two to get what you're looking for on pretty much every other street.
Canadian passport pictures near me in NYC
For example, as you approach Bryant Park from the 5th (fifth) Avenue, you can head east down 41st (forty-first) Street to stumble upon the nearby CVS photo studio.
You can also opt to go northwest and make your way to the FedEx center that will print your passport photo.
What's more, consider going further that way towards the Lincoln Tunnel to arrive at 580 8th (eighth) Avenue.
You will also be glad to hear that virtually every New York City district houses a Target store, a pharmacy or two or at least one post office, with the tendency being that the deeper into the city you go, the more of them you'll start finding.
Canadian passport photos near me in LA
To get Canadian passport photos in LA you should consider going inland a bit, as you'll find numerous photo services there, including Western Avenue.
There you'll be able to stumble upon Studio X & Mail Center, for example, right next to San Marino Street, as well as Authorized Passport Photos and a CVS photo facility as you walk north, next to the Wilshire metro station.
You will find CVS pharmacy on the south side of the shopping mall while you can also head east to 1600 Rosecrans Ave where you'll find Manhattan Beach Studios nearby.
Canadian passport photos near me in Washington DC.
The most convenient location for someone looking for a photo for a Canadian passport would be Lafayette Square, right outside the White House.
It will act as a good starting point, as you go virtually anywhere apart from the south and you'll stumble upon passport photo services one way or another.
If you decide to head north and then east, you can find the FedEx office on 1400 K Street NW Suite 102, but also the Rush My Passport facility, and District Camera and Imaging on the other side of the park.
Canadian passport photos near me in North Carolina
In North Carolina, you can find plenty of places to get your passport photo.
Most cities in the region are filled with facilities offering photo services.
Charlotte's Second Ward district, for example, houses Walgreens, FedEx, UPS and CVS stores or facilities offering photo services between the NASCAR Hall of Fame and Mint Museum Uptown.
Neighbouring, bigger cities like Raleigh, Durham, Winston-Salem and Greensboro all offer a variety of options for people looking for Canadian passport photos.
In Raleigh, you can visit Nash square in the center and cover S McDowell Street to find the North Carolina State AARP Office, North Carolina Department of the Secretary of State along the way. You can also visit the postal service at 311 New Bern Avenue to get the photo.
In Durham, as you head west from the Duke East Campus, you'll find a convenient spot to get the passport photo, as in the vicinity there are a number of places available to you. FedEx and Rush My Passport at 610 9th Street, as well as Durham Pack and Ship 732 9th Street and the UPS store at 811 9th Street, will all cater to your needs.
Canadian passport photo: requirements
One more thing worth considering is that you needn't go anywhere to get a valid, Canadian passport photo. That being said, please note that a good Canadian passport photo must be taken in person by a professional photographer or a studio.
If you're curious about Canadian passport photo requirements, you'll find all of them listed below.
Photo unaltered & not older than 6 (six) months old
Photo signed by the photographer, along with the date of the session
Photos must be printed at a photo studio
Neutral expression
No shadows and no flash or glare in the passport photo
Full face image, eyes staring at the camera
White or light-colored background
50 (fifty) mm x 70 (seventy) mm
High-quality photographic paper
What you need to do is have someone take the photo, taking the requirements into consideration and then get to editing. You can try your luck with internet programs attempting to make the image valid for a passport application, but you can also take matters into your own hands.
If you've got Adobe Lightroom or Photoshop, you should be able to take care of everything, especially if you take some time and familiarize yourself with the guides we've provided for such a situation.
Canadian passport photos near me – summary
A Canadian should find it a straightforward task to locate a good place to take their passport photo while south of the border in the United States of America.
Various places like post offices or general stores will help you acquire the photo, as well as pharmacies, drug stores, shipping company facilities or even the AAA.
Just be mindful of the fact that Canadian passport photo requirements dictate your picture must be taken within a studio-like setting and by a professional.
FAQ
Where to take a Canadian passport photo?
To take Canadian passport pictures that guarantee approval at the passport agency you'd better find a place where a professional will handle the photo-taking process.
You can find various places to produce a good image of your face for the passport in the U.S., such as pharmacies like Walgreens, CVS or Rite Aid, or even general stores like Walmart or Target.
A U.S. post office should have you covered as well.
If I am a professional photographer can I take my own Canadian passport photo?
You can take your own Canadian passport photo if you have the appropriate equipment and a studio setting. The official Canadian website states that a commercial photographer or a studio must take your passport photo, but the rules don't touch upon professional photographers taking their own passport photos in appropriate conditions.
Be sure to familiarize yourself with Canadian passport photo requirements before continuing, however, and remember to print the photos at a studio, using the right kind of light paper.
Do Walgreens do Canadian passport photos?
The photo services available at Walgreens can assist you and take a professional photo for a Canadian passport. You just need to explain to their staff you're looking for a Canadian, not an American photo, to arrange the right measurements.
Do CVS do Canadian passport photos?
CVS pharmacies do offer photo services and will get you your passport photo. You just need to make sure to remain staff that you're interested in a picture compliant with Canadian passport requirements.
Where to take passport photos in Portland?
If you decided to travel down from Vancouver to Portland and now find yourself in need of a new passport photo, you're in luck because there's no shortage of places that will gladly take care of your Canadian passport picture.
You can consider the western bank of the Willamette River, where you will find a number of facilities around Goose Hollow. CVS and Rite Aid pharmacies just north of the Pioneer Courthouse Square will take the photo for you, as well as Rush My Passport and FedEx situated at 221 SW Alder Street, right ahead of the Morrison Bridge.
You can also visit 439 NW Broadway to find Passport Immigration Photos and Fingerprinting Services in the Old Town Chinatown.
There's also another CVS pharmacy in the neighborhood at 105 NW 13th Avenue, a bit west from the Old Town Chinatown.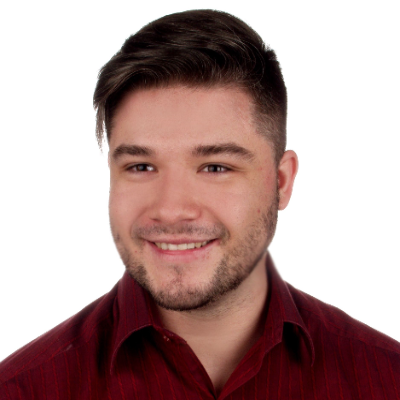 Graduated from the University of Warsaw, Michał, is a travel expert with an undying thirst for adventure and a writer at PhotoAiD. A self-proclaimed book and movie critic as well, he's always eager to visit to the most underrated or less popular travel destinations.