Document photographs, such as passport photos, usually come with some fuss. You need to find a photo booth or a photographer, get dressed properly, wait for your turn and hope that the picture looks good.
With modern technology, there should be an easier way to do this, shouldn't there? There are apps for everything, isn't there an app to take passport photos?
Your hunch is right. There are ways to take a passport photo on an Android phone. In fact, nowadays you can take a passport photo directly from your couch, using a specialized passport photo app.
Learn how to take a passport photo with an Android phone.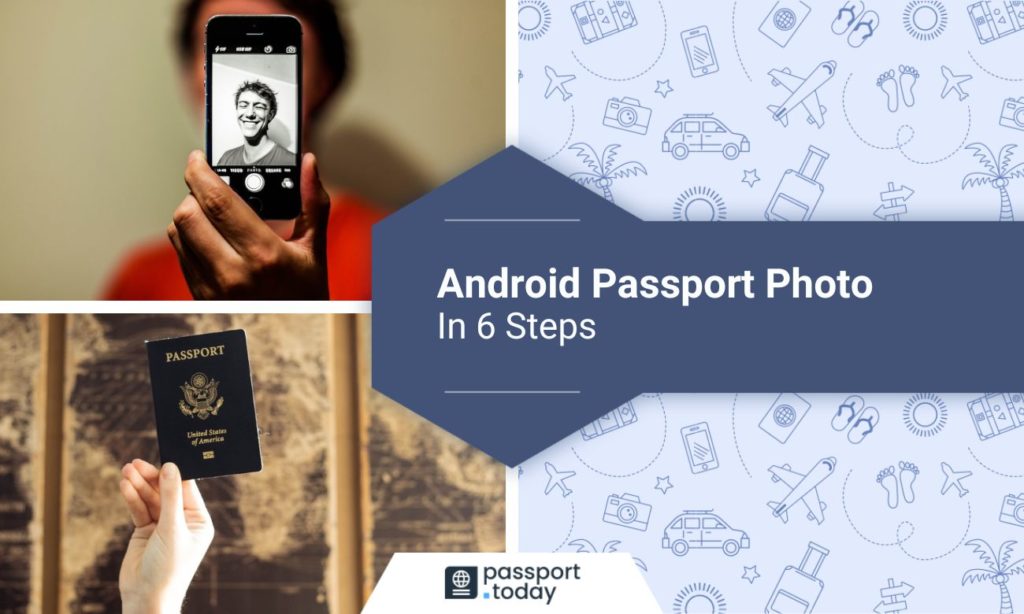 Taking a passport style photo on an Android device
First of all, let's clear up some of your fundamental doubts. You are allowed to take passport photos yourself using any device. As long as the picture meets the official U.S. guidelines, it makes no difference whether you use an Android phone or a digital camera.
What are these guidelines? Here is a short summary of the most important requirements for U.S. passport photos:
pictures should be 2 x 2 inches in size, in color, and with no blurring,
the background should be white,
your head should take up 70-80% of the picture,
your shoulders should be visible,
no headwear is allowed, except for religious purposes,
you should look straight into the camera,
avoid using white clothes,
do not wear glasses.
Essentially, if you manage to follow the guidelines mentioned above, you can take the passport photo yourself, with no help from external applications.
Beware, however, that according to the U.S. Department of State, incorrect passport photographs are the number 1 (one) reason for application refusal. If you fail to comply with any of the requirements, your passport photo will not be accepted by the officials.
Instead of taking the pictures yourself, we recommend using specialized passport photo apps for Android.
Such programs are designed to help you take passport photos with respect to all the official standards. You can snap your ID photo quickly with no need to study any of the technical requirements, as the app will edit your picture accordingly.
"Take your own passport photo" apps for Android
If you decide to look for a passport photo app for Android yourself, you may realize there is more than one app specializing in this niche. Learn more about passport photo apps here.
The programs come with various features and essentially each of them will help you to take a passport photo with little effort.
But some are worth more consideration than others.
Apps, such as PhotoAiD, are something more than a simple cropping tool for passport photos. This is an end-to-end passport photo service.
The software can remove the background from your picture, verify whether it meets the official standards and, of course, crop the image according to the guidelines. This way, you can take the picture literally anywhere – whether it is your room or the middle of the airport – as the program will remove the background and make any picture look like a passport photo.
This app is worthwhile not only due to its advanced features, but also because it has a double verification method. With such security, you are guaranteed that the passport photos you receive are indeed suitable for passport admission. There is no risk of submitting an incorrect photograph.
Program is available on the Google Play Store or you can access the U.S. passport photo tool directly from the website.
6 steps to take a passport photo with an Android app
For the reasons mentioned above, we recommend using PhotoAiD as an app for taking passport photos with your Android phone. The following section is dedicated to showing you a step-by-step procedure to take your passport photo using this app.
Step 1: download the app from the Google Play Store or access it on the website.
Step 2: choose your desired document – if you want a picture for an American passport, select U.S. passport photo.
Step 3: upload a previously taken photograph or take the picture using the app directly.
Step 4: wait a couple of seconds for the program to transform your picture into a passport photo.
Step 5: verify whether you like the photo (you can upload multiple times).
Step 6: pick your desired form of delivery – print ($9.95) or digital ($6.95).
This is a fully automated software that uses AI algorithms to transform your ordinary pictures into ready-for-admission passport photos.
You can get your passport picture with roughly 10 (ten) clicks and the whole process can last less than a minute.
Taking passport photos with an Android phone – FAQs
Can I take a passport type photo on my Android phone?
Yes, you can take passport photos with your Android phone. If you decide to do so, you must comply with the official passport photo requirements provided by the U.S. Department of State. You can also support yourself with dedicated applications which will walk you through the whole process and deliver ready-to-submit passport photos.
What is the best passport app for Android?
The best passport photo apps for Android are the ones that not only help you crop the image, but also remove the background and verify whether your picture meets the official requirements.
How do you make a 2 x 2 passport photo on Android?
The easiest way to create a 2 x 2 inches passport photo on Android is to use a dedicated application. These apps can be found upon searching for "passport photo tools".
Android passport photo – closing thoughts
There is no need for you to use any apps to take passport photos. You can also just take the picture directly from your phone's camera, and crop it to fit the 2 x 2 inches standards.
The reason we recommend using a dedicated app is because such tools often give you a guarantee of acceptance, and are easy to use. Save yourself hours of trying to snap the right photo and editing it afterwards, and instead use a tool that will create your passport photos in 3 (three) seconds with a guarantee of acceptance.