If you want to apply for your Irish passport, with your application you will need to submit passport photos. But these pictures are not just a formality. They serve as biometric photos. It means they are treated the same way as other biometric information about you – like your fingerprints. So it is important that they look right and make verifying your identity possible.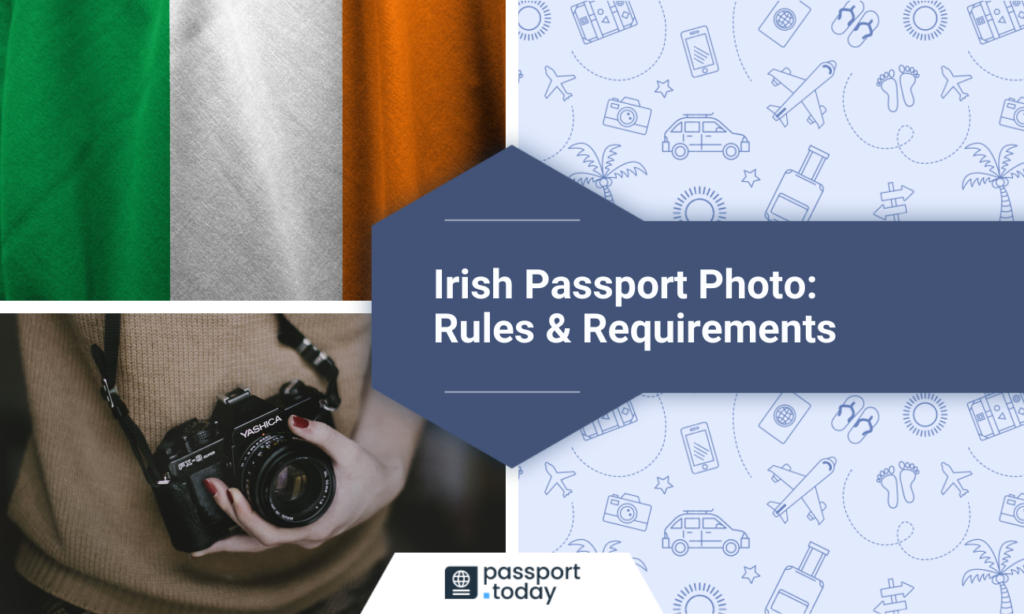 You can apply for Irish Passport Book or Irish Passport Card online using a digital passport photo. Or you can decide to apply for Passport Book by the paper application form. In that instance, you will have to submit printed versions of your biometric photo.
Irish passport photo requirements
Here are some rules you have to keep in mind if you want your Irish passport photo accepted. A passport is an official document, so your submitted picture needs to follow all the government regulations. Although it sounds very serious, you can actually take your biometric photo by yourself, and here we will try to explain how. And more importantly – make it really easy for you to create your perfect passport photo without stress and even without leaving your house!
Here are the most important Irish passport photo requirements:
The size of your photo should be a minimum 35 x 45 mm, and a maximum 30 x 50 mm.
The photo should be recent. So avoid any picture older than 6 months.
Your face and shoulders should be visible in the photo.
Your face should take up between 70% and 80% of your picture.
Digital Irish passport photo
If you decide to submit a digital passport photo remember it cannot be scanned. It has to be in color and cannot be enhanced or changed in any significant way. Save your picture in JPG format, and make sure it is not smaller than 715 x 951 pixels. But it shouldn't also be too big – it cannot be larger than 9 MB.
Before sending, it is also good to make sure it is not rotated by your device, but if you notice it after sending – it should still be fine and it does not mean your application will be rejected. You can upload your biometric photo from your computer as well as your tablet or just your phone.
Read other guides on passport photos
Printed Irish passport photo
If you decide to go with the paper application, you will need your photos printed. To apply for an Irish passport you will have to submit four identical passport photos. They must be printed on photo quality paper and there should be no ink marks or creases. Photos themselves should be sharp, in focus, and of high resolution.
If you want to, you can submit a black and white passport photo. Your portrait will be printed on the passport in black and white, so it is allowed.
How to take your Irish passport photo at home?
First things first. To create a photo we need to have some type of photo camera. There is no need to use a fully professional setup. The digital camera we keep at home, or even our phone camera is all that we need.
Preparing your space
In requirements for an Irish passport photo we can read, that the background should be plain, with no patterns visible. It needs to be white, or some type of off-white color, like light grey or very light blue. So the easiest way to meet this requirement is to use a light-colored wall in your house as a backdrop. If you cannot do it, try hanging a piece of material behind you. Make sure it looks even in the picture, and remove any piece of furniture that could be visible in the frame.
The other important matter is your lighting. Try to make your portrait evenly lit, without sharp and dramatic shadows. It is a good idea to just use natural, daily light. It makes showing your real hair and skin tone easier. To make your face evenly lit stand in front of the window. If you cannot use sunlight, you can use any type of lamp. The same rule applies – your light source should be in front of you.
What you should wear for an Irish passport photo?
To make sure your face features and head shape are clearly visible, you should not wear any head coverings, headbands, or hats. Also headphones, colored lenses, and glasses obscuring your eyes are not allowed. While choosing the hairstyle for your photo – make sure it does not obscure your eyes, and still makes the shape of your face visible. But if you wear glasses for medical reasons, or your head covering for religious ones – there is no need to remove them for the picture.
There is no need to dress up, you can take your photo in casual clothing. Make sure it is not distracting, and not overly colorful. You cannot wear a uniform or camouflage in your picture. It is good to check if your outfit creates contrast with the background, and is not blending in with it.
Posing for a biometric photo
The passport photo is a biometric photo and it should meet all the standards for it. So it is good to look at the requirements just one more time before standing in front of the camera. The most important thing to keep in mind is, that only your face and the top of your shoulders should be visible. Your face itself should take between 70% and 80% of the frame.
It is hard to do the perfect photo yourself so it may be the time to ask a friend or family member for a little help. Hand them your phone or digital camera and stand about 1.5 m away from the lens. Now look straight into the camera, and relax. What you need is a natural facial expression, with your mouth closed and eyes open. Do not smile or show teeth. And don't worry if it does not look perfect right away. Take as many shots as you like, and choose the best one after the shoot.
Adjusting the final picture
When you choose your best picture all that is left is a little retouch. Use passport photo software to adjust it to match all the requirements. It is the final moment to make sure our photo size, proportions, resolutions and format are right before sending it. And if something is amiss – to correct it before submitting.
Passport Photo Online: Create your Irish passport photo in just a moment!
Passport Photo Online is a tool dedicated to making your passport photo creation easy and satisfying. You can use the software in the browser, or you can download the app on your phone. You can find it in app stores both for iOS and Android. Here is how it works:
Upload the final picture you want to use as your passport photo.
Artificial intelligence will take care of checking all the requirements for the selected document, and automatically crop, and resize your photo to match them. It will also replace the background if needed, and check the photo for any other mistakes that may have occurred in the process – and help you fix them, so your photo will be in agreement with all the official guidelines.
Now that your biometric photo is ready you can choose two options, depending on how are you planning to apply for the Irish passport. We can send you the digital version via email, for your online application. Or you can order it already printed, if the paper version is what you are going for.
With Passport Photo Online creating your Irish passport photo takes just a moment! Thanks to our software and AI assistance the whole process is simple and intuitive. And you can be sure your passport photo meets all the biometric standards, and will easily get accepted!