If you plan on applying for a Norwegian passport, one of the documents you just can't go without is a Norwegian passport photo. Said photography comes with a variety of requirements that have to be followed thoroughly, otherwise, you may be forced to go through an inconvenient process of taking a photo all over again. There are a few ways, however, to shorten the whole affair to mere seconds! If you're feeling intrigued, then please read on. We'll introduce you to all the requirements and share with you some tips so you can get that perfect picture right away!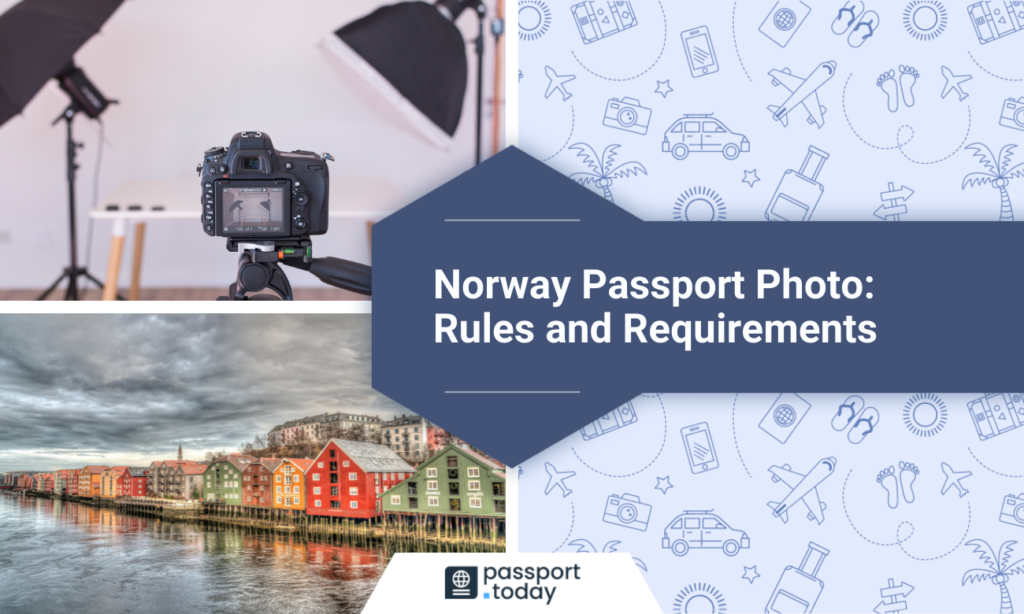 Norway passport photo requirements
Once you'll become familiar with the official requirements, you'll be halfway there. The requirements are the rules by which your photo will be judged upon application, so you just have to keep them in mind at all times. Once remembered, you will review a photo all by yourself painlessly and all your problems will boil down to the technical ones. To be completely certain your photography won't be rejected, remember to check these few rules below:
The photo must have been taken in less than 6 months at the time of handing in the application.
The photo should have 35 mm in width and 45 mm in height.
The background has to be white.
The photo has to be in full color.
The resolution of the photo has to be sufficiently high, make sure it's at least 600 DPI.
Its exposition has to be clear, make sure the lights have been spread evenly.
The photo has to be printed on high-quality photographic paper.
A printed photo cannot be damaged in any way, make sure your print is devoid of creases, holes, etc.
Posing rules
There are a few simple rules regarding the pose in a Norwegian passport photo. Despite their simplicity, you've got to be very careful with them, otherwise, your photo will not meet the requirements.
When posing for the photo, you have to make sure that your face is in the center of the composition and that you are looking straight ahead. In order to do so, try to look at the center of the lens of the camera. When taking a photo, remember to:
Retain a neutral facial expression, as smiling is forbidden. Furthermore, taking a picture with eyes shut or with your mouth open is not allowed either.
Keep your head in the middle of the photo and look straight ahead, in order to do so, you should look right into the center of the lens while taking a photo.
Rules regarding clothes
As far as clothing is concerned, the rules are relatively flexible, although there are still some guidelines you will have to follow:
Clothing with a camouflage pattern is not allowed.
Uniforms or clothes resembling uniforms are forbidden – clothing with military patterns, visible insignia, etc.
Headcovering is not allowed unless worn for religious reasons.
To be extra sure of your photo's acceptance, it would be best to wear casual clothes, preferably in dark colors. This way, you will avoid potential problems with the official rules and will make your outline more prominent on the white background.
Read other guides on passport photos
Eyeglasses, jewelry, and other accessories
The rules regarding accessories are not very strict either. Just remember to keep to these guidelines:
You can keep your glasses in the photo, as long as you wear them every day. It's crucial to make sure that the glasses don't reflect light of any kind. To be completely safe, avoid taking a photo with a flash lamp. You also have to be sure that the glasses do not obscure your eyes in any way, your pupils have to be visible at all times.
Jewelry can be worn in the photo, as long as it's not too big and doesn't obscure the face. Bear in mind though that wearing earrings and similar accessories in the photo is a little risky because they can reflect light and create glares, which will disqualify the Norwegian passport photo.
How to take a Norwegian Passport Photo at home by yourself
As we promised a while ago, we are going to share some tips, which will speed up the not-so-pleasant process of making a biometric photo, and by a very significant percent at that. With our help, your photo will be finished in the span of a few seconds! Here's our short step by step guide:
Prepare a proper lighting
It's very likely you won't have access to professional photography studio equipment at home, so using a natural source of light should be the safest bet. No lamp is as reliable as daylight coming through your window. Be sure that the light is spread evenly and that it doesn't create shadows or glares.
Make sure your background fits the requirements
Finding a proper background might turn out to be slightly more problematic. You could use a white sheet, or just pose with a clear white wall behind you. Fortunately, there exists a far easier option. You can simply download an intelligent app, which will remove the background automatically.
Remember to recheck the general requirements
It's always better to be safe than sorry – this is why you should keep our guide with the official requirements always at hand. No one wants to start the whole process all over again because of the simple oversight.
Set up the camera
Now it's time to finally take a picture! It would be best to ask someone for help here. If you'd rather do the photo entirely by yourself, place your camera on a tripod and use a self-timer. You don't need a professional camera to complete a picture either if your phone's built-in resolution is high enough, you can go ahead and simply use a smartphone. Just remember to not take a selfie. Photos done in this way distort the proportions of a face and look very unprofessional in general.
Adjust your photo
If you're not exactly adept with photography-refining software, there's a much more convenient option. You can always use the same software we mentioned above, which can not only replace the background but also crop your image to the required size. Simply choose a document to which you would like to attach your photo from our site, and the program will do everything automatically.