There is no passport application form that would not require up-to-date biometric photography as one of the necessary documents. And for good reason, everyone with no exception has to be identified during border control. And because of the official character of the document, no one should be surprised that the photo has to follow a certain set of rules before it can be finally accepted. If you want your application process to go as smoothly as possible, read on, and find out how to prepare a faultless picture at home, in just a few minutes!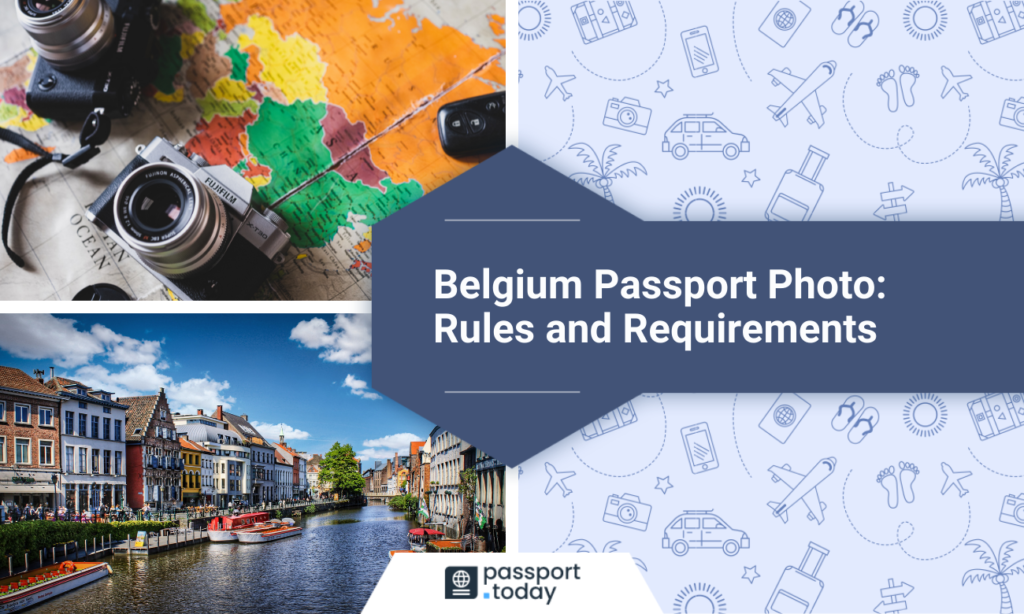 Belgian passport photo requirements
Undoubtedly, you'll want your picture to be accepted as quickly as possible and without any unnecessary ado. In order to do that, you'll have to be wary of all the official rules before even picking up your camera. If the most basic criteria won't be met, your photo is, unfortunately, bound to be rejected. So please remember not to treat these rules too lightly. Here's a list of what you've got to follow:
The photo's dimensions should be 35mm x 45mm. It also has to be an original print, not a photocopy.
The picture has to be in color – black and white is not allowed.
The background has to be light in color. This means it doesn't have to be strictly white, although it's easiest and safest to keep your creativity at bay here.
The photo has to be in high definition – the minimum resolution is 400 dpi
The photograph can't be more than six months old.
The head in the photo can be only in size between 31mm and 36mm and has to be in the very center of the composition. Remember to leave a space between the crown of the head and the left, right and upper edge of the picture.
Applying with a damaged picture is not allowed. Before sending it, make sure it doesn't hold any stains, holes, creases, etc.
Posing
Taking a correct pose, in comparison to other requirements, isn't all that complicated, you could even say it's relatively intuitive. Follow these guidelines and you can be sure that everything is intact:
Make sure you look straight ahead – you have to be presented en-face in the picture. It's very easy to do, simply look right into the lens of the camera. Remember to sit upright and be very careful not to tilt your head in any direction.
Keep your face in a neutral expression. Smiling, as well as frowning or other kinds of grimaces are strictly forbidden. When posing, stay relaxed and remember not to open your mouth or to close your eyes.
Dresscode
The rules in passport photos regarding the clothes of the applicants remain largely the same in most countries, and Belgium is no exception. They are similar to the posing rules in a way, as they assess the professional and serious nature of the photography:
Eyeglasses are not allowed unless worn for medical reasons – these too, however, have to meet a certain set of rules. Generally, the glasses cannot obscure the eyes in any way and cannot be tinted or shaded. It's equally important not to create any kind of reflections or glints while taking a photograph, so it's better to resign from using a flashlamp altogether.
Rules for the headwear are very similar – you can keep it in the photo, as long as it's worn for religious reasons. Just be extra careful it does not cover the oval of your face. Any other kind of headgear is not allowed.
You can wear hair accessories, jewelry and other adornments, but as we mentioned above – your face has to stay visible at all times. Make sure the accessories don't cover it, make any reflections or throw shadows.
Read other guides on passport photos
How to take a Belgium passport photo at home?
We've already summed up all the Belgium passport photo requirements and there's a lot to remember, but as promised before, after following a few simple steps, you can have your photo completed in a flash, without leaving your home.
Lighting
Preparing well lighting is a guarantee of a good photograph, biometric or otherwise. This doesn't mean you'll have to equip yourself with studio-grade lamps – every professional photographer will say that there's no more reliable lighting than the sunlight. Just simply pose in front of the window, and be extra sure that both your face and background are illuminated evenly. Overexposed photos, with rough shadows, won't be accepted.
Background
We already know that the background has to be white or in a bright color. This means that posing in front of a wall won't be a bad idea, but if you want to be extra safe, you can always hang a white cloth behind you.
Follow the requirements
There are a few strict rules to follow, this means you should pay extra care to the official requirements. Keep our guide at hand and review it before taking a photo.
Setting up the camera
If you're sure you have everything prepared, all that's left to do is to take a picture. You can use a digital camera, but your phone might also be fit for a job, as long as its camera's resolution is high enough. You also have to remember not to take a selfie. If you really want to have everything completed entirely by yourself, you should place your camera on a tripod and use a self-timer.
Adjusting the photo
After taking the photo you have to adjust its format to the required size. You can do it with software designated specifically for this task.