If you're applying for a new passport or for renewal in Lithuania, you will need to present two copies of your recent passport photo (no older than 6 months) with your full application. It's good to think ahead of time and take care of the photo as soon as possible.
Below, in our article, you can find some important information on Lithuanian passport photos – their rules and requirements, where to get them, etc.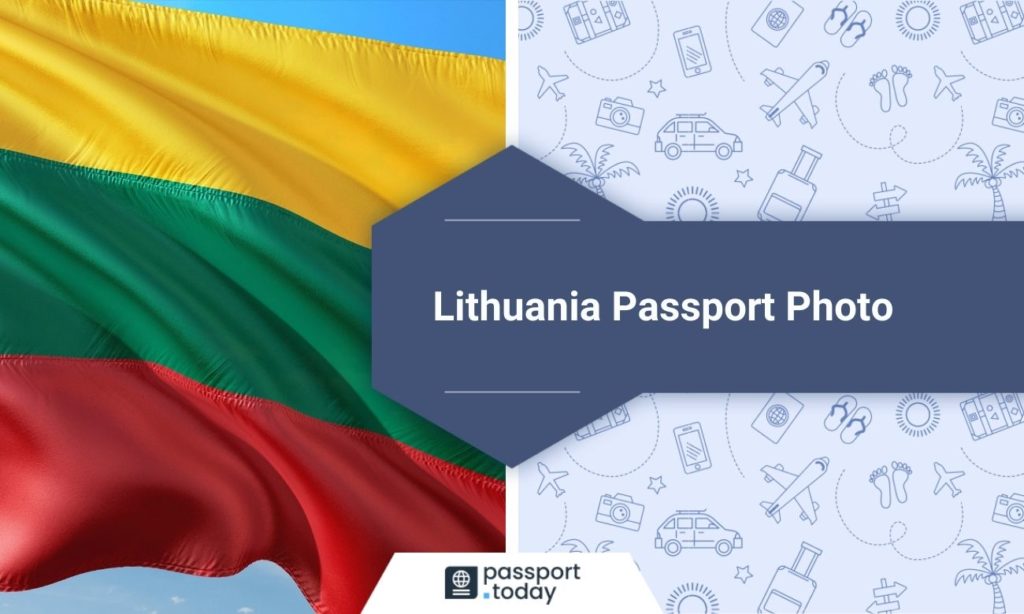 Lithuanian passport photo specifics
We put together a list of the most important rules and regulations of Lithuanian passport photos below in three categories – how you look in the photo, the background and the lighting, and all the technical details you need to remember.
Here is how you should look in your Lithuanian passport photo.
Lithuanian passport photo dress code:
There is no dress strict code, although your clothes should contrast the background
In certain situations, if it's not possible otherwise, you can wear glasses in your passport photo – just remember that tinted lenses or sunglasses aren't allowed at all
Any type of headwear is not allowed
Avoid things that distract the attention from your face – keep jewelry and accessories to a minimum
It's a good tip to tie your hair down or pin it if it gets in the way
Makeup is allowed, just make sure that it doesn't change your natural looks/ skin tone/ etc.
How to pose for a Lithuanian passport photo:
Don't smile or frown, the photo should show you fully expressionless
Your eyes have to be open and fully visible
Your mouth has to be at all times closed
Make sure that your whole face is well visible
Your head has to be straight and your eyes have to look directly into the camera.
The background and the lighting
The background of your Lithuanian passport photo should be white. It's good to take your picture against a clear white wall or a white sheet and it's better to avoid patterns.
There is no official rule as to lighting in your passport photo, though you do need to avoid shadows. The best type of lighting is natural light so maybe try taking your photo during the day. Photographic studio light is good too, as they know how to work it properly so that it doesn't change your facial features on the photo.
Read other guides on passport photos
Technics for the passport photo
Here are also some of the most important technical and general requirements for your Lithuanian passport photo:
Your photo should be 45x35mm in size
It cannot be older than 6 months
You will be required to present two identical copies of your passport photo
Your photo cannot be blurred or digitally altered in any way
Filters, black&white effect, etc. are not allowed
The resolution of your photo has to be at least 600 dpi and shouldn't be more than 1200 dpi
It has to reflect your natural skin tone and eye color.
Lithuanian passport photos for children
Although most of the rules for a baby's Lithuanian passport photo are the same as for adults, it's good if you read the rules and tips stated below as they are not necessarily obvious:
Your child has to be awake during the photo-taking and their eyes have to be open
There cannot be any toys, pacifiers, or other people visible in the passport photo
Remove your child's headwear before the photo is taken
If you wish to take a picture when your child is laying down, make sure that they have a white sheet or some other kind of white background beneath them (the same rule with the background applies when you're taking a photo of your child in a car seat).
Where to get Lithuanian passport photos
You can get Lithuanian passport photos almost everywhere in the world in three ways: either somewhere in a photographic studio, in a photo booth, or online.
Depending on your location, you should be able to find the best option for yourself. You can always take the picture yourself, just make sure to follow all of the presented above instructions.
Lithuanian passport photo summed up
There are many different rules and requirements when it comes to taking a Lithuanian passport photo. From the way you look to the background of your photo – the list goes on. After you take your photo, just make sure to double-check it with the list presented above if everything was done correctly.
FAQs
Can I have facial hair on my Lithuanian passport photo?
Yes, if a beard or other facial hair is a part of your everyday look, you definitely shouldn't shave it. Keep it as it is allowed.
Can I smile in my Lithuanian passport photo?
No, you cannot smile on a Lithuanian passport photo. In the rules, it is clearly stated that you should keep your face rather expressionless.
How many copies do I need of my Lithuanian passport photo?
You will be required to present two copies of a Lithuanian passport photo with your passport application.
Can I take my Lithuanian passport photo on a colorful background?
No, your Lithuanian passport photo has to have a white background. It will be rejected if it was taken against a background of a different color.