Is it time for your baby's passport already? Do you need everything sorted out with your child's passport before you go on an international trip? If so, you're lucky you found us.
We will endeavour to give you the most complete and thorough information on the topic of passport photos for a baby. You will learn how and where to make a valid picture of a baby's face for a U.S. passport and if you can take the photo at home.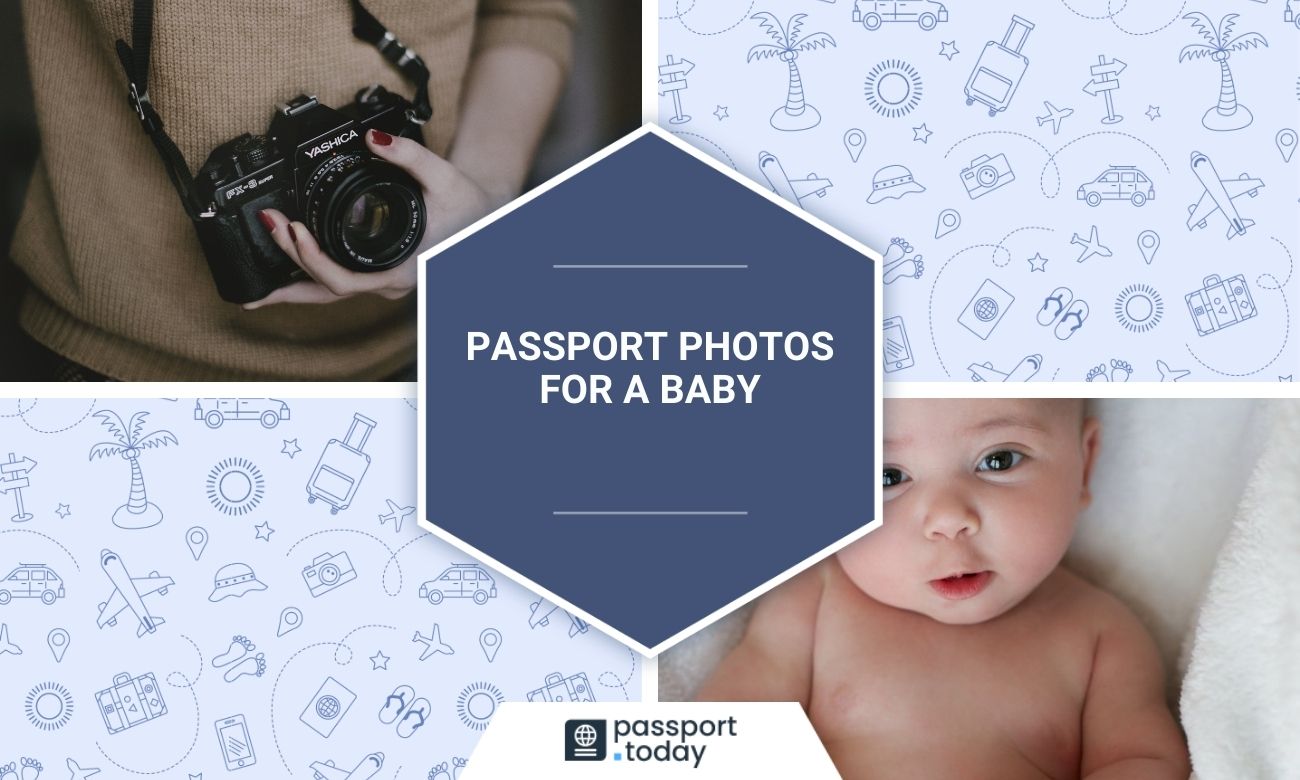 Baby passport photos: introduction to the guide
A passport and what precedes it, meaning a passport photo, may seem to you like an absolute necessity for a young American, barely making first steps on their journey.
Indeed, if your immediate plans include international travel, the child needs a passport, so by definition, their first photo for the document as well and you should hop to it. Their passport books, after all, will need to contain a visual representation of their holders, even if they can't stand up straight yet. Please be aware of that rule and make no mistake by thinking a birth certificate will be an acceptable travel document in the absence of a passport photo printed on a passport book.
Read other guides on passport photos
What's good news, however, is that one photo will do the trick, so take one of the infant's passport photos when heading to the passport office. You can even take the photo at home.
If the agent takes a good look at the baby's passport picture and finds it acceptable, you're in.
What's more, keep in mind when taking the photo that a very young child's appearance may change quite drastically in the coming years, which might result in the need for a new one in the next few years' time.
After all, and you might want to keep that in your memory, in five years time you will need to change the child's passport photo.
U.S. passport baby photos: where to get them sorted
If you decide to attempt to take a baby's passport photo, you should start thinking where to find a good place for such an endeavor.
Simply open the map in the browser or a smartphone application and locate the nearest photo services. You should be able to find a perfect spot for your infant's passport photos, especially since you can find adequate photo booths all over the place. Maybe you know of a photo booth nearby already? If you do, you can try your luck there.
You should also consider the fact that the child's passport photo, compliant with all the baby passport photo requirements, can be taken in the safety of your own home as well. If you have a good digital camera or another device capable of a high-quality photo and create a good environment for the photoshoot, you will be fine doing it on your own.
You might also be interested in:
Baby passport photos: where else to turn to?
You will no doubt be glad to hear that you can find photo services all around you in the United States, provided you live nearby or within a driving distance of even a small city.
For example, you might decide to turn to your local pharmacy or a drug store, as companies like Rite Aid, CVS or Walgreens will have you covered. Your baby's passport photo will get done in no time.
The same goes for shipping companies like UPS or FedEx, with both companies' facilities offering to assist you in obtaining a baby passport photo to suit your needs, as well as stores like Walmart or Staples.
Even a post office might allow you to issue passport photos for your child and emerge with the perfect passport photo for their first-ever official travel document.
Baby passport photos: what if you want to do it yourself?
If you would like to carry out the process of acquiring a proper passport photo for your baby all by yourself, you need to understand it will take considerable preparation.
As per various official requirements, the picture must adhere to, you must be certain to follow each of them, like good lighting, natural expression, the correct size of the digital file, or the image of the child's full face in the picture.
Other baby passport photo requirements you must consider include:
A color photo
An empty and white background, with nothing to cast shadows on the baby's face or behind it.
Proper positioning of the baby's head, where the child's nose will be in the center of the photo.
A photo must contain current information about the child's visage, meaning it must not be older than 6 (six) months.
Should you find yourself interested in a more in-depth look into the official U.S. passport photo requirements, like glossy photo quality paper, visit our site, where you will find what you're looking for, presented in a user-friendly and convenient manner.
3 pro tips for a U.S. passport baby photo
As you tackle the baby passport photo on your own, we figured you might want to learn some useful tricks to make sure your baby's picture on their future passport turns out perfectly fine.
After all, it is never too late to learn something new that might turn whatever you're attempting that much easier. Just pay attention as we present to you various ways that will make the making of a perfect baby passport photo a little more straightforward.
Passport picture for a baby: their eyes
You might be surprised to learn that the vast majority of rules governing the process of a valid passport photo making remain unchanged even for an infant.
In truth, when we say "the vast majority", we want to say that all requirements are the same apart from one, which will undoubtedly surprise some.
Namely, your young child's eyes are not required to be fully opened for the biometric photo and when presenting a newborn passport photo at the passport acceptance facility, like a mail facility, the photo will be deemed satisfactory.
You needn't stress over the infant's eyes being a bit sleepy and far from fully open.
Passport picture for a baby: the background
White background may sound like a simple enough requirement, but perhaps you find it difficult to locate a fitting spot in your house or a flat to achieve exactly what the requirements ask of you.
Luckily, there is a way to take a shortcut in such a situation and ensure that the final product ends up a perfect baby passport photo.
What you need to find is a white sheet, a blanket, or bed linen to lay your baby on.
Simply grab the child and put them gently on their back on the bedding to achieve the plain white background you need for the passport photo for a baby.
That way you will also ensure no additional shadows stand in your way.
Make sure you've got good natural light in the room and the camera's flash is turned off and simply try to grab the child's attention so it looks directly into the camera.
Taking pictures like that and achieving a clear image requires good timing and the ability to hold the baby's attention, but once you manage to find the perfect moment and take the picture, you should find yourself in possession of a great photo.
Don't get discouraged when the process takes some time as managing to get even a barely good photo for the new passport will be quite an achievement on its own. Take your time and take as many photoshoots as necessary to finally get a baby passport photo that will look acceptable.
Passport photos for a baby: editing the image at home
Once you get the picture, even if the photoshoot went splendidly, you still might find yourself in need of making some final adjustments. You should double-check if every detail is correct, just in case.
Luckily, modern technology is on your side this time, as it allows you to create a U.S. biometric photo conveniently, not only all by yourself, but also with almost no effort at all.
You can take advantage of countless services on the internet, claiming they can turn the passport photo you've just made into one that will be deemed acceptable at the passport office.
They'll check the measurements, the size or the resolution, and take care of your baby's passport photo for you.
You should be able to find a free app to correct a passport photo for a baby on the Internet if you look for it.
What's more, creating a baby's passport photos has never been this easy, as you can visit the official U.S. government website and see if the passport photos you've snapped are okay and compliant with the requirements.
Baby passport photo requirements in the U.S: common mistakes
Of course, you'd like to avoid any and all mistakes on your way and get a perfect picture for a baby's passport photo. You already know that to take a photo that will end up getting the thumbs-up, is quite an exercise in patience and paying attention to detail. That is why in this section we will help you further by shining even more light on the topic and explaining common mistakes for you to avoid, the first thing being collecting useful documentation.
Additional features that need documenting
The crucial part is that should your child require any form of head covering in light of their health state or cultural background, you need a signed statement documenting that fact. If the child needs to wear glasses for medical purposes, the rule applies as well.
Passport photo rules are strict so you'd better take extra precautions and acquire items needed, like a signed note from a doctor, confirming the need for the baby's head requiring extra protection, for example.
Smiling
It's a natural reaction, something we all do, even subconsciously. It is, however, something that the U.S. passport acceptance facility agents will immediately recognize as means for disapproval.
You must remember that while a slight smile will be accepted, a neutral expression is what your child's passport photo should exhibit.
In that case, when you're trying to grab the baby's attention to get it to stare directly into the camera, try not to make them smile or laugh.
Use your normal tone of voice when speaking to them, attempting to appeal to their curiosity instead of playfulness.
Attire & makeup
The most basic rule of passport photos is that they are supposed to showcase your own, unaltered self. Your face needs to be fully visible and ideally makeup-free, and your clothes should remain casual.
This rule applies to your child as well, so be advised that a passport photo is not the time to pull your best outfit out of the drawer and put on makeup or wear jewelry to look the part.
Make sure your child's attire is comfortable and doesn't hide any of their facial features, which includes wearing non-prescription glasses or headwear of any kind unless correctly documented.
Also, be advised not to dress your child up in camouflaged clothing or anything that might resemble a uniform.
Additionally, not to risk the photo being rejected, stay your hand and don't apply any makeup, even when very subtle alterations in this department are allowed, like tan, bronze-colored lipsticks or blushes.
This is especially important because there is no official, detailed and laser-accurate guideline concerning makeup in the passport photo and the agent at the acceptance facility might decide themself that you've used too much makeup for your baby's passport photo.
Passport photos for a baby
The bottom line is this: your baby's passport photo is an affair that can be completed on your own or using the services of a professional photographer, who will make sure everything is just right.
You need to be careful, though, as the requirements set by the U.S. government, apart from the need for your baby's eyes to be fully open, are obligatory and crucial to allow your baby to get their first passport.
FAQ
Where to get baby passport photos?
You can take a baby passport photo in your own house, provided you have the appropriate equipment and a fitting environment to comply with the baby passport photo guidelines a child's passport photo needs to comply with.
You can also visit a local post office, as well as a plethora of other facilities or institutions, like drug stores or pharmacies, Rite Aid or CVS being the perfect examples. Shipping companies like FedEx or UPS will help you and your child as well, along with Walmarts or even AAA stores. You can even go in search of a photo booth in your city or its vicinity and get a valid photo for your baby.
How to take a baby passport photo?
You can take the photo at home, but to take a perfect passport photo for an infant you need to remember one thing first, which will help you immeasurably: Their eyes do not need to be fully open, which is an exception that will make the process significantly easier.
To take a passport photo for your child you need to ensure they look straight at your camera, ideally with a neutral expression. To do that, try to get their attention in a way that won't make the child smile or laugh.
The baby's face needs to be fully inside the camera frame in the new photo, ideally on a white sheet acting as the plain background for the passport photo.
Infant passport photos require proper measurements and resolutions, so you should use software or internet apps to help you with achieving that.
What is acceptable for a baby passport photo?
The most crucial thing about acceptable circumstances around newborn passport photos is the lack of the requirement for their eyes to be fully open.
An acceptable photo will also include no hands in the passport photo, the baby's face fully visible and the baby's head clearly shown inside the frame and a light sheet acting as the white background.
The right photo for a baby's passport that will be deemed acceptable will also feature natural light and casual clothes not resembling any uniform.
How to take a baby's passport photos at home?
To take pictures deemed appropriate for newborn passport photos at home, the parent of the child needs to make sure the U.S. passport photo rules are followed to the tee.
They need to pay attention to lighting and whether the photo is being taken with natural light in the room and the baby's head is clearly visible. The child needs to retain a neutral facial expression with the eyes open for the passport photo to be accepted.
A good passport photo will obey all the official U.S. requirements.
Can I take my baby's passport photo?
The answer is yes, you can take a photo for your baby's passport. You just need to make sure you've got appropriate equipment to take the photo, as well as materials, like a white sheet to act as the right kind of background and the right kind of software to check the measurements.
You should be careful, though, when preparing the baby's for the photo, not to make any mistakes like dressing them up in unacceptable clothes or pieces of clothing that you've no documents to justify.
How many photos to take for a baby passport?
A single photo of your child will be enough for their passport application to go through.