Do you need a baby passport photo made for the upcoming trip? Perhaps you wish to know how to make acceptable toddler passport photos on your own? Here, in this blog post, we'll make sure you know exactly what to do to get your child a good photo for passport purposes.
We'll explain where to take a toddler passport photo, how to take pictures of your babies and tackle any other questions you might need answered. Join us as we attempt to reveal all about the art of baby passport photos.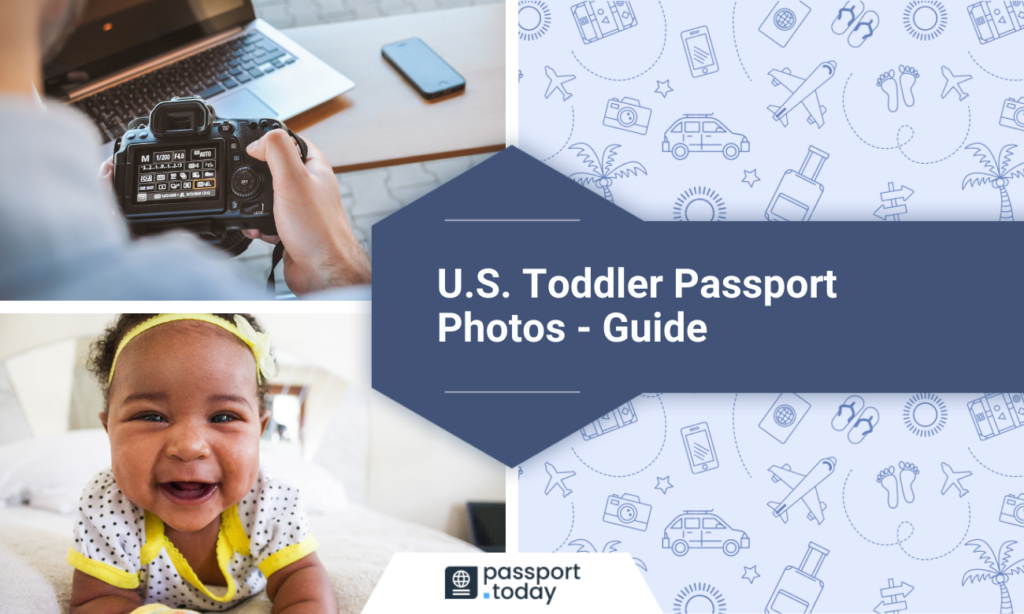 Toddler passport photos – first steps
The baby has finally come into this world and the big plan is to show them around the globe – does that sound familiar? If it indeed does, then you must consider applying for a passport for the toddler. If you do that, remember that passports will require a photo of the child.
Thus, a toddler passport photo will be a necessity to ensure they can begin traveling the world from such a young age. Lucky for you, however, baby passport photos prove to be an endeavor slightly more straightforward than an adult's due to one rule from the lengthy list of requirements differing from the standard version. Their eyes needn't be fully opened, like yours, for example, so you can rest easy and prepare accordingly to get the infant passport photos issued.
Read other guides on passport photos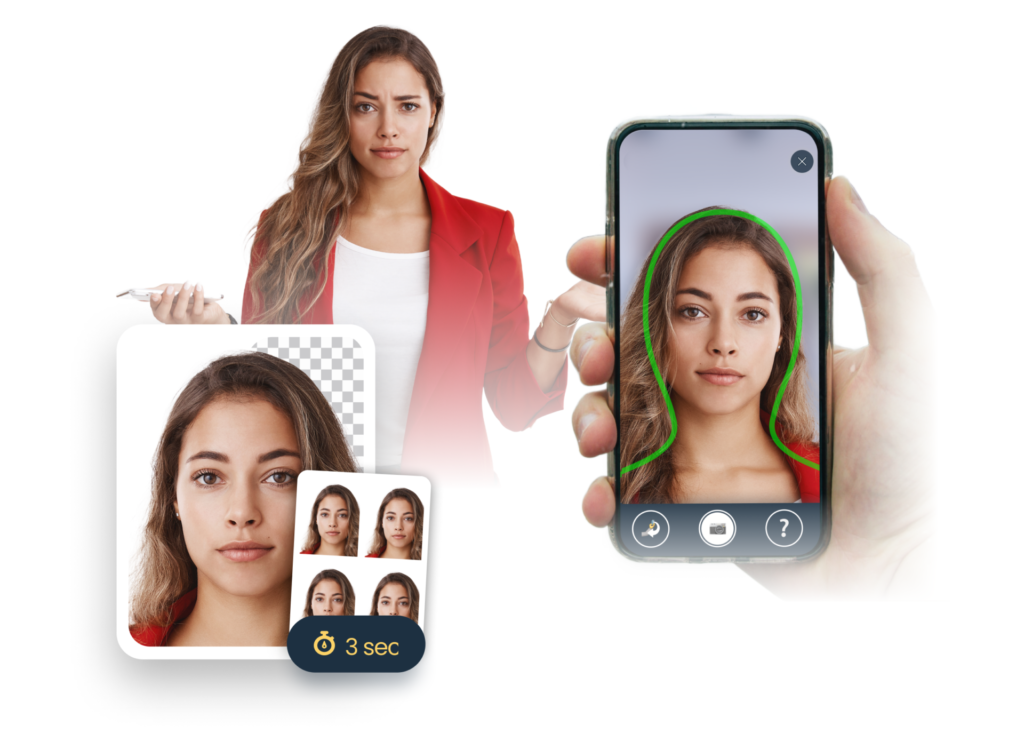 Toddler passport photos requirements
As you begin preparations for your child's passport photo you must know that the U.S. government has a very strict set of rules that need to be followed.
Only if you pay close attention to them can you ensure your baby has a perfect passport photo that will get the thumbs-up at the passport acceptance facility.
The passport picture needs to be compliant with the rules that you'll find just below.
Color photo
The right size (51mm x 51mm)
The baby's head is centered in the picture
The toddler is facing the camera
Full baby's face is visible
Plain white background or off white background
The toddler's eyes may not be fully open
As you can see, the requirements are not far off from what you would be used to when having your own passport photos taken, but as we said before, there are slight rules that differ.
You might also be interested in:
Passport Renewal for Children in the U.S. – Step by Step Guide
Passport photos for toddlers: where to take them?
Luck is on your side because a U.S. passport photo can be taken in a large variety of places and you will find many institutions or companies offering photo services. Hence, if you're asking yourself "where can I get toddler passport photos near me", you can stop worrying.
Indeed, passport photos, in general, can be acquired seemingly everywhere in the United States, considering that a traditional way of entering a photography studio or a photo booth now has many new alternatives.
Toddler passport photos in post offices
Should you live near a post office, for example, your toddler's passport photos may end up being taken there. After all, keep in mind that U.S. postal facilities do offer to take our photos for various passport applications you might be interested in, like renewal or issuing a brand new one.
You will certainly find that extremely fortunate because taking care of your baby's passport photo at your local post office can be very convenient and time-saving.
Toddler passport photos in pharmacies
What's more, numerous drug stores or pharmacies under the name of Walgreens, CVS or Rite Aid offer to take your passport photos as well. In that case, you can decide to take your baby there and ask for a picture for their passport.
Just remember not to dress your baby beforehand in anything that might be considered inadequate at the acceptance facilities and tell the pharmacy staff for which country's passport you need the photo. Different countries may require different sizes, for example, and it may prove vital in making a valid passport photo.
Toddler passport photos in shipping company facilities
Another useful alternative to more traditional ways of acquiring photos are shipping companies that offer photo services. Thus, your toddler's passport photo is a matter that can be resolved in one of those locations.
Upon entering the right kind of facility all you need to do is ask about a photo for your toddler's passport and an employee should usher you to a place where a photo can be safely taken in an environment that allows for proper passport photos.
Toddler passport photos in general stores
Another place that might cater to your needs and be ready to take your baby's passport photos is a general store, and more specifically, Walmart or Target.
In many of their stores or supermarkets, you should be able to ask an employee about photo services and they'll lead you right where you can issue a picture for your toddler.
Just give them a visit and you should be on your way to acquiring a super cute passport picture for your baby.
Toddler passport photos: DIY
You might find it useful that a U.S. passport photo for a baby can also be done all on your own and without stepping outside and paying for valid, good photos.
Indeed, should you create a fitting environment for a photoshoot inside your house or a flat, everything goes fine and taking pictures of your baby may be a simple affair altogether.
Creating a good setting for a passport photo requires some preparations, like ensuring there's nothing that can cast shadows on the background or no other objects in the photo.
You need to take care of any additional, potentially unwanted light source, set the camera properly
Double-check everything and you are free to start your child's photoshoot and attempt to get that perfect passport photograph. Aim that digital camera of yours and snap away.
Please note that your baby's face needs to be fully visible,
As a useful side note, remember that you can pretty much take care of the white background and many other possibly challenging regulations by laying your child on their back on a white sheet. You can also use a plain white wall, for instance. Then, once they're laying there comfortably, try to grab their attention and when they're looking directly at the camera, that's when you take the picture. In fact, take the photo multiple times, just to be sure you manage to take at least one perfect picture.
Just remember not to make the baby laugh or smile too broadly, as the official U.S. passport guidelines dictate a neutral facial expression to be the safest bet. A natural smile, however, will do as well.
Toddler passport photo: editing
Once the photo is taken, all you need to sort out is the size of it and perhaps some slight corrections to the image, but luckily, the technology is at your side.
Should something be wrong with your child's passport photo, you will need to make some alterations or take a new picture altogether, but if only a small number of changes is required, you can find a free app on the Internet and have it correct the photo for you, for example.
You can also do it yourself using photo editing software, but be mindful of the requirements. Altering the photo is prohibited, apart from changing the size and resolution, which should be 2 (two) by 2 (two) inches and between 600 (six hundred) by 600 (six hundred) pixels and twice as much.
Toddler passport photos – summing up
Your toddler's new photo for their passport can, luckily, be taken in so many places you will have to stop for a second and pick the best or most convenient one. Post offices, general stores, pharmacies or even shipping company facilities will offer to take your infant passport photos.
However, the baby's parents can take it as well, they just need to remember about requirements like neutral expression, a white backdrop, infant's eyes at least partially open and many more. You can do it.
FAQ
How to take passport photos for a toddler?
To take a passport photo for a toddler you should consider laying them on their back on a white bed sheet, for example. Once you do that, try to grab the child's attention in some way so that they face the camera. That's the perfect moment to take the photo.
Where to take passport photos of baby toddlers?
You can take the photo yourself at home, but if you wish for a professional to snap your baby's photo, you can try your local post office, a pharmacy or a drug store like CVS, Walgreens or Rite Aid.
Shipping companies like FedEx or UPS should have you covered as well, along with Walmarts or Targets. Just take your pick and let's go get your toddler a nice passport photo.
Can a toddler's mouth be open for a U.S. passport photo?
The answer is no, your toddler's mouth should remain closed so that the child's full face is clearly visible.
What are toddler passport photo requirements?
Passport photo requirements for a toddler do not vary that much from a regular passport. They must include a white background with no shadows or other objects behind the person. The child's mouth needs to be closed and their eyes at least partially open. The image should be centered roughly on the baby's nose and comply with measurement rules.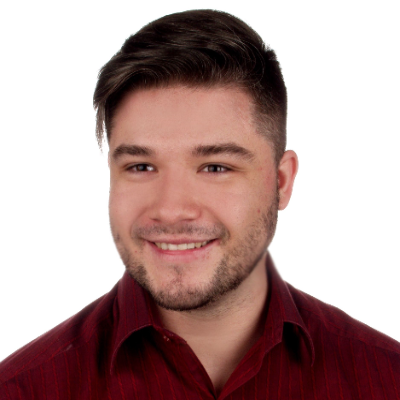 Graduated from the University of Warsaw, Michał, is a travel expert with an undying thirst for adventure and a writer at PhotoAiD. A self-proclaimed book and movie critic as well, he's always eager to visit to the most underrated or less popular travel destinations.