We have prepared an article for you about how Thailand passport photo size should be. If you want to have your passport issued or renewed, or if you do not know how to proceed because you need a photo to apply for a Thailand visa, continue reading our article because your Thailand passport photo must be complete with its requirements, just as your passport should be complete.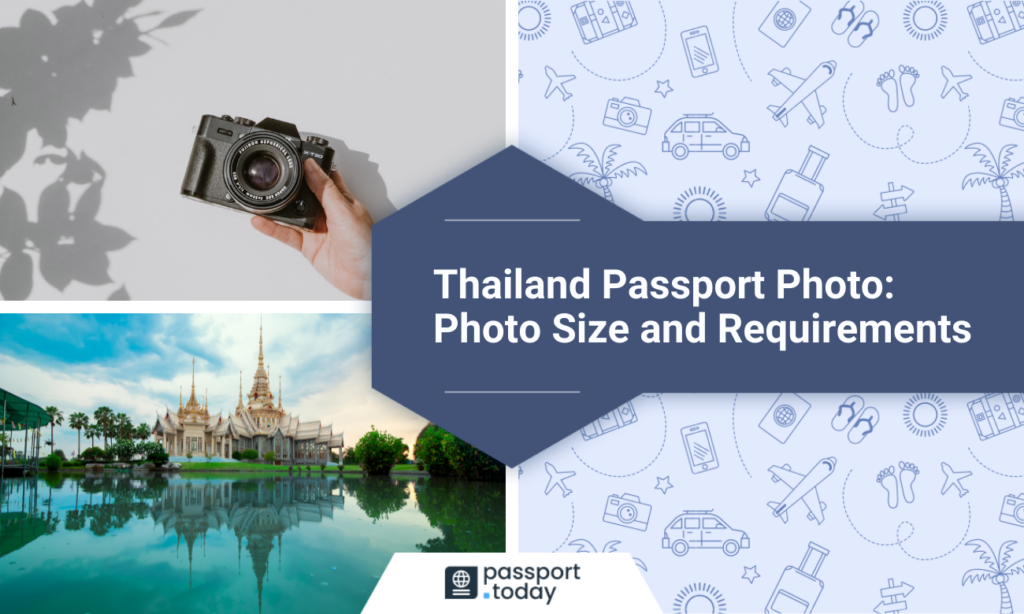 Thailand passport photo: size and requirements
You have completed everything about the Thai passport, but if you still have doubts about how your photo should be, you are at the right place because omitting a small detail carries reason enough to invalidate your passport photo or directly your Thai passport. So let's take a closer look at what your Thailand passport photo should look like step by step:
When applying for a Thai passport, you will be asked for two identical photographs, and your photographs must be up-to-date, taken within at least 6 months.
The background of your photo should be white or a white-like color.
It is also very important that your facial expression in your Thailand passport photo contrasts with your background as a color setting.
Your photo should be of high quality, so it should also be edited so that it doesn't leave any shadows or blemishes.
If you want to have your Thailand passport photo taken with glasses, you should be careful that the glass of your glasses does not reflect on the camera.
In addition to your facial expression should be neutral and without mimicry, your mouth should also be closed. So, you shouldn't smile while having your Thailand passport photo taken.
Thai passport photo must be in color. Black and white photographs are not accepted.
Around 70-80% of your photo should consist of your face.
The resolution of the Thai passport photo must be 1200 dpi (pixel) or more.
Thailand passport photo size should be 45 x 35mm.
Posing
The pose you give in your Thailand passport photo is as important as other technical features. This is because your image must uniformly meet photographic dimensions or requirements. For example, your head should not shift to the right or left and you should look straight at the camera. Other than that, you should have a neutral facial expression and not show any emotion. Since the important thing is that only your face is recognizable, your photo should be taken plainly.
Dress Code
Thailand passport photo does not have a specific dress code. Of course, one of the things you need to know and practice is that if you think your photo will be used for a long time, you should not choose gaudy or multi-colored and patterned clothes as much as possible. Other than that, you should not choose very light-colored clothes because otherwise, they will look like you are naked from the bottom of your face. Therefore, it can be said that there is no clothing restriction, and you need to choose the appropriate clothes for your photo, which you know will be subject to an official application. Also, it is not recommended to choose things like uniforms.
Read other guides on passport photos
Accessories
Although there is no specific restriction for accessories in a Thailand passport photo, accessories should not take the focus of your photo other than you, like your choice of clothes. That's why you can choose accessories that are very gaudy or very colorful and will not shine on the camera.
Apart from that, if you want to wear glasses. You can of course wear your daily glasses, but you should make sure that they don't just shine on the camera. However, it is strictly forbidden to wear sunglasses and glasses with tinted lenses.
Hair & Beard & Headgears
The most important thing you need to know is the headscarf or scarf-style accessories worn for religious reasons; this type of additional accessories should not cover your face. Of course, you can wear a headscarf or scarf, but of course not for ornament. If you use it that way in daily life, all you need to know is that it should not cover your face.
It can be said that the same conditions apply to hair and beard. If your hair is covering your face or part of your face, you should gather your hair and make it look open. Other than that, although there is no definite explanation for beards, you do not need to cut it if you use a beard in your daily life in the same way.
How to take a Thailand passport photo at home?
Now that you have learned all the necessary information about what should and should not be in a Thai passport photo, why not get your own photo? So, now we will explain to you how you can take your own Thai passport photo without leaving your home and use it with peace of mind!
Lighting
Because your shot has no shadowing or excessive light, it's important to take it outside in the sunshine or a bright location with artificial light. When the lighting is good, another thing to consider is taking your shot without utilizing a flashlight. Otherwise, your eyes may seem reddened, and the hue of your photograph may not be as intended. As a result, as much as practical, your illumination should be in an area with daylight or white lighting.
Background
As we have already explained how the background should be, if you want to take a photo of your home, it is possible to take it with a white screen behind you or in front of a white wall. Standing in front of a white background, take your photo and with the help of artificial intelligence, the white background of your photo will be professionally adjusted.
Requirements
You are almost ready! After applying the detailed requirements we explained about the Thai passport photo above, you are ready for one more step to take your photo. However, do not forget that omitting a very small detail will be enough to invalidate your visa application or passport.
Camera
We mentioned earlier that your Thailand passport photo should look high resolution or at least high quality. Well, if you are wondering how we can achieve the same quality as the photo we will take at home or how it will fit the biometric photo features, leave your worries aside because it is very possible to do this with your smartphones. If you have completed the other requirements, all you have to do is set your phone one or one and a half meters ahead of the white background and take your photo but remember, a computer webcam is not a good choice for resolution.
Biometric-style photo
If you have taken your photo and are now sure of the photo you have taken, upload your photo to one of the passport photo editors, and after arranging all the features required for a Thai passport photo through artificial intelligence, you will get the perfect photo for your required applications or to use your passport safely!