Do you need a valid photo for a European passport? Maybe you're traveling to the Old Continent and are required to get the right picture for a travel document.
In this blog post, we will cover European passport photo size, other requirements and everything else you should know when attempting to get one yourself.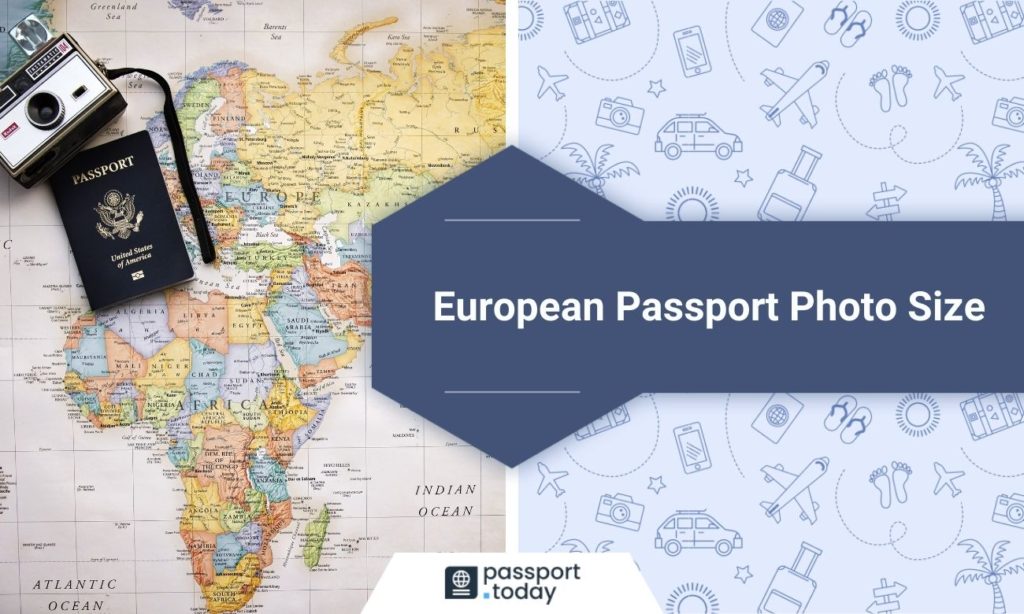 Guidelines for European passport photo sizes – basics
You might be used to the U.S. passport photo requirements, to all the rules about smiling, attire, your face fully visible and all the others. You will find that most of these crucial conditions are similar when it comes to pictures for a European passport photo.
There is, however, a distinctness that effectively differentiates an American passport photograph from a European one – its size.
Be mindful of that size difference when applying for a European passport or another travel document, like a Schengen visa, having similar size requirements to the earlier mentioned.
Visit official government websites to know more about this visa. There you will find everything you might be interested in, including the examples of Schengen visa photos and other noteworthy Schengen visa photo requirements.
Be aware though that not every European country actually belongs to the European Union, so their passport photo proportion requirements can potentially vary from the EU's.
Apart from the photo size requirements, remember that passport photos, pictures for a Schengen visa application or other documents requiring physical or online submission, need to be compliant with all of the submission rules. There are no exceptions.
Read other guides on passport photos
Physical European passport photo dimensions
As we have already said in the beginning, the European passport photo's size is different from the American one's, and it is this distinction that needs to be considered when applying for travel documents.
The key information is this: the photo's exact size should be 35mm x 45mm. If you're used to other means of measurement, an alternate way of showcasing the width and height of the picture is 1.38 x 1.77 inches.
Excluding your ears, the breadth of your face on the passport photo should stay between 16mm and 20mm.
Also, the distance between the chin and the top of your head ideally would fit between 26mm and 30mm.
The face on our European passport photo should cover between 70 and 80 percent of the picture.
Please note that you will likely be asked to submit two copies of the required size. Two identical photos will be requested by the passport acceptance facility to get the whole process of passport application going. They will review the photos and if everything is correct, the passports will be on their way.
Digital European passport photo dimensions
In the age of the internet, we often are asked to present documents or other items in digital form, making our tasks a little bit more straightforward and time-efficient. In this instance, taking care of the EU passport will be no exception. When applying for a European passport or another travel paper, like a visa, we will be asked to send two copies of a photo of the right size through the internet. Once we have the passport facility agent's approval and our photo is accepted, we're good to go.
The height and width of the electronic copy of our passport photo should be 1062 pixels x 826 pixels. Also, keep in mind that the acceptable resolution of the image is 600 DPI (dots per inch).
Additionally, the photo you're sending should "weigh" under 10MBs. The format of the file can be either .JPEG or .JPG. Using other file types may be met with the passport facility's disapproval and might conclude with an immediate photo rejection.
Be careful when making your passport pictures yourself, and make sure to double-check if you're working with good information. Please remember that you should submit images that comply with all size requirements in both, digital and physical format. If everything checks out, you're good to go.
Online tools for the European passport photo
Luckily, there are ways to combat the difference in passport photo requirements between the United States and Europe. You can find all sorts of applications or websites on the internet that can help you edit the picture or check your online passport photos.
Passport Photo Online is one of those websites. It will help you edit everything according to the official guidelines. The application's AI will make sure the photo you uploaded will be deemed valid. You can rest assured that the size of the photo will be correct.
All you need to do is snap a good photo compliant with the guidelines, upload it and the rest will be taken care of.
You might also be interested in:
What You Have to Know if You Need to Take Your Passport Photos?
Is There a Free Passport Photo App?
Where to get a European passport photo in the U.S.?
Even if thousands of miles separate you from the Old Continent, you can still get a valid European passport photo. Your luck comes in the form of photo booths that are almost ever-present in the U.S.
Pharmacies or drug stores like CVS, Walgreens or Rite Aid offer photo services. Most of the modern photo booths will have an option to change photo settings to match different requirements.
Also, don't forget that Walmart might also have sufficient equipment for your European passport photo, as well as shipping companies, like FedEx. Just check if their photo booth offers alternative settings and once you find the right format, hit 'accept'.
European passport photo size: small differences
As you can see, the size of the European passport photo varies a bit from the American one. The photo is rectangular, not square.
This means that once you're in the United States, you might have to search for a good photo booth, a professional photographer or a website that will make sure all the measurements are correct.
FAQ
Where to get a European passport photo in New York City?
You can get a valid European passport photo by visiting a professional photographer, as they should know exactly what the size requirements are. You can also visit a pharmacy, drug store, general store or even a shipping company. CVS pharmacies all around Manhattan, Walgreens near the Rockefeller Center and Rite Aid facilities in the same district offer photo services. Walmarts in practically every district, as well as southern Manhattan-situated FedEx or UPS facilities, should help you as well. Find their photo booths and make sure you select the right kind of size settings.
Where to get a European passport photo in Orlando?
First of all, you can pay a professional photographer to take a picture. They will know how to edit photos to the right size. Additionally, you can try your luck in drug stores, pharmacies, general stores, post offices or even shipping companies. AAA offices near the Little Sand Lake or at 783 S Orlando avenue, for instance, should have you covered, as well as Walmart or Walgreens facilities scattered all over the town. FedEx and UPS stores, sat around the central part of Orlando, will do as well. Find their photo booth and check if they've got appropriate settings.
Where to get a European passport photo in Boston?
Most pharmacy chains, like CVS, or drug stores offer photo services that should be able to provide a good photo for a European passport. You should be able to find them all around between the Packard's Corner and Seaport District. Post offices, with the majority of them situated in the same neighborhood as pharmacies, will do as well. You can also try general stores like Walmart. You'll find them around South Weymouth, or Lynn. Companies like FedEx or UPS, offer similar services. You can find many of them around the Bulfinch Triangle Historic District, with the UPS facilities more spread out. Last but not least, you can go to a photo studio.
Can you get a European passport photo at Walmart?
Yes, most Walmarts do offer photo services to their clients. Once you find their general store, ask for a photo booth and once you're in, check the settings. Some older versions may lack the option for non-American photo sizes, but you should be able to get a European passport photo easily.
What are European passport photo dimensions?
Photo dimensions for a European Union passport are 45mm x 35mm (1.38 x 1.77 inches). The digital copies' size is 1062 pixels x 826 pixels and should be under 10MBs. Make sure you bring or upload.
What are the guidelines for European passport photos?
First of all, the European passport photo needs to be in color, ideally with a white or light grey background and a person's full head clearly visible. The EU passport photo needs to be six months old at maximum to be accepted. The applicant must have a neutral expression, wear no eyewear or head covering unless for medical or religious reasons. Smiling slightly is allowed, as well as subtle makeup and small jewelry that hides no features. Head height should be between 26 and 30 mm.
What are the differences between the U.S. and European Union photos?
One major difference between the American and European passport photos is the size. The U.S. picture is square and 51mm x 51mm, while the European photo is rectangular, 45mm x 35mm. Apart from that, the requirements like head position, dress code, high-quality paper and full-face visibility, for instance, remain the same.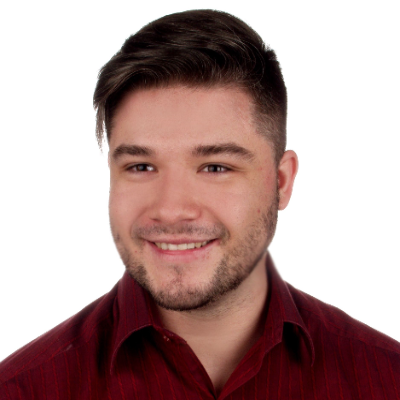 Graduated from the University of Warsaw, Michał, is a travel expert with an undying thirst for adventure and a writer at PhotoAiD. A self-proclaimed book and movie critic as well, he's always eager to visit to the most underrated or less popular travel destinations.