When getting a Jamaican passport, you have to take care of quite a few things – one of them is a proper Jamaican passport photo that is taken according to rules and regulations set by the Jamaican government. In this article, we will try to present you with those requirements and create a guide on the specifics of a perfect Jamaican passport photo. Follow along.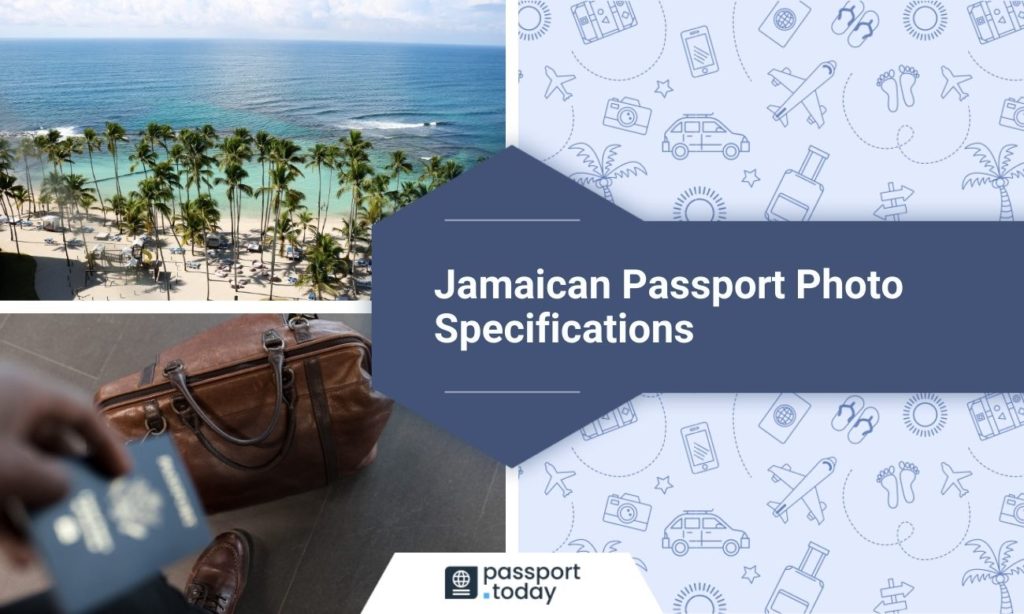 Jamaican passport photo technical regulations
The most important thing to remember about Jamaican passport photos is that you will need two identical photocopies to fulfill your passport application. They both need to be 35mm x 45mm in size. Your photo should also have been taken within the last 6 months and there are no exceptions to this rule.
Your Jamaican passport photo has to be taken in color and represent your natural skin tone and eye color.
The printing of a Jamaican passport photo is slightly different from the majority of the world's passport photos – you should print it in a matte finish instead of the typical glossy one.
Read other guides on passport photos
Jamaican passport photo requirements for dress code and background
When it comes to the Jamaican passport, there are quite a few rules about the background&dress code, as Jamaica proposes different colors of it for different people. Here are some things that you will definitely need to know:
If you have a dark complexion, your clothes should be colorful. In this case, the photo has to be taken against a white background
If you have a light complexion, your photo should be taken against a pastel-colored light background. You have to wear clothing that is different than the background and not white
If you have grey or white hair, your photo has to be taken against a pale blue or pastel type of background.
Additionally, when it comes to the background there should be no other people or objects visible in your photo.
An important thing to keep in mind about the dress code is that you should keep your shoulders and chest covered in the picture. Also, make sure to avoid bright clothes. Glasses are allowed unless they hide your face or have any type of tinted lenses. Headgear is allowed only for religious purposes – there are no exceptions to this rule.
The lighting and your position in the Jamaican passport photo
You need to avoid shadows in your passport photo. Make sure to not have your picture underexposed or overexposed. No light can reflect anywhere on or around your face.
The position you take in your Jamaican passport photo should be fully frontal. Remember that you have to keep your mouth closed and your eyes open, looking straight into the lens. Smiling or other facial expressions are not allowed – you need to keep a neutral look.
Your face has to take up between 25mm and 35mm of the photo and there should be around 3mm-4mm between the top of your head and the top of the photo.
Infant Jamaican passport photo
The rules for a Jamaican baby passport photo are very similar to the ones for an adult. There are a couple of things you need to keep in mind either way:
Your infant has to have their eyes open
It's good to take the photos in a series – that way you can make sure that even if your baby is fussy, you can still get some good shots
You child cannot be crying in the photo
There can't be anything or anyone else visible in the passport photo beside your baby
Depending on their complexion, the photo has to be taken either against a white or pastel-colored background.
Jamaican passport photo summarised
Although there are quite a few things that you need to do to get the best Jamaican passport photo, they all oscillate around the same categories which makes the whole process very easy. There are a few more things you should know: when you submit the application, the photos become the property of the Government of Jamaica. Your photographs also have to be dated on the back.
FAQs
Can I wear red lipstick in my Jamaican passport photo?
While there is no rule forbidding you from wearing red lipstick in your Jamaican passport photo, it's better to avoid any type of heavy make-up as it can alter your looks and distract the attention from your facial features which can be a reason for a rejection of your picture.
Can I wear a hat in my Jamaican passport photo?
The only type of headwear allowed in Jamaican passport photos is worn for religious reasons, so if this applies to you then yes.
How many copies of my Jamaican passport photo will I need for my application?
You will need two identical copies of your Jamaican passport photo to fulfill your passport application.