Do you dream of not having to compile all the important documents for your passport renewal application and taking care of it by mail? Do you dream of the process going online and allowing a far more convenient way of completion?
Lucky you, because in this blog post, we will cover the topic of the renewal of the U.S. passport online. We will discuss when exactly you can expect the change, what it will bring, and everything else you might find useful for future applications.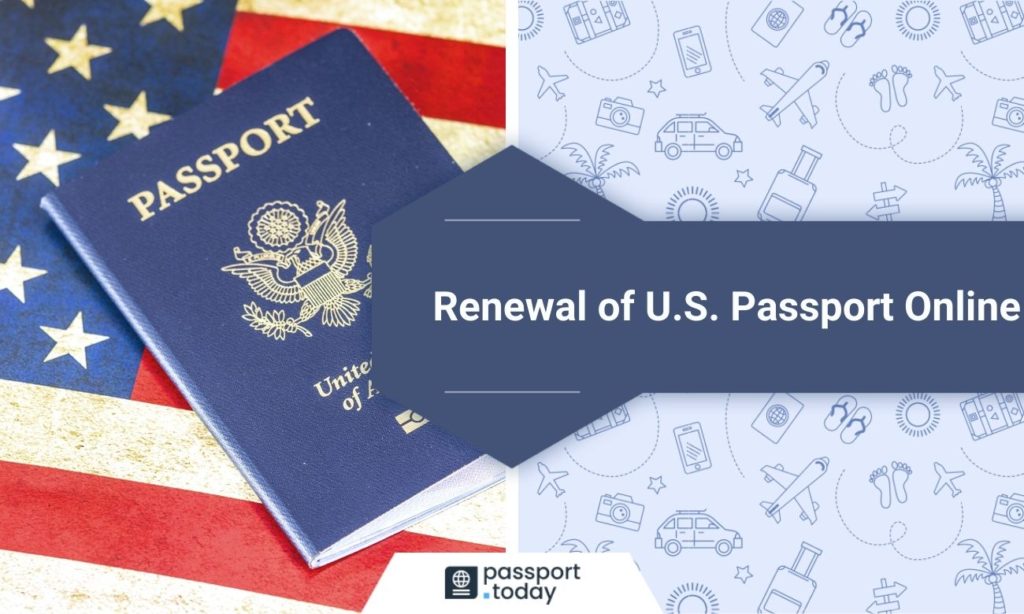 Online passport renewal application – introduction
As we approach the topic step by step, it is only reasonable to start with the basics. The U.S. passport renewal application has so far been an affair that had to be completed via mail facility. You are in luck, however, because the future brings good news in that department.
The president of the United States of America, Joe Biden, has recently decided that government services should embrace the newest technology and optimize it for the sake of U.S. citizens. What it means, among other things, is that the passport application process in 2022 is about to go fully online.
You should note, however, that when we say 2022 will bring this monumental change, it is still unclear, in fact, when exactly the official launch will happen. Jen Psaki, the White House press secretary, claims that the online passport renewal system can realistically begin to function in 6-12 months.
Benefits of online passport renewal
Those who have gone down the passport renewal route in the past will undoubtedly confirm it can be demanding. However, as we've already mentioned, the change is, if we're feeling optimistic, just around the corner.
The benefits of online passport renewal can be, after all, considerable. The most obvious of them is the option to take care of everything via the internet. Setting up appointments at passport offices will not be necessary.
You might wonder if that is indeed a good idea, considering the matter of online security and the value of information in a passport. You can rest easy, however, since various experts, Lynn Minnaert of New York's University, for instance, believes there is nothing to worry about. She advises caution, the same kind we apply when shopping online or managing your bank account through the internet.
It is believed that the new online system will not require any physical documents to be sent, which adds to the level of convenience. No additional citizenship documents or state department-issued items are required.
Of course, the online passport renewal will allow you not to pay a visit to a local post office in order to send the application. That leaves us with more time for other matters that require our attention.
Additionally, it is also worth mentioning that renewing a U.S. passport online can turn out to be far less time-consuming. After all, we are supposed to be free from sending any documents, like our current U.S. passport, marriage certificate, in the instance when we've changed our name. The passport agency will not need to verify any identity documents, but what seems like the information written on an internet questionnaire.
As you can see, the main idea is to make the passport renewals process way more convenient and it is highly likely that it will accomplish just that. Millions of Americans will no doubt appreciate that alteration.
You might also be interested in:
A Quick Guide on How to Renew a Minor Passport
The U.S. Passport Renewal Cost For 2023
How to renew your passport until the new system arrives?
The decision to turn the application system online is certainly something almost every U.S. citizen will welcome with open arms, but it can take some time.
Since American citizens will likely have to wait at least half a year, even though the online application process is believed to be heavily prioritized, you will have to stick to the current application format. You will be required to renew your passport and mail it at a post office.
That means that if you require a passport renewal, you will need to compile all the necessary documents and pay a visit to the nearest post office.
What documents will you need until the online passport application arrives?
Since the long-awaited online passport application still needs some polishing, you will still need to arm yourself with proper documentation. If you're in need of passport renewal, there are a few items you're required to submit.
Form DS-82 (an appropriate form for the renewal process, available to download from a government website)
Your current passport
Any item documenting a possible name change, such as a divorce decree or a marriage certification
One photo, compliant with all the rules and regulations
Once you've found everything that is necessary and completed the Form DS-82, you still have to mail them at the post office. Put everything in the same envelope and you should be fine. Should you have questions about what to send or how staff at post offices will certainly be of assistance.
Also, bear in mind that once the passport renewal process goes online, to renew a passport you will still need to submit such items like a digital photo, for example.
Passport photos, as you may already know, have a variety of rules that applicants need to follow in order to get their application rolling. Your digital copy of the picture will need to follow regulations as well, so be prepared to send the right ones when it comes to the turn to renew a passport online with a digital photo.
The directives for electronic photos will very likely resemble those of visa photos, which include:
a square aspect ratio (600×600 pixels at minimum, and 1200×1200 pixels at maximum)
maximum size of 240 kB
maximum compression ratio of 20:1
the photo needs to be in color
the image format needs to be .JPEG
Be certain you have accurate information about all the requirements and should you find yourself in doubt, remember that official U.S. government websites remain your best bet to find the answers you're looking for.
Renewing the minor's passport until the online system arrives
Since the new system requires a bit of time to arrive in full force, renewing adult and minor passports will have to be conducted in the old-fashioned, albeit still a current manner.
To renew a minor's passport you will need to fill a correct form and in this instance, we're talking about form DS-11. Also bear in mind that in this instance, mailing the form along with other supporting documents will not do. Until the online application system arrives, you are supposed to arrive at a local passport office, a role that post offices, other government institutions or even universities can play.
You will need to provide proof of the child's citizenship, as well as your parental relationship with them. Don't forget about a new photo, taken within the last 6 (six) months, a photocopy of your ID and, of course, fees included.
Online passport renewal fees
With the change to the application system, many U.S. citizens will certainly wonder if the price of the renewal will change as well. Thing is, everything points to the renewal fees remaining unchanged, even in light of the planned alteration.
Until we know more about upcoming changes to the system, it would be wise to assume that the fees involved in the passport renewal process are the same.
$130 – passport book application fee (adults)
$30 – passport card fee (adults)
$100 – passport book application fee (minors)
$15 – passport card fee (minors)
$35 – execution fee
$60 – expedited services (an additional fee, should you need a new passport quickly)
Remember that you can send cash, fill out a money order, as well as pay with a check addressed to the correct address. Credit and debit cards will also do, as long as they have a Mastercard or Visa logo. Pay attention to all the required costs, as well as potential, additional fees and you will be fine.
Tracking your passport renewal online
Even if the U.S. citizens still need to follow conventional rules of passport application, there is an element that looks like a new invention, utilizing the internet and the possibilities it can provide. It is an option to track your passport book via the internet.
The tracking system for application status, which will likely remain unchanged, offers applicants a way to see how their passport is doing. Available on a government internet site, it shows at which stage the application is, which can, in turn, give them an idea of how long until they receive the renewed passport.
Passport renewal online in 2022
Completing the passport renewal online is something you should be able to do in the U.S. in 2022. For now, however, you will have to stick to conventional means of applying and send everything required by mail. You'll have to be patient.
What you're about to get is a system that is convenient, requires no official document submissions and can be completed on pretty much any electronic device, like a smartphone or a tablet.
Update:
Since August 2022, U.S. citizens have been able to temporarily use the online renewal service provided by the State Department. To conduct the process, applicants must have a valid account on the MyGovTravel platform. The pilot renewal process is open now and then, so those who want to participate must carefully review the government website.
Only some U.S. citizens are eligible to renew their passports online. They must answer positively to the 10 (ten) following statements to get accepted.
Their U.S. passport is fully valid (10 years), and the holders are 25 (twenty-five) or older.
The passport can be expired, but it was issued between 9 (nine) and 15 (fifteen) years from the date of the online renewal application.
The online renewal process does not include changes of name, gender, date, or place of birth.
The applicants are not going abroad within 6 (six) weeks from the date of online application.
They want to renew their standard tourist passport.
Regardless of applying online, applicants must reside in the U.S.
The most recent passport is in their possession. It cannot be damaged, lost, or stolen.
U.S. applicants can pay the fees online.
Applicants can upload a digital image for their passport.
Individuals are aware of the immediate invalidation of their current passports from the day they apply for online renewal.
The fees and processing times of online passport renewals are the same as for mail and in-person procedures.
FAQ
Can I renew a child's passport online?
The answer is no, at least not for the moment. The new system that the U.S. government is trying to implement in the year 2022 will, however, make it possible to renew a minor's passport via the internet. For now, you still are required to attend a meeting at the U.S. passport facility, accompanied by the child and another guardian. Bear in mind that a minor's passport renewal requires form DS-11, not DS-82.
Can I renew my own U.S. passport online?
While you can download and fill the US passport renewal application online, submitting it cannot be completed on the internet. In the second half of 2022, the renewal of the U.S. passport online system might already be up and running, but at the moment you still need to grab every piece of supporting documents. Once you find your current U.S. passport and grab a new passport photo, send it at the post office.
If you renew your passport online do you need a new photo?
Valid passport renewal applications require submission of an up-to-date, new photo. The picture needs to follow several rules in order for the application to be accepted by the passport services. Remember to check them if you're uncertain about photo regulations.
How to track the U.S. passport application online?
The U.S. government has set up an internet website that allows you to track your passport renewal applications. Once you've found the site, you will be asked to write down some personal information to locate your passport. Once the server finds your application, it will explain at which stage it currently is.
Where can I renew my passport online?
Once the new, online passport application system is up and running (approximately sometime in the second half of 2022) you will be able to find a link on official U.S. government internet sites. At the moment the system is still in development and there is no clear indication of where to go to fill out the application online.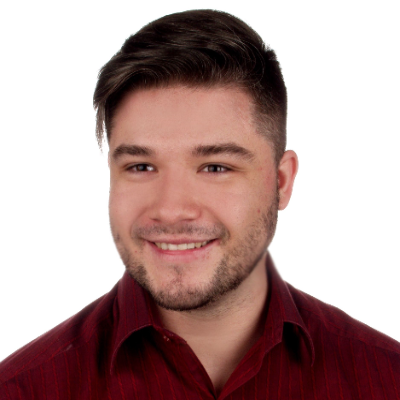 Graduated from the University of Warsaw, Michał, is a travel expert with an undying thirst for adventure and a writer at PhotoAiD. A self-proclaimed book and movie critic as well, he's always eager to visit to the most underrated or less popular travel destinations.