If you plan on renewing or getting a new passport – you probably know that your passport application requires two photos attached. It may sound fairly simple, but getting your passport photo may get a bit expensive. What you want is a good quality and a good price, and Walgreens store with their photo services may just be a thing for you – if you don't want to pay much, but still be sure your passport application will get accepted.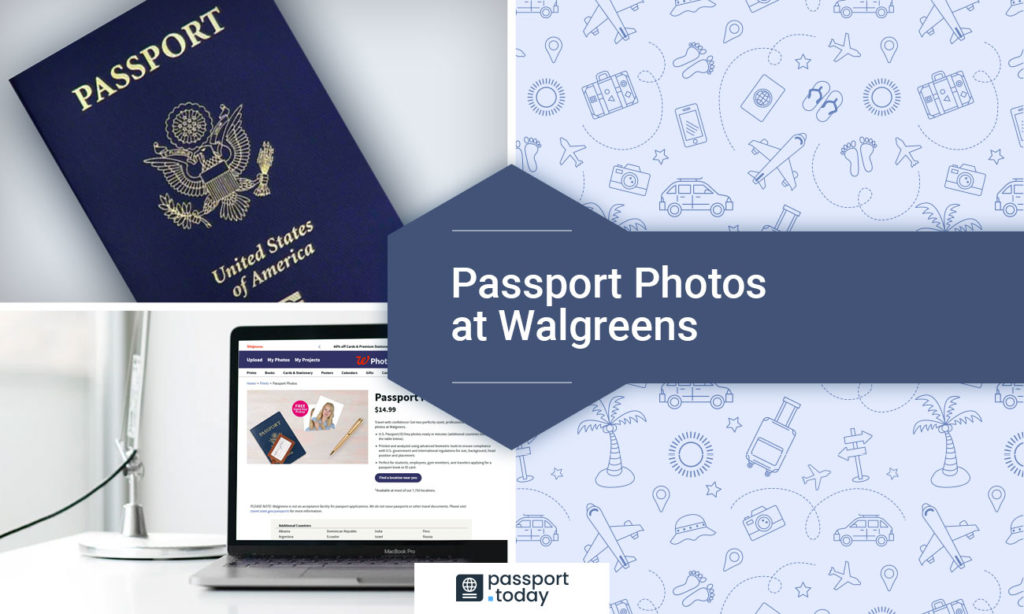 How much does a passport photo cost?
The biggest difference you will notice while choosing your passport photo services would be the price. If you decide to take your passport picture at CVS Photo you can expect to pay $14.99. If you choose the FedEx Office – passport photos price would be $14.95. Not much better at UPS Store – $11.99, Rite Aid passport photos- $8.99 and Target – $12.99.
But if you think there must be a better, more economic alternative – you are right! And one of the most affordable ones would be the Walgreens store.
How do I get cheap passport photos?
There are many studios that offer you professional photography, but having your photo taken at that kind of place is something very few people decide to do. And rightfully so – your passport photo quality should be good, but there is no need to book a full, professional, and very expensive photo session.
To answer the question, most photo booths offer a tempting price but it is not really worth it. Most of the time the photos taken with photo booths tend to have a really bad quality, which can lead to a passport denial. It may be a cheap alternative, but in reality – it is not an alternative at all.
Read other guides on passport photos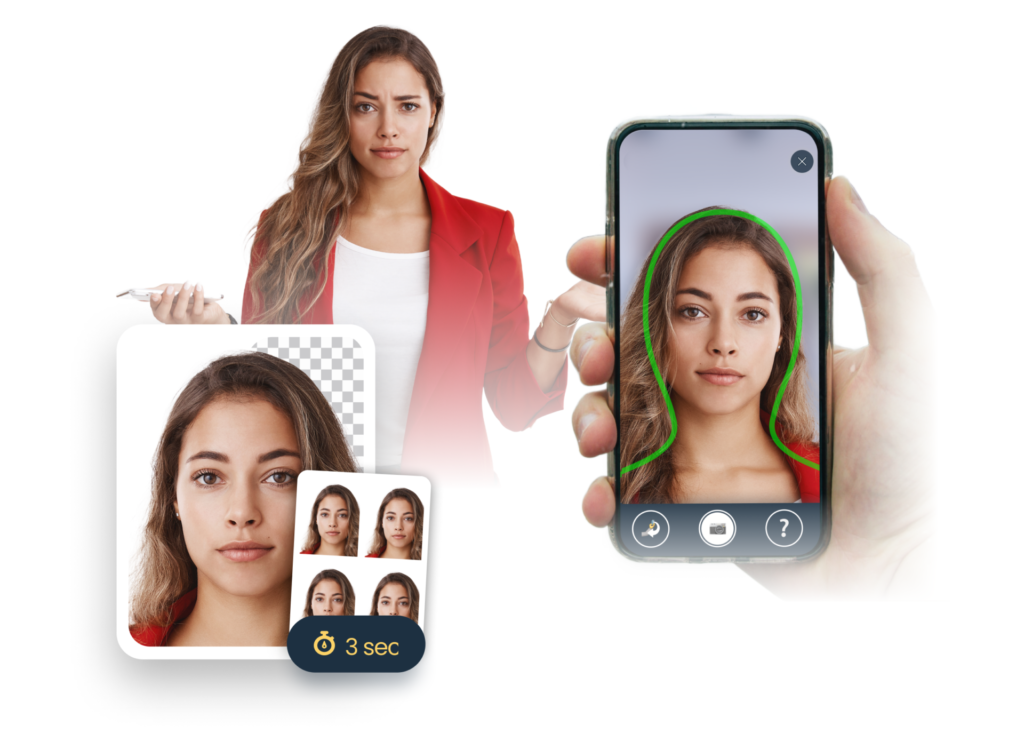 Walgreens passport photo requirements
Your face should be in focus and clearly visible.
Use a plain white background.
Make sure lighting is uniform without sharp lights and shadows.
Take your glasses off.
Keep your face straight and your facial expression neutral.
Keep your eyes open, and close your mouth.
What is the passport photo size?
Your printed passport photo should be the right size and quality. If your digital version has the right proportions your photo printed at Walgreens should have them as well, so make sure to double-check it before sending it to print.
Your passport picture dimensions should be 2×2″ (51×51 mm) exactly, and your head must be between 1″ to 1 3/8″ (2.5 to 3.5 cm) high. The same photo size is used both in passport and visa photos.
Walgreens passport photos
There are a lot of benefits of using Walgreens Stores' photo service. You can get your passport photo taken right at the store, and they also offer pictures for passports for additional countries. You can be sure Walgreens photos are prepared exactly for the u.s. passport and will be printed at the right quality. They will also be analyzed using advanced biometric tools.
You can find Walgreens at many different locations so access to the service should be quite easy. And the service itself should take no more than one hour.
Walgreens passport photo price
You may notice the price – the website states it is $14.99 for two passport photos – and wonder if Walgreens really is the cheapest option for printing passport photos. Sure, they take care of things like background, light, camera – but at the same time – you do not get the digital copy of your pictures, and it does not seem like the store would be on 'the cheapest places to get your passport photo' list.
Are Walgreens passport photos cheap?
Well… Now you may wonder if all the photos at Walgreens are so expensive. And the fact is – they are not. The pricing of the prints is quite regular. It seems only the cost of getting your passport photo is that high.
But there are thousands of people who apply for their U.S. passport and there must be a more economic way to get your passport photo. And there is. It might even surprise you that it still involves printing your photo at Walgreens.
Walgreens passport photo from $0.35
If you don't want to pay a lot for passport-sized photos you may still print your passport photos at Walgreens, but you can do it smartly. There actually is a way to get your prints for less money with the same good quality.
As you may have noticed – the passport photo price is quite different from how much a regular print would cost at the store. So if you consider printing your passport photos, or even visa photos – try ordering them as a regular print.
Print passport photo as 4′′ x 6′′ photo sheet
If you want to make sure that your print will meet all the passport photo requirements – try using our template. If you decide to choose that option you will get a 4″ x 6″ digital photo sheet. You can find and use it in our app, which is available both for Android and iOS. All you need to do is upload your picture to Passport Photo Online – and we will convert it into a template with four passport photos.
When you use it you can be sure your photos would be the right size, but the biggest advantage is – of course – the cost. You can download our app and upload your digital photo straight from your camera roll – all for free.
When you decide to print it this way – Walgreens becomes one of the cheapest places to get your print. From your printed picture, you can cut out four 2" x 2" passport photos.
Now you have two photos ready to be submitted with your U.S. passport application. And the cost of getting your perfect photos printed is just $0.35!
Walgreens Passport Photo Hours
If you decide to print your photo at Walgreens you should check the hours when your local store is open. Although some Walgreens used to be open 24 hours most shops are now open from 9 a.m. until 9 p.m. during weekdays. Those changes were made to let customers feel comfortable and safe during this time, and the hours may vary depending on the individual store.
Can I order Passport Photo Online Through Walgreens?
If you want to skip long lines and crowded spaces you may want to start with a quick web search. On the Walgreens Store website, you will find many kinds of photos and prints to choose from.
You may also notice that the passport photo is not treated as a standard photo – it has its very own category. If you choose it and decide to use the service dedicated exclusively to passport photos, it will cost you more.
When you use our template the passport photo price would be just $0.35 when you print your photo at Walgreens. It is quite a difference from $14.99 – the price you can find on the website.
If you want lower cost – consider using the Passport Photo Online template while printing your photo at Walgreens.
Walgreens Passport photos Same Day Delivery
Walgreens offers you a delivery service for the products you bought online as well as the option to pick them up from your local store. When you print your passport photo at Walgreens you can be sure they will be ready to pick up the very same day.
Passport Photo Online
Passport Photo Online is an application that helps you make sure your photo is in accordance with all the passport photo guidelines. You don't need to worry about size, proportions, light or the background – we will take care of it.
All you need to do is to take a photo with your phone, or upload an already existing one from your camera roll, and let our AI and specialists do the rest.
You can choose to download a professionally prepared and retouched digital passport photo from the app for just $6.95, or even better – let us print the passport photo for you and send it straight to your address. And the best part is – delivery will cost you just $3.00.
If you want to print your photo yourself – at Walgreens for example – we recommend you use a professional digital passport photo prepared by us, but you can also use our 4′′ x 6′′ photo template and print it by yourself for free.
FAQ: Frequently Asked Question
How many passport photos do I need?
To apply for or renew a U.S. passport, you need two identical photos that are 2" x 2" (5 cm x 5 cm) and are printed in color.
Can Walgreens print passport photos?
Yes, you can either use their service dedicated for passport photos or choose to print your picture as a normal photo – with the template available at Passport Photo Online – for a much lower price.
How much are Walgreens passport photos?
If you use the Walgreens passport photo service you will pay $14.99. As an alternative – you can use the Passport Photo Online template for the passport photos and pay just $0.35 for your Walgreens print.