Passport photos are the most crucial part of your passport application. Fortunately, you can submit your passport photo online! Therefore, it would be in your best interest to also check if your passport photo is compatible with the U.S department of state requirements.
So, you know how important it is to take a digital passport photo and check if it is OK. Today, we will take a look at where you can get digital passport photos, and which of these passport photo makers suits the best for your needs.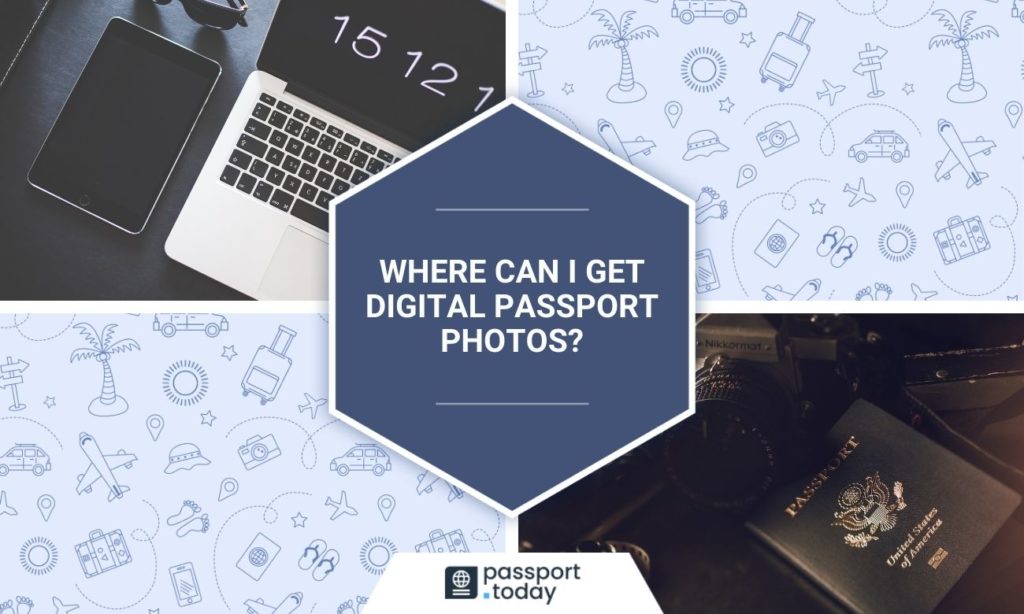 Digital Passport Photo Tools
It is always nice to have some options when you are getting a service. Luckily, there are many platforms online where you can get a passport photo for yourself. Nevertheless, I wanted to check how they work personally. In the end, we will compare the advantages and disadvantages of these passport photo tools and see which one works best for you!
Paspic.com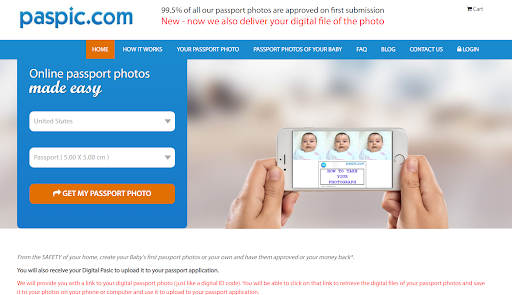 At first glance, I like the design of Paspic.com. It looks simple and easy to use. This website allows you to get passport photos for many countries including the US. However, when you choose the United States as your country, there is no other option than the US passport photo.
If you ask me, I always find these kinds of services better when they offer me other document photos such as visa photos, Id photos, driving license photos. It was not the case with paspic.com. So, I clicked the "Get My Passport Photo" button to see how it works.
Paspic.com User experience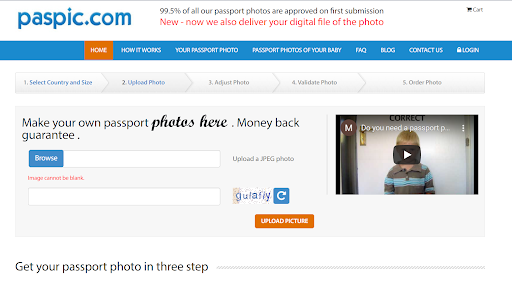 At this point, you are expected to upload your photo. This was a bit disappointing to me because I wondered why I do not have the webcam option to take my passport photo. I uploaded a photo I have previously taken to see how paspic.com works.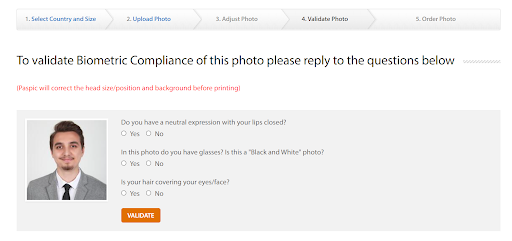 After uploading the image, you are asked how old you are and a couple of questions about the U.S Department of State passport photo requirements. At first, I answered these questions in a way that is not accepted by the US passport photo requirements.
Read other guides on passport photos
The website warned me that my passport photos will not be compliant. When I chose the correct answers, the passport photo status turned into compliant which was not the case. On the photo I have uploaded, the background is gray.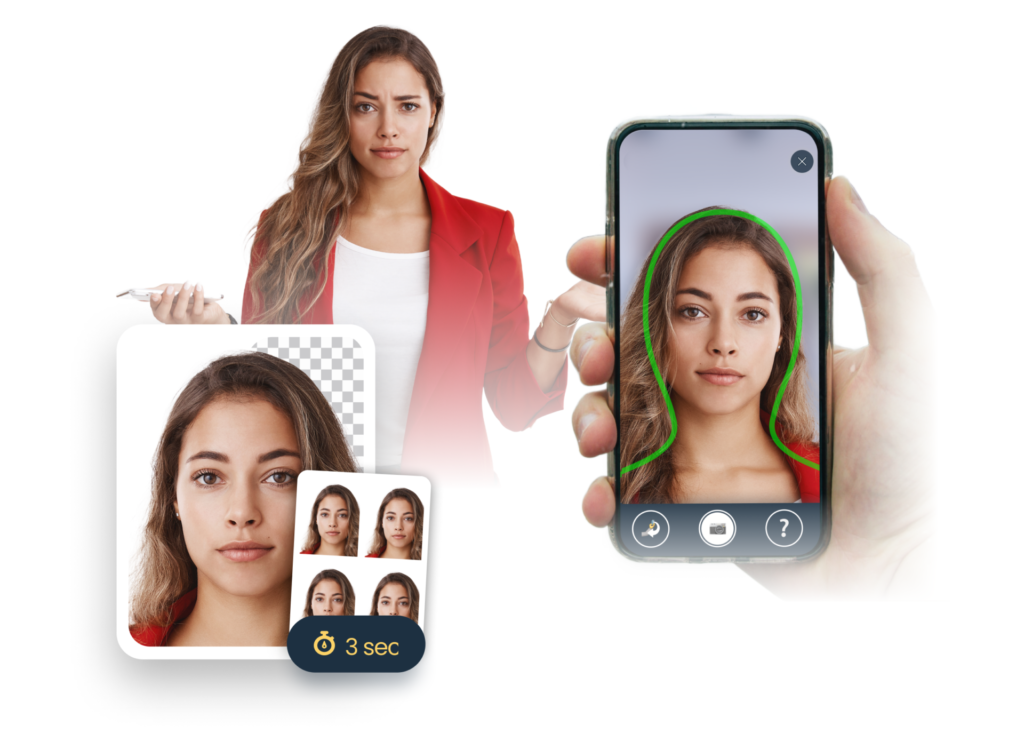 Final thoughts on Paspic.com
I can tell that there is no algorithm being used or any other photo tools. If you know what you are doing, you can use Paspic.com for passport photos. If you are not so sure about the U.S department of state requirements, I would give it a miss.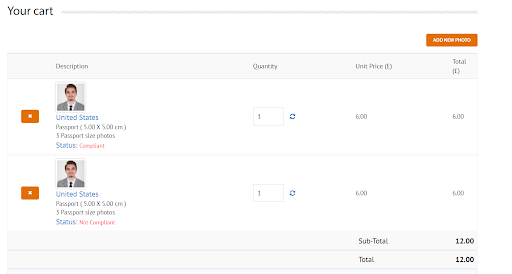 Digital Passport Photo Maker With Multiple Document Options
Cutout.pro
Frankly speaking, cutout.pro left a spectacular first impression on me. The design is almost flawless. The modern design of cutout.pro whet my appetite. That being said, I could not be any more excited to try the passport photo tool of the cutout.pro.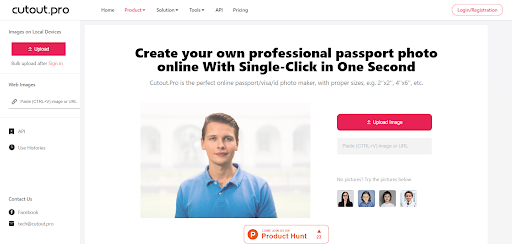 Unfortunately, there is no option to try it out with your webcam. So, once again, I have uploaded my tricky passport photo. The result was impressive but not perfect!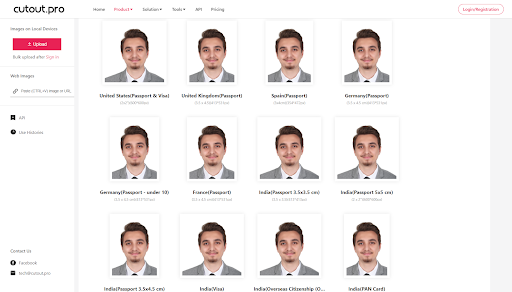 My photo was cropped in many document photo formats and the background was automatically adjusted. Nevertheless, I was not warned about the US passport photo requirements.
Yes, the background of the image was correctly adjusted, the cropping was fine but this service did not detect my smile. It did not detect my tilted head as well. So, cutout.pro has failed on my tricky passport photo test.
I wanted to download the digital format of my passport photos, and then I was directed to register to the website. Fortunately, you can register yourself to cutout.pro with your Google or Facebook accounts.
Final thoughts on Cutout.pro
As you register yourself to the platform, you can download your passport photos for $2.99. I cannot say cutout.pro is the best passport photo maker but for sure it is one of my top choices when getting a digital passport photo.
Freepassportphoto.com
I thought about giving a try to free tools for passport photos. So, I found freepassportphoto.com, and I thought it is a tool for passport photos that is worth giving a try. At first glance, I find the website design a bit blank and plain.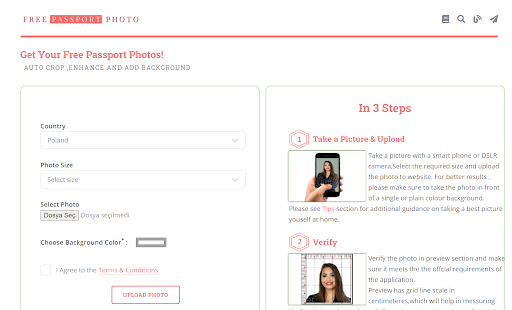 However, I do not expect much from free services. So, I did not care much about the website design and wanted to see how this photo maker works. As I wish to receive passport photos for my Us passport application, I set the country and photo size from the options given to me.
Then I uploaded my photo and set the background color as white. I like the color palette in which I can choose all shades of white and gray.
I appreciate the guidelines, DOs, and DON'Ts that were presented to me. Even if I am familiar with the context and general requirements for photos for the passport application, I thought these could be very helpful for those who have no idea what they are doing.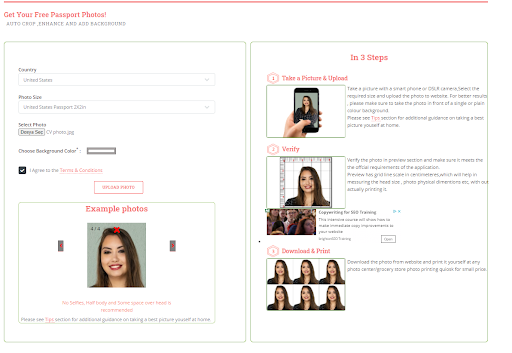 At this point, I was so surprised because I have encountered a problem that I have not experienced with other passport photo tools.
According to freepassportphoto.com my photo was incompatible with passport photos and I received the following message "Error: Photo uploaded is not suitable for edit, please try with a different photo.".
I thought the size of the photo could be the problem. When I changed the photo size and tried it again, I encountered the same error code. I thought maybe I should try another photo. Finally, I managed to upload a photo to this website.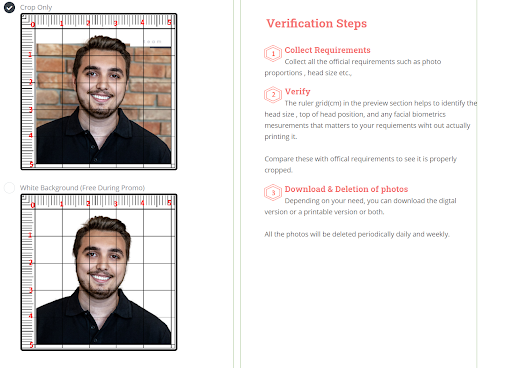 I do not know if I should say it made my eyes pop or my ears pop. The background removal is so poor! My head is tilted, I am smiling, and this photo is accepted as an official passport photo. Simply put, no way!
Final thoughts on Freepassportphoto.com
Although the quality remains the same, I know for sure that this photo does not meet the official requirements, not to mention that I do not have ears on my passport photo anymore.
In conclusion, I can say that it is better to go with the paid options for a passport photo than free services.
U.S Department Of State Requirements for Passport Photos
To understand better how to work with these photo makers, let's go through some steps about what you should do, and what you should expect:
Make sure you are applying with a recently taken passport photo
Do not use filters on your photo
Make sure the crop feature is nice and smooth
Make sure your passport photo has a white background
Consider a CVS option for your digital photo
Double-check if you are getting a 2 in x 2 in photo
Make sure to upload a photo that you have recently taken
Do not wear any hats or sunglasses.
You can wear a headcover if you are wearing them for religious purposes
Last but not least, always follow the passport picture requirements listed on the U.S department of state website, and make sure your passport photo fits all these expectations.
Digital Passport Photo – Summary
Taking a passport photo online is easy and time-saving, but it can be tricky as well! As customers of these services, you should know what you are looking for. The US passport photo requires 2 inches x 2 inches of a picture.
You can submit your pictures online or print them for your convenience.
I think it would be in your best interest to get started with a passport photo maker that offers you a printing option, web camera usage, and the chance to store your passport photos after taking them.
As you may need a similar service after your passport application, it is good to choose a passport photo maker which also offers visa photos. You may need to apply for a visa for some countries after you submit your application for your passport.
In conclusion, there are many options available online for a passport photo. Make sure you choose the one that meets the quality requirements of the US government. Then, enjoy taking a great passport photo at home!