If you are one of the folks who are at their wits' end about which passport photo software to choose, or you are simply looking for more information about Visafoto and PhotoAiD, you have come to the right place.
Googling the phrase "passport photo tool" results in being screamed at with various software that specializes in passport photos.
Many headlines are trying to convince you, so to make the decision slightly more manageable for you, we have decided to take a closer look at two of the popular passport photo apps.
Visafoto vs. PhotoAiD – what features do those applications have? What can they do? Let's find out!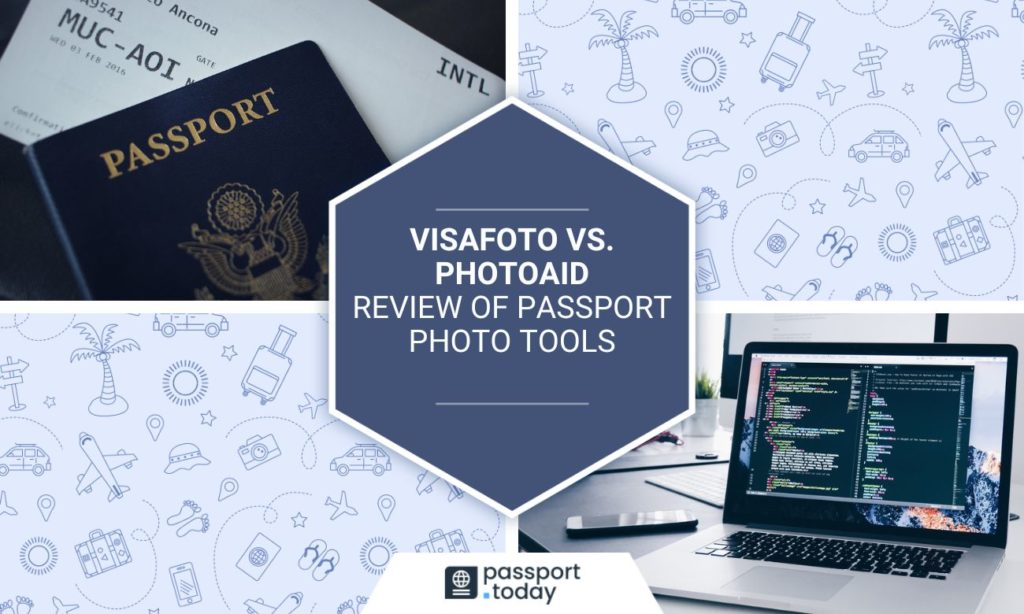 The interface, accessibility, and intuitiveness
Interface, accessibility, and intuitiveness – why are these features important?
People of different ages and skills use apps to take photos – it might be a single person of 70 years who needs to renew their passport or travel urgently.
For most users, the interface should be as intuitive as possible, considering some dysfunctions (e.g., color blindness), manual troubles, or poor sights. Proper support of various devices and even Internet speed may play a crucial role when choosing the most suitable passport photo software – after all, nobody wants to upload an app 3 times.
Read other guides on passport photos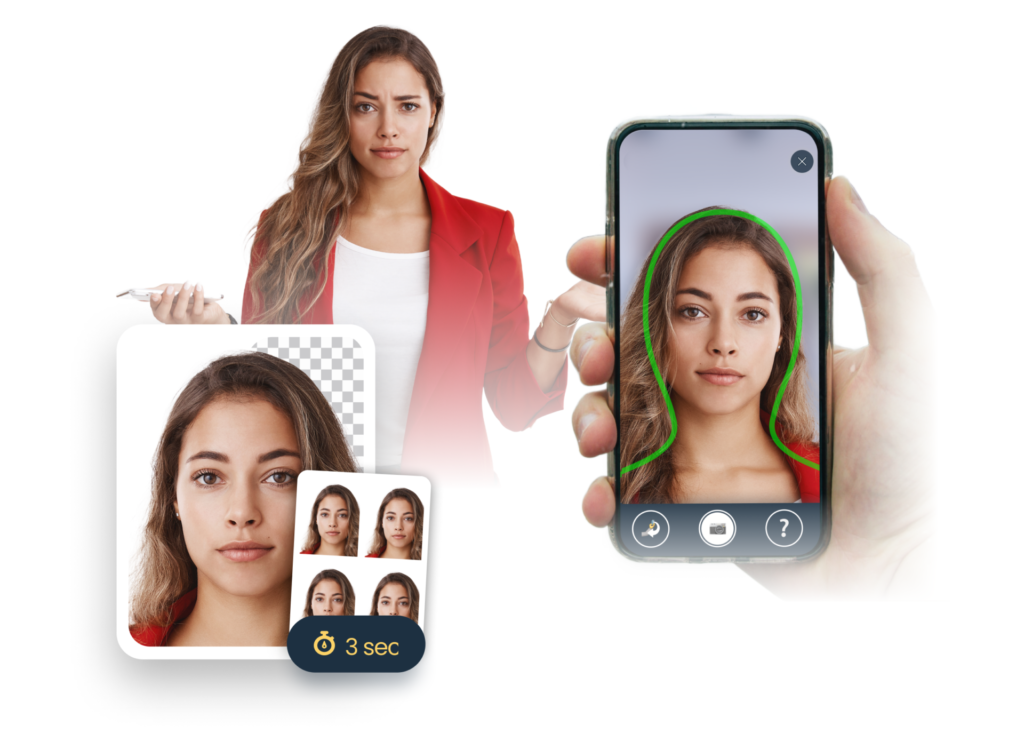 Visafoto: the overall experience
Visafoto, an app with the most attention to functionality, has a somewhat outdated design – the fonts and stylistic choices bring up the memories of past decades rather than a modern-day tool.
But looks are not what plays the central role in passport photo tools.
In this application, there is definitely not a lot of clicking. Right on the first page, you can scroll through the photo options Visafoto offers by selecting a country and specific documents. Visafoto provides you with a basic overview of the document: size (in inches and cm) and name when you pick your desired option. Such features can help you differentiate between similar documents, where a specific size is needed.
Uploading your photographs to the program is relatively straightforward. You can select additional features, such as fixing head tilt, background, and image contrast, and the interface guides you through converting your photos. Plain and simple.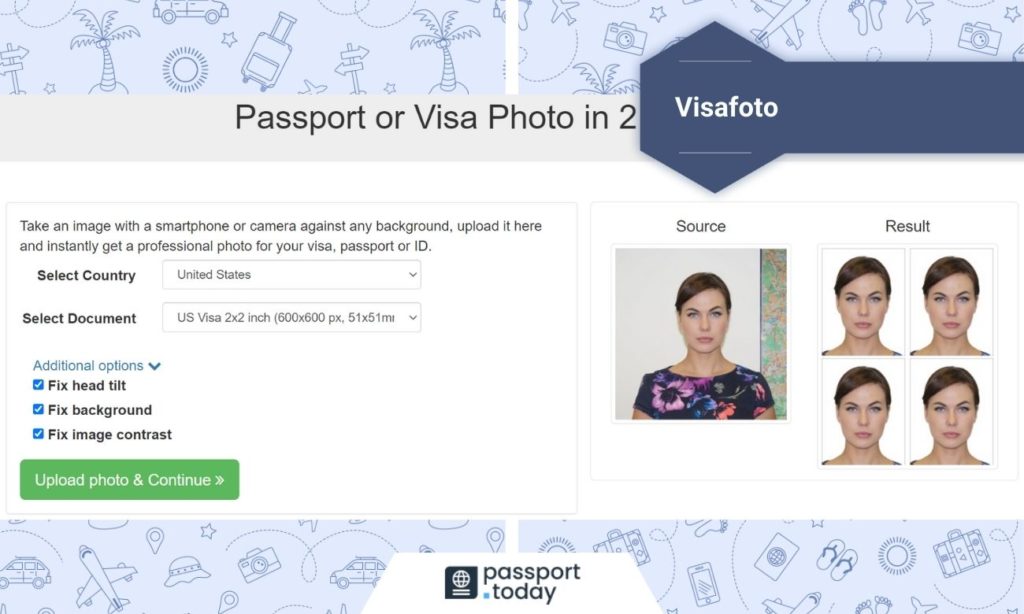 PhotoAiD: an overview of the main features
PhotoAiD strikes with its eye-pleasing design of rounded shapes, nicely toned colors, and a simple interface.
From the first glance, you can get a gist of what the software can do for you, and there is nothing to distract you from the primary purpose of this tool – to get your passport photos.
The main page is kept tidy and straightforward – there is no outburst of information. Instead, a clearly indicated button leads you to the page where you can select your desired documents, making the process easy, even for less technologically advanced users.
The app suggests the most popular documents based on your location. You can decide between passport, visa, or other types of photographs required for various countries worldwide. In total, there are several dozen photo options to choose from.
PhotoAiD has a straightforward process of converting your images to passport photographs: select the document and upload the photo you want to turn to the passport picture. There are no overly-complicated actions to undertake here, which makes the application easy to use, regardless of your age. The program has a tidy interface with big and visible buttons, which can help people with visual disabilities.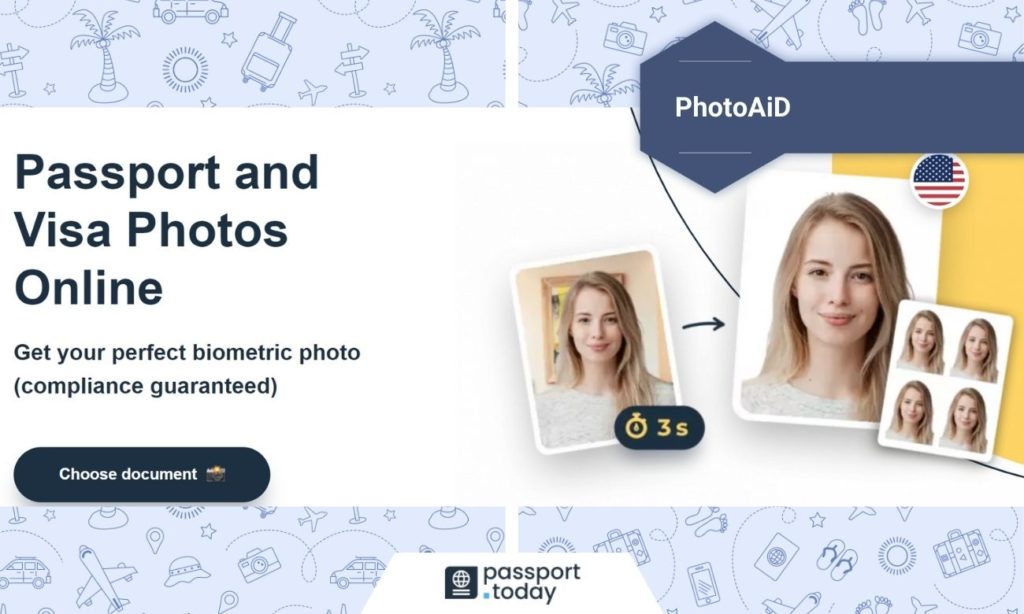 Passport photos – quality, additional services, and pricing
There is a challenging task standing in front of every passport photo software – transforming ordinary pictures which are far from meeting any passport photo requirements into impeccable ID photos. And it is the details that can make the whole difference between an accepted and rejected picture.
Visafoto: functionality but no compliance
It takes less than a minute, from uploading your photos to the software to receiving the passport-suitable versions. While the program converts your images, you can see a progress bar indicating the remaining time. The procedure takes around 30 seconds.
After completion, you receive a preview of what your new passport photo will look like. There is also a tab with essential information regarding the photograph, such as dpi, whether it is printable or the weight in KB.
We have uploaded a stock photograph, and the software seems to be doing a good job. The background is removed and replaced with a plain white one, there seem to be no unnatural-looking edits, and the cropping appears correct.
The application's downside is that the picture looks a bit pale as the software changes the white balance. In some instances, it may come off as unnatural skin color, but you can turn this option off at the stage of choosing your document.
Unfortunately, the software does not check whether your new passport photo fits the official requirements. No security measure will alert you if your pictures are not according to the standards, for example, when the shadows are too strong, etc.
If you like your new passport photo, you can move to the payment and receive digital copies with one click. If you are not satisfied with the result, you can upload a different photograph to the software free of charge.
The final price is $7 for the U.S. passport photo and other U.S. documents.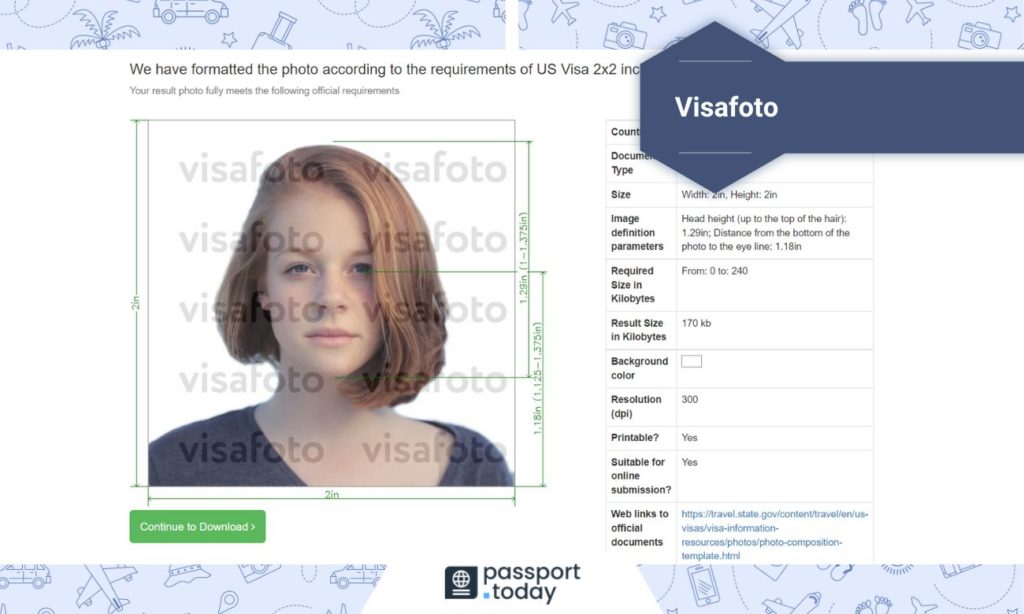 PhotoAiD: speed, accuracy, and compliance
PhotoAiD is a much faster software compared to Visafoto. It literally takes just 3 (three) seconds for the pictures to be transformed into passport photos.
The software is fast and accurate. What is more, once your image is converted into a passport photo, you can see a detailed report on the picture's compliance with passport photo standards.
The app has a double verification method – first by the software itself and then by a human expert. The huge advantage over most competitors is that with PhotoAiD, your passport photos have a nearly 100% acceptance rate. Such an outstanding result is achieved with the program's double compliance test run on your new passport photo.
The final result is a nicely transformed passport photo. Like Visafoto, this program also removes and replaces the background with a white one. The cropping is done according to the official standards, and you can have a preview of the photograph before proceeding further.
You can upload as many photos as you want. You can take more than one photo and upload it to the program to see which one you like better – you pay only once you pick your final passport photo.
Passport pictures can be ordered digitally or printed on high-quality photo paper for an additional fee.
The total price for U.S. passport photos and other U.S. documents is $6.95 (digital) and $9.95 (paper).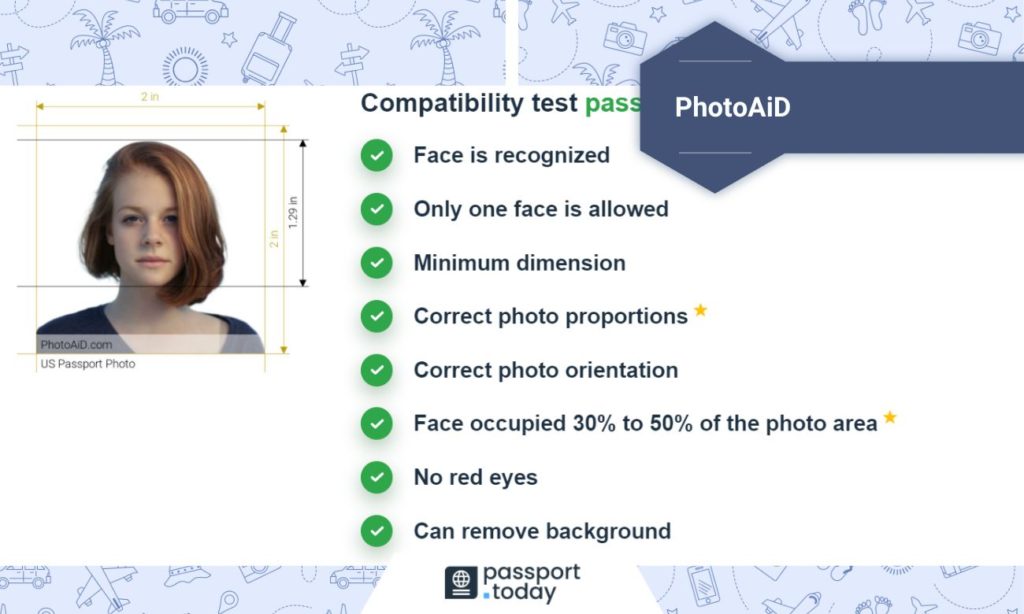 Visafoto vs. PhotoAiD
We have prepared a side-to-side comparison of those passport photo tools.
Both programs have basic features to convert regular images into passport photos: cropping and background removal.
PhotoAiD has some advanced features included in the price, such as manual review and a 200% refund policy, making the process more reliable and trustworthy.
| | | |
| --- | --- | --- |
| | Visafoto | PhotoAiD |
| Price | $7 | $6.95 |
| Print option | Not available | Yes, for an additional fee |
| Shipping | Not available | Free |
| Background remove | Yes | Yes |
| Compatibility test | No | Yes |
| Additional manual verification | No | Yes |
| Refund | 100% | 200% |
| Processing time | Approx. 30 seconds | Approx. 3 seconds |
| Detailed information about each document | No (only general about passport photos) | Yes |
RELATED READING:
Which app is better? Closing thoughts
Both applications can deliver high-quality passport photos in less than a minute and with no more than 10 clicks. That makes them both an excellent solution for taking passport photos from home.
However, if you want to get that additional security, PhotoAid with a double review process and 200% refund policy is what makes the difference.
Visafoto vs PhotoAiD – FAQs
Does Visafoto guarantee acceptance?
Yes, Visafoto guarantees that pictures converted to passport photos by their software are suitable for passport admission and offers a full refund in case of rejection.
Does PhotoAiD have a guarantee of acceptance?
Yes, PhotoAiD has a two-step photo verification process that guarantees acceptance. And in case of rejection, the app offers a 200% refund. 
Is Visafoto legitimate and trustworthy?
Yes, Visafoto is a legitimate passport photo tool that delivers you high-quality documentary photos.
Can PhotoAiD take only passport photos?
PhotoAiD is specialized in various documents, not only passports. You can use this app to take passport and visa photos of over 13 countries, green card images for the U.S., plus the converter offers photos for popular social media platforms, such as LinkedIn, Tumblr, Facebook, etc.